Cesar Millan is the famous dog whisperer who often stirs up mixed emotions. The Mexican-American is precisely speaking, a dog behaviorist; he has been in the game for over 25 years. His Emmy-nominated television series, "Dog Whisperer with Cesar Millan" further pushed his method and tactics into the limelight. The series was produced from 2004 to 2012 and covers over 80 countries in its broadcast.
The dog whisperer was born on the 27th of August 1969. His parents are Felipe Millán Guillen and María Teresa Favela and their family had lived in rural Culiacán, Sinaloa, Mexico at the time of Cesar Millan's birth. In rural Culiacan, Cesar Millan grew up working with animals as his grandfather was a tenant farmer. He was a natural with dogs and was nicknamed el Perrero, "the dog herder".
It was at the age of 21 that Cesar Millan crossed the border into the United States. He knew no English and had only $100 to his name. It was an uneasy time in his life. He would, however, later move to Los Angeles where he met actress Jada Pinkett Smith and confide in her that he dreamt of being on television working on pets. Jada Pinkett Smith encouraged him to learn English, setting him up with one of her friends as a teacher.
In his work with dogs, Cesar Millan encourages handling them with "calm-assertive energy" where owners would establish a role in the life of their dogs as calm-assertive pack leaders. His belief is that dogs have three primary needs – exercise, affection, and discipline. To him, the owners need to touch on those needs and fulfill them. Before his Dog Whisperer series, Cesar Millan was rehabilitating dogs that were severely aggressive going on to found the Dog Psychology Center – a rehab complex for dogs. Despite the fact that Cesar Millan's views are widely listened to and celebrated, some of his methods have been criticized by RSPCA, the animal welfare charity, and Alan Titchmarsh, a broadcaster. The criticisms have noted his methods as being cruel and unnecessary.
Cesar Millan's Family: His Wife and Son
Cesar Millan got married in 1994 to Ilusion Wilson. Together, they founded the Millan Foundation which is now called the Cesar Millan PACK Project. With the Millan Foundation, they aimed to provide the financial support needed by animal shelters and organizations engaged in rescuing and rehabilitating abused and abandoned animals. In 1995, their first son Andre was born and about 6 years later in 2001, they had another son named Calvin.
Another integral part of Cesar Millan's life was an American Pit Bull Terrier named Daddy. Daddy was a big part of his work and television series. Unfortunately, Daddy died at the age of 16 years in February 2010 a few months before he learned about his wife's intention to divorce him. All of that was a little too much for Cesar Millan who attempted to take his own life. He was unsuccessful, however, and in June 2010, Ilusion Wilson did file for divorce.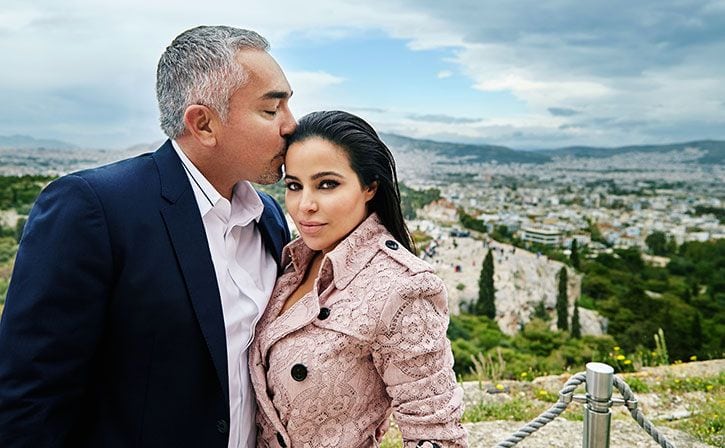 In August 2010, he started dating Jahira Dar who hails from the Dominican Republic. The two have been together since even announcing their engagement in April 2016.
What Is His Net Worth?
Cesar Millan has come a long way since he crossed the border into the United States at the age of 21. He eventually became a citizen in 2009 and has built quite a neat life for himself with his gift which was honed from his life as a farm boy in rural Culiacán. His net worth is currently pegged at $25 million.
Many ventures have contributed to Cesar Millan's wealth including the television show "Dog Whisperer with Cesar Millan", his line of dog products, instructional DVDs and his best-selling books which have cumulatively sold two million copies in America alone.
See Also: Guy Beahm – Dr. Disrespect Bio, Wife, Real Face, Age, Height and Cheating
Is Cesar Millan Dead?
Cesar may have tried to commit suicide after the double blow of the death of his dog and his wife filing for divorce in 2010 but his attempt was not successful. A death hoax about the dog whisperer, however, caused a lot of shock in 2014. A website named Noticias Unam claimed that he had died of a heart attack on December 2, 2014. The story was soon disproved as Cesar Millan was, in fact, alive and doing quite well with his new girlfriend Jahira Dar.