Superstar TV host and sportscaster, Charissa Thompson, has been hailed as one of the highest-profile women journalists in America, and the reason is there for all to see. She has worked for popular establishments such as Versus, Yahoo! Sports, ESPN, GSN, and Big Ten Network. She currently hosts the popular pre-game show, Fox NFL Kickoff, on Fox Sports 1 Network.
Thompson remains one of those female darlings who have carved a niche for themselves in the field of sports reporting. It has, however, not been an easy ride as she has dealt with repeated gender discrimination. This discrimination once forced the Seattle native to dye her hair black so she could be taken more seriously. She, however, courageously went back to her natural blonde color and has owned it ever since then.
Charissa Thompson's Career Began at Fox Sports
Charissa Thompson came into the sports broadcasting scene in 2006 when she was employed as an assistant at the human resources department of Fox Sports. That was after she graduated from the University of California, Santa Barbara, where she obtained a Bachelor of Arts Degree in Law and Society.
While working in HR, Thompson became interested in TV production and soon landed a production assistant job at FOX Sports Net Rocky Mountain, in Denver, Colorado. This was in 2007, and during her time as a production assistant, her charisma shone through. She was asked to fill in as a host on the Saturday evening program, Colorado Rockies Show.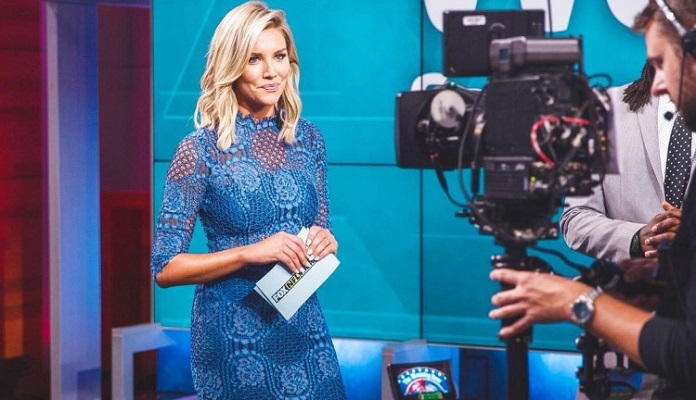 Charissa fulfilled this role excellently, and this drew the attention of FOX executives, who offered her a permanent spot on the nationally-syndicated program, Best Damn Sports Show Period, filmed in Los Angeles. The next two years saw the young lady as a regular host on the sports talk-cum-variety show. She also made appearances as a side-line reporter for both FOX NFL and Big Ten Network within that period.
Her Stints at Yahoo! Sports, Versus, and ESPN
In 2010, Charissa Thompson left Los Angeles and Fox Sports for two jobs simultaneously, at Versus and Yahoo! Sports. For the former, she anchored their NHL studio coverage, while for the latter, she led their presence at high-profile sports events, including the 2010 Winter Olympics in Vancouver, 2010 FIFA World Cup tournament in South Africa, Super Bowl XLV, BCS National Championship, and NBA All-Star Game.
Charissa recorded tremendous success with Versus and Yahoo! Sports, and before long, the renowned sports network, ESPN, came calling. She joined the organization in August 2011 and began co-hosting their afternoon debate show, Numbers Never Lie, alongside Marcellus Wiley. From Numbers Don't Lie, she was propelled unto the more popular show, SportsNation, in July 2012. SportsNation provided a clever and imaginative coverage of all the week's weirdest and hottest sports topics and Thomson spent one year as its host.
Thompson Returned to Fox Sports 1 in 2013
At the launch of Fox Sports 1 in May 2013, Thompson went back to her former employers in Los Angeles. There, she became the co-host of the breaking sports news program, Fox Sports Live. She was then subsequently tapped to anchor other programs for the channel such as NFL Kickoff (their NFL pregame show), as well as NFL films (an acclaimed highlight and interview show).
Whilst making her mark at Fox Sports, Charissa Thompson has also tried her hands at the entertainment aspect of TV broadcasting with much success. She regularly hosts awards shows and other celebrity gatherings. She also served as a co-host for the syndicated entertainment news show, Extra, from 2014 to 2017. Starting from 2019, Thompson now works as a Las Vegas correspondent for the popular show.
The Impact of Her Juicy Fox Contract on Her Net Worth
Charissa Jean Thompson is one of the highest-paid presenters at Fox Sports. She reportedly pockets an annual salary of $500,000, and this is thanks to the handsome contract which her agents, Creative Artists Agency, helped her to negotiate in the year 2017.
Another avenue that has paid Charissa quite well is brand endorsements. Thanks to her bombshell blonde looks, as well as her indisputable talent, the Seattle native is a natural choice for many companies seeking people to represent them. She has been featured in commercials for several companies, including IBM Watson, Samsung Galaxy Note 3, VISA Checkout, and Papa John's Pizza, and has been well remunerated.
According to Celebrity Net Worth, Charissa now has a fortune estimated at $3 million, and she uses it to live a good life. The Fox anchor has a beautiful apartment, where she lives in California. She also formerly owned a beach house in Malibu, which she acquired for $2.5 million in 2016. She, however, put it out for sale in 2018 at $2.9 million.
Charissa Thompson's First Marriage Was Short-Lived
Charissa Thompson's love life has always been a subject of too many speculations. This is simply because the Fox Sports reporter would never explicitly discuss the topic no matter how hard you try to get her to do that. She, however, relented and disclosed that she was once married during a 2014 interview with Sports Illustrated.
According to Thompson, she was in a passionate relationship with a young man during her early 20s. The relationship, however, witnessed different troubles, and she decided to quit. She informed her then-boyfriend of her decision, but he instead persuaded her to elope with him to Hollywood and get married. The young and reckless Thompson agreed and found herself married at the age of 25.
The marriage could not miraculously solve the couple's pre-existing problems, and it crashed not long after. The divorce was quite painful, and Thompson and her ex steered clear of each other for some time. However, they were able to resume cordial relations and remain good friends to date, sometimes going for lunch dates and the likes. The whole experience taught Thompson never to make rash decisions but rather be more methodical.
She is Currently Engaged To Kyle Thousand
Charissa Thompson has found love again, and she is engaged to be married to the foremost sports agent, Kyle Thousand. It is not known exactly when she and Kyle started dating, but they did get engaged in Hawaii in January 2020. The besotted couple took to Instagram to share the good news, and Kyle remarked that he was happy to be spending the rest of his life with his "baby."
Charissa Thompson's fiance, Kyle Thousand, is a native of Sioux City, Ohio. He played college baseball at the University of Iowa and performed quite well in the Big Ten Conference. This earned him a spot in the 2003 MBL draft, and he went ahead to play for a short while for a minor league side known as Pulaski Blue Jays.
He, however, had to ditch baseball after he sustained a career-ending injury. Following that injury, Kyle returned to school and qualified as a lawyer. He practiced in the sports and entertainment segment of some law firms for some years. He subsequently became a certified sports agent. Kyle currently serves as the head of the baseball division at a foremost sports agency, Roc Nation.