It is often said that when life gives us lemons, we should make lemonade out of it. One lady that has taken these words to heart and is living it out practically is Charly Caruso. Caruso grew up with a love for sporting activities such as volleyball and softball and even aspired to make a career out of the former. The door was however shut on her when she couldn't reach the desired height. Following this disappointment, Caruso sought other avenues that would allow her to indulge in her love for sports and came up with the bright idea of journalism in the area.
She followed through and has since gone on to cover elite leagues such as the NBA and NFL for several TV channels. She has also worked as an interviewer and ring announcer for the World Wrestling Entertainment (WWE). Caruso has been with the WWE universe since 2016 and has become a star figure there. In 2018, she added another feather to her cap by joining ESPN on a part-time basis. This lucrative side gig has her providing updates on ESPN's flagship program, SportsCenter, as well as hosting a Snapchat version of the show.
Charly Caruso Worked As a General Assignment Report With Various Stations Before She Embraced Sports Journalism 
Charley Caruso commenced her career while still in college. She used her summer breaks for internships at several local TV stations (WFOR-TV, WTTG-TV, KRIV-TV), a magazine known as Sister To Sister Magazine, as well as a production company named Viva Video. Upon graduation in 2006, she nabbed her first gig as a general assignment reporter at NBC-affiliate TV Station, WSAZ, in West Virginia; this was in September 2010. She spent about a year in this role before moving her services to WDAF, a FOX-affiliate in Kansas City, Missouri. There, she continued reporting on general tasks from November 2011 to November 2013.
All through this period that Charly Caruso was thriving as a general assignment reporter, she still longed for an opportunity to fully concentrate on her passion which was sports journalism. She, therefore, looked out for any offers in that area and one eventually opened up in her hometown, Indianapolis, Indiana. This was a match made in heaven and Caruso quickly joined WXIN-TV, a Fox-affiliate, in December 2013.
Caruso spent two fruitful years with WXIN-TV during which she got to indulge in her love for sports. She covered local professional sports franchises such as the Indiana Pacers (NBA) and the Indianapolis Colts (NFL). Her beat also extended to the prestigious collegiate sports programs of renowned local institutions such as Indiana University, Purdue University, and Butler University. These assignments allowed her to interact with athletes and coaches; thus she became a well-known figure throughout Indiana.
Becoming a Household Name In The WWE Universe
After working as a reporter from 2010 to 2015, Charly Caruso decided to flex her career muscles once more and joined the World Wrestling Entertainment (WWE) in 2016, working as an interviewer and a ring announcer. She first worked with the NXT brand before she moved on to interview a good number of prominent WWE wrestlers including Becky Lynch and Chris Jericho.
Caruso has remained with the universe to date and her flawless display can be seen during the Monday Night Raw as well as other shows like Summerslam, WWE Smackdown, and NXT. She is known for igniting heated arguments between wrestlers with her tough questions. She has also captured the attention of millions of WWE viewers with her sensational display in the ring and also at the backstage segments.
Just tell me when and where. https://t.co/ZmieGCJnjk

— Charly Arnolt (@CharlyOnTV) July 14, 2020
Caruso's fame in WWE has grown so much that she has even become a part of the storylines. Back in mid-2020, she was interviewing a wrestler named Angel Garza when he started flirting with her. She flirted back and Garza's female wrestling partner named Zelina Vega didn't take it lightly.
She hurled some choice names at Caruso and the WWE Fox twitter account quickly got in on the action by suggesting that both ladies could slug it out in the ring for Angel's affection. Caruso gladly replied that she was ready for the bout; any day and at any venue.
Charly Caruso Has Been Moonlighting as a Comedian  
Charly isn't all about sports. She also has talent as well as a passion for making people laugh and she has channeled this into developing a side job as a comedian. The American University alum has performed stand-up at several local comedy hubs. She has also merged her comic chops with her sports career by hosting several comic-cum-sports talk shows.
BackTalk Ball Episode #1: https://t.co/v57KyJyQnU via @YouTube

— Charly Arnolt (@CharlyOnTV) March 31, 2016
The shows include the nationally-syndicated show, The Bob and Tom Show. The Bob and Tom Show is a radio program that provides an exciting blend of comedy, news, and lifestyle content. It has been on since 1983 and Caruso acted as one of the co-hosts in 2016. Caruso has also created her won web-based series known as BackTalk Ball. The show offers a light-hearted and funny look at sports and debuted in 2016 as well.
What We Know About Her Rumored Romance with Seth Rollins
Charly Caruso was rumored to be dating WWE superstar, Seth Rollins, in 2016. This was as a result of a photo that Rollins posted on Twitter with a woman many assumed to be Caruso. Coincidentally, this happened when the WWE superstar broke up with his ex-girlfriend, Zahra Schreiber.
Many WWE fans started linking him and Caruso together. They also pointed to the fact that Caruso seemed nervous while interviewing him and concluded that the two must be an item. Nothing however came out of the rumor and it fizzled out.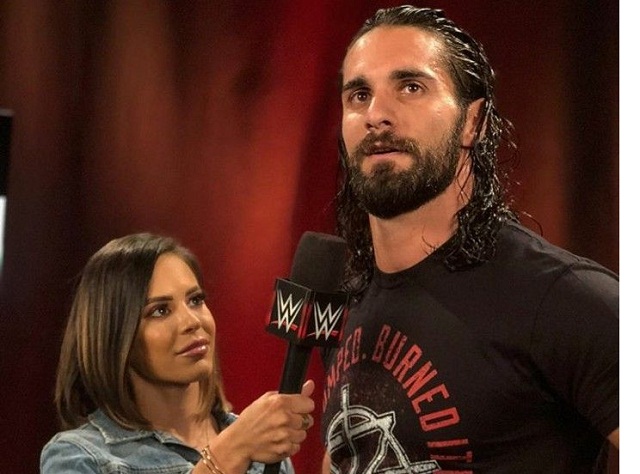 Apart from the rumored relationship with Rollins, Caruso has not had much of a love life to talk about. During an appearance on the Chasing Glory Podcast with Lilian Garcia in December 2018, the WWE/ESPN personality revealed that she was the product of a broken home and that the whole thing made her gun-shy as she had never seen healthy relationships.
Caruso also revealed that the nature of her job is unconducive for dating. According to her, she is always on the road which does not leave much time for dating. Even when she does manage to date, most of the men she ends up with are insecure about the fact that she works with buff and sexy athletes. They always assume she must have something going on with these athletes and nothing she says can convince them otherwise, thus leading to the end of the relationship.