Charly Arnolt is a famous sports journalist and television host who is widely known by her World Wrestling Entertainment (WWE) stage name, Charly Caruso. The well-known sports reporter attained much attention when she joined WWE in 2016 as an interviewer and ring announcer. Caruso has also been making ring announcements on other shows such as NXT, Summerslam and WWE Smackdown.
The popular television personality has been in the spotlight over the years working as NBA and NFL reporter at several TV stations including two affiliate television stations of Fox Network, WDAF, and WXIN. She also has a YouTube channel where she used to post a web-series on football and basketball called BackTalk Ball. Charly Caruso has previously worked as a stand-up comedian performing at the Crackers comedy club, Indianapolis in 2015. The popular WWE interviewer has obviously made a name for herself as a reputable sportscaster. This explains why Caruso is making a lot of headlines in the sports journalism field.
Charly Caruso Biography 
The notable wrestling ring announcer was born in Indianapolis, Indiana, the United States on 14th July 1987. She was brought up by her mother, Charlene May Arnolt who worked as a Speech-language pathologist. Details about Caruso's father and siblings are not available. Well, according to Charly Caruso, she shares a great bond with her mother and grandmother which was very evident on the picture of herself with her mom she uploaded on Instagram during the 2018 International Women's Day. She went on to state on her Instagram that her mom has constantly been her source of inspiration and has a major influence in her life and career.
Concerning her education, Charly Caruso acquired her basic education from North Central High School before she enrolled at American University where she graduated with a Bachelor's degree in Broadcast Journalism. She did her internship as a news and sports intern at CBS TV channel and Fox Channel respectively.
Immediately after her graduation from the university, Caruso nabbed her first gig at NBC affiliate TV Station, WSAZ in West Virginia before moving her services to WDAF in Kansas City, an affiliate TV channel of Fox broadcast network. There, she was reporting on general tasks from 2011 to 2013.
Following the incredible works she carried out at WDAF, Charly Caruso was made a member of staff of WXIN channel situated in her home town, Indiana. During her time at the TV station, she worked as a sports reporter and also an anchor for two years. As a great lover of sports and a flag football player, the famous sports broadcaster started posting football and basketball web-series on her Charly Arnolt YouTube channel.
Her WWE Achievements 
After working as an anchor and general task reporter from 2010 to 2015, Charly Caruso became employed by World Wrestling Entertainment (WWE) in 2016, working as an interviewer and a ring announcer. Her first work with WWE came up during NXT before she moved on to interview a good number of prominent WWE wrestlers including Becky Lynch and Chris Jericho.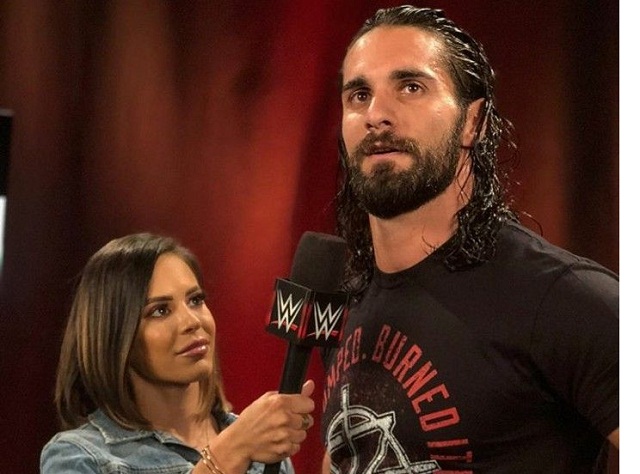 Her incredible flawless display can be seen during the Monday Night Raw and also in other shows like Summerslam, WWE Smackdown and NXT. Caruso is quite known for igniting heated arguments between wrestler with her tough questions. She has also captured the attention of millions of WWE viewers with her sensational display on the ring and also at the backstage since joining WWE in 2016.
Subsequently, the beautiful sports reporter got to join ESPN, working as a TV host of Sports Center on few occasions and also combining it with her World Wrestling Entertainment job. It's very evident that Charly Caruso has carved a niche for herself in sports journalism as she is being rated as one of the A-list sports broadcasters in America.
See Also: Jamie Hersch – Bio, Age, Height, Husband If Married, Salary and Net Worth
Is She Married, Who Is Her Husband?
In 2016, Charly Caruso was rumored to be dating WWE superstar, Seth Rollins as a result of a photo Rollins posted on Twitter of himself and a woman who was assumed to be Caruso. Coincidentally, this happened when the WWE superstar broke up with his ex-girlfriend, Zahra Schrieber.
During that time, many WWE fans started matching Seth Rollins' pictures with Caruso. They also speculated that the famous wrestling ring announcer seemed nervous while interviewing Seth Rollins. All these led to the rumored love affair of which Charly Caruso and Seth Rollins didn't comment on back then. As at the moment, the popular sports journalist is believed to be unmarried.