Chase Daniel is one American footballer whose sojourn and achievements in football can mostly be tied to luck and hard work. In a season that he was quite outstanding and poised to move to the next level of his career, no team came forward demanding his services. Thus he ended up moving on with his career as a free agent. Chase has however not had a jolly ride in his National Football League (NFL) career as he has contended with a lot. Find out more about it here including some facts about the footballer's family.
Early Life 
William Chase Daniel was born on the 7th day of October 1986 in Irving, Texas. He schooled in Caroll High School in Southlake where his journey into Basketball could be traced to. The kid was prepared and coached by Todd Dodge who was a footballer and later a coach. The Team won 5A Division II State title in 2002, came 2nd in the State competition in 2003 and went on to raise the 5A Division II state trophy in 2004. Daniel played as quarterback starter for two seasons and recorded 65.2% of his passes for 8,298 yards with 91 touchdowns, 2,954 rushing yards, and 39 scores. Chase Daniel wrapped up his high school football career with honours as his school became No. 1 in the ranking of high school college football teams in 2004, he also won the 5A State Championships, 5A State player of the year and National Player of The Year as rated by EA Sports.
Chase had high hopes of getting scholarship offers from renown schools like Texas, Maryland, Oklahoma State, Stanford, and Texas A&M but his hopes were dashed as none of his preferred schools recruited him. He later committed to Missouri College and began playing eagerly in the team as a quarterback. In no distant time, Chase became a quarterback starter ousting Brad Smith in 2005.
The avid footballer kept at his games and he gradually increased his passes and records which contributed to the team's overall success. He was named to the First Team All-Academic Big 12 Team. Chased improved his stock in the team as he continued with his exploits the following season throwing 4,306 yards with 68.2% pass completion rate and 33 touchdowns. He covered the ESPN Magazine alongside his teammate Chase Patton. He saw his team to 10 wins and No. 19 ranking in AP Polls in his final season and got some awards like Big 12 Offensive Player of the week and year (2006, 2007, and 2008), All-American Honorable Mention by Sports Illustrated in 2007, Maxwell Award in 2007, 4th in the Heisman Trophy Finalist List in 2007 and runner-up in the Draddy Trophy quest in 2008, to mention just a few.
Daniel with his impressive football resume declared his intentions to enter the 2009 NFL draft but luck was not on his side in the night of the draft as no club interviewed him or even showed interest in picking him as their quarterback.
NFL Career
He was first drafted as a free agent by the Washington Redskins but didn't get any playing time with the team as he later left for the New Orleans Saints where he played alongside Drew Brees whom he is close to and refers to as a brother. Chase had a shambolic start with the Saints and could not break through as the first-choice quarterback, he was signed and re-signed to the team's practice squad in all to make him a better player. The footballer continued to struggle for playing time with the team till he severed ties with them in 2012. Chase Daniel managed to score 7 pass completion for 55-yard passes but recorded no interceptions and touchdowns in all the 45 games played with none started by him in the 3 years he spent with the New Orleans Saints.
On his arrival at Kansas City Chiefs on 12th March 2013, a new chapter of his football career was opened as he got considerable playing time with his new team. William got an opportunity to play against his former team – the Washington Redskins, the match ended in a victory for him and the Chiefs as they trounced the visitors with a score of 45-10. It was a remarkable match for Chase Daniel as he found the opportunity to start his first ever regular season in an NFL game. In his 3 years with the Chiefs, he racked up a total of 43 pass completions for 410-yard passes, 1 touchdown and an interception all in the 10 games played with 2 starts.
Having revived his career, the former undrafted quarterback left the Chiefs to Join the Philadelphia Eagles in 2016. He signed a 3 years contract estimated to be worth $21 million. However, it seemed that the upsurge his career witnessed with the Chiefs was bound to plummet with the Eagles. Chase Daniel wasn't getting enough playing time, thus he requested to return to the New Orleans Saints after the Philadelphia Eagle signed Nick Foles. His request was granted and he once again adorned the old gold, black, white colors of the Mercedes-Benz Superdome domiciled team.
On his return to the Chiefs in 2017, Chase signed a one year contract and played for one season with the team before he took his leave to join the Chicago Bears on a two-year contract worth $10 million with $7 million guaranteed.
His total career stats so far are 51 pass completions in 78 attempted passes for 480 yard passes, and 1 touchdown and an interception.
Salary and Net Worth
Chase Daniel is really a big boy in the NFL, despite the few playing times he has seen on the field. He has, however, made quite a couple of millions; with a two-year contract still running with the Chicago Bears, the talented quarterback is believed to be earning an estimated $2 million salary annually while his net worth is estimated to be about $16 million.
Family Details:
William was born to American parents Billy Wayne and Vickie Daniel as an only son. He grew up in Texas with his sister named; Lynsey Daniel Skoch who served as a bridesmaid during his wedding.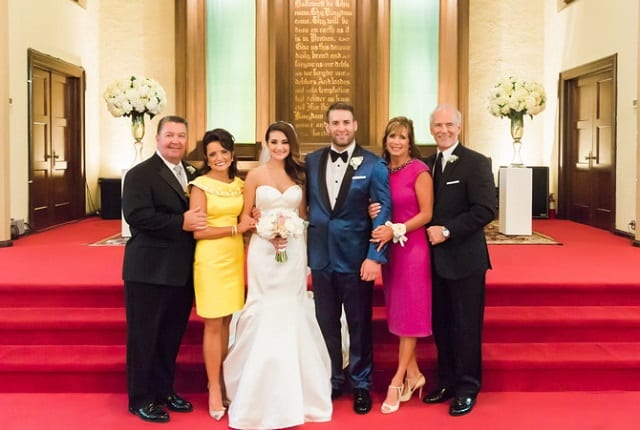 Daniel met Hillary Elaine Mullin in 2007, for the first time in the University of Missouri before he signed up for his NFL draft. The two, however, lost contact before they reconnected when they met again in April 2011, their love affair kicked off and Chase proposed to the beautiful Hilary on 7th February 2014 in a secret dinner that he had carefully arranged for the two families. She accepted his proposal and they both tied the knot on the 5th of July 2014 at Jacob's Well Church. A beautiful reception hosted by the bride's family at The Urban Event ensued from where they vacated to their honeymoon in Jade Mountain Resort in St. Lucia. The union is blessed with a son named Preston, born on 2nd September 2017.
The parents of Hilary Elaine Mullin are James Lenuel and Lenny Mullin II, and she has 2 known siblings; a sister Jillian Mullin who was her maid of honor and a brother James Mullin. They grew up in Lenexa, Kansas, United State of America. Hilary works in an advertising firm Kuhn & Wittenborn.
Chase Daniel like some other athletes is not a short man but has an average/moderate quarterback height of 6 feet on the dot. He has a nice body physique to go with it weighing 102 kilograms.