A Chinese couple who gave the word, 'daredevil' a whole new meaning got married on the Haohan Qiao glass bridge in China.
As if that was not terrifying enough, the couple chose to take photos while dangling from the 590-foot high bridge.
On the Chinese Valentine's day, while many who decided to partake in the holiday chose to spend time with loved ones, a couple decided to beat the mainstream by getting married on the Haohan Qiao glass bridge. They got married on the Shiniuzhai bridge in Pingjiang, Hunan province.
SEE ALSO: Skydiver Luke Aikins To Jump From A Plane Without A Parachute On Live TV
Glass bridges are common in China, and having thrill-seekers gets married on the bridge is nothing new, as five couples were seen getting married on the bridge some days ago.
However, this couple took it to the extreme by posing for photos while dangling at a height of 180m (590ft) above the ground but luckily they are both not Batophobic– having the fear of high places.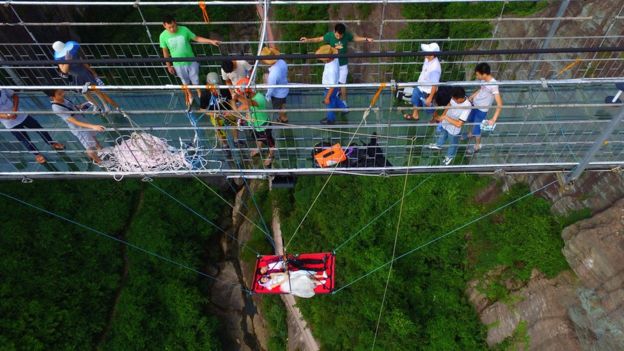 The groom was suited in a red blazer, white shirt and black pants(trousers) while the bride was dressed in her white bridal regalia. The duo posed alone as they dangled separately on a rope, before posing together on a red hammock that was secured to the bridge.
The bridge is the infamous Haohan Qiao glass bridge in Shiniuzhai National Park. The bridge which has gained the moniker, 'Brave men's bridge' is 590-foot-high and 984-foot-long.
It was the world's longest glass bottom bridge, as well as China's first all-glass suspension bridge. However, the Zhangjiajie Grand Canyon Glass Bridge which will be officially open in January 2017 is even bigger than the Haohan Qiao bridge.
SEE ALSO: China Is Set To Open A Terrifying Glass Bridge
The Zhangjiajie Grand Canyon Glass Bridge is 985 feet above the ground is located in the Tianmenshan National Forest Park in the Hunan province of South China.