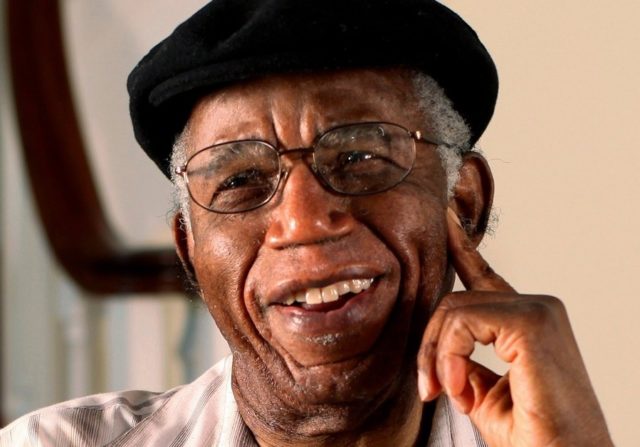 Best known as one of the finest writers Nigeria has ever produced, Albert Chinua Achebe lived and died a celebrated hero whose legacy, especially in African literature leaves one.
s one of the greatest African writers of all times. Known for clarity and simplicity of expressions
Chinua Achebe's Biography
Chinua Albert Achebe was born in Ogidi, Anambra State, the eastern region of Nigeria in 1930. He died at 82 on 21 March 2013 in Boston, United States.
This great Nigerian icon needs little or no introduction as he is popularly known as the giant of African literature. He was an African patriot to the core, a nationalist, a respecter of the African Culture and a very strong advocate of the native language.
In his younger days, history recorded that he was a smart and brilliant student. Achebe was double-promoted in his first year in the secondary school. He was no good in sports but a bulldozer in intellectual matters. He loved books and the library was his powerhouse. Chinua Achebe ditched a scholarship to study medicine for English, history, and theology.
See Also: Classic Chinua Achebe Quotes You Need To Know – Wisdom For Free
Iconic writer Chinua Achebe became a writer as an undergraduate. His first widely acknowledged work was Things Fall Apart. Initially, the work was less regarded by the University of Ibadan but a while, it became an international literary piece and one of the most significant works in African literature. It became a success story as he sold over 12 million copies of the book. Things Fall Apart now exists in 50 different languages.
From 1961-1966, Achebe was the director of external broadcasting at the Nigerian Broadcasting Corporation. He authored many literary works – novels, poems, short stories, critiques, political commentaries and children's books.
Chinua survived various assassination attempts during the Nigerian civil war. In 1983, he became the deputy national vice-president of People's Redemption Party.  The political position was short-lived, however.
Returning to his work as an educator, he lectured at the University of Nigeria Nsukka. He partly founded two literary journals that celebrated the cultural values of the Igbo people.
Achebe later became a professor at the David and Marianna Fisher University. He was also in charge of Africana Studies at Brown University in Providence, Rhode Island. He became crippled after an accident that affected his spine.
Chinua Albert Achebe has received many international and local accolades for his unprecedented contribution to African literature. Achebe was awarded the first-ever Nigerian National Merit Award (1979); Man Booker International Prize(2007); Dorothy and Lillian Gish $300,000 Prize(2010); Goodwill Ambassador to the United Nations Population Fund (1999).
See Also: 10 African Literature Books About Africa You May Not Know
In all the trendsetting intellectual has received not less than 30 honorary degrees from various reputable institutions of the world.
Family
Net Worth
Death
Interesting Facts About The Renowned Writer
See Also: Top 10 African Authors of All Time