Chris Cuomo needs no elaborate introduction as he has starred graced many prominent Television cable networks and his voice has been heard through acknowledged radio shows. He is a television journalist and Lawyer who has previously worked for ABC News as Chief law and justice correspondent as well as a co-anchor on 20/20.
If you still don't remember Cuomo, he is that familiar face on television who presents the Cuomo Prime Time, a regular weeknight CNN show. The journaist has enjoyed the fame that comes with his father's political position and has also attained a defined measure of success in his media career.
Chris Cuomo Age and Early Life
Chris Cuomo was born on the 9th of August, 1970, in New York city borough of Queens. He is the youngest of the 5 children of Late Mario Cuomo and Matilda (nee Raffa), a family that has deep roots in politics and have been very much involved in it. His late father and elder brother both contested for and won political positions.
Chris Cuomo was educated at The Albany Academy, a private University preparatory day school in Albany, New York. He went ahead into college at Yale University where he obtained his undergraduate degree and further to Fordham University where he bagged his Juris Doctor (J.D.). He is not only a journalist but also an attorney.
CNN Career
Chris Cuomo kicked off his promising career with appearances on a wide range of news channels like CNBC, MSNBC, and CNN, discussing issues of politics and society. In the same period, he also had gigs at FOX News covering a wide range of societal mishaps from bullying to rape, heroin addiction and lots more. Soon, his work with ABC drew him into taking a closer and deeper look into heroin addiction to better help address the threats it poses to young people. Among his other notable works at ABC is the coverage of the Haiti earthquake and lots more.
Having moved around a bit at the beginning of his journalism career, Chris Cuomo needed to take a step forward in his career and felt moving to CNN was the right move. He joined CNN in February 2013 and was made co-host of the outfit's morning show and also served as a field anchor. While working as a co-host on New Day Morning Show, alongside Alisyn Camerota and Michaela Pereira, it was announced that Cuomo would move to Primetime to host the self-titled Cuomo Primetime show.
Chris Cuomo has proven himself to be an outstanding presenter and journalist by putting up impressive performances over the years in his media career. This has seen him bag some notable awards and be nominated for more on different platforms. Among his notable recognitions and awards are; the Polk and Peabody Award for team coverage, the Edward R. Murrow Award for commendable breaking news coverage, and the American Bar Association Silver Gavel Award for investigating juvenile justice. Chris has seen himself reach the height of an Emmy Award nominee and we could say that the young sensational journalist is still at the height of acquiring more.
Chris Cuomo's Wife and Family Details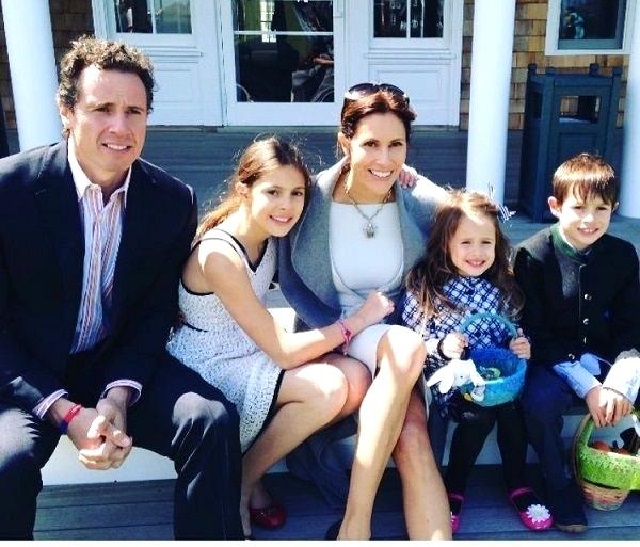 Chris Cuomo was born to the 52nd governor of the state of New York, Mario Cuomo, a Democrat. He had to move from Queens his birthplace to the Governor's residence at age 12. His father served as a governor for three terms and as secretary of state from 1975 – 1978.
Mario's retirement was not the end of the road for the Cuomo family in politics as Chris Cuomo's elder brother, Andrew Cuomo also contested for the position of the governor of New York and successfully won. He was a Democrat just like his father. Andrew Cuomo got his college degree from Fordham University and Albany Law School of Union, New York.
In 2001, Chris Cuomo decided to take up a life partner. He tied the knot with Cristina Greeven, an editor with Gotham Magazine. The union was celebrated and blessed at Southampton, New York. They currently reside in Manhattan with their three children; a son named Mario and two daughters, Bella and Carolina Regina.
Net Worth
Cuomo's success in his media career has paid him well financially with an estimated net worth of $12 million. If this does not make him stand out from the crowd, his annual salary of $2.5 million which placed him in the league of the highest-paid anchors on CNN.
Height
Chris Cuomo stands at an incredibly tall height of 6 feet 2 inches and weighs 93kg. He does not seem to be lacking in both height and weight and as such, he balances it by working out often to achieve the desired toned abs.