Chris Hemsworth is a name that needs no introduction. He is one of the biggest stars that Hollywood has produced in recent times, featuring in several blockbuster movies such as Star Trek, Snow White, and the Huntsman, Red Dawn, Rush, Vacation, In the Heart of The Sea, Men in Black: International, A Perfect Getaway, The Cabin in the Woods, and much more.
Hemsworth is, however, most popular for his role as Thor, the hammer-wielding God of thunder, in the Marvel cinematic universe. He first played the role in the 2011 movie, Thor and has reprised the role in many other movies such as The Avengers (2012), Thor: The Dark World (2013), Avengers: Age of Ultron (2015), Doctor Strange (2016), Thor: Ragnarok (2017), and Avengers: Infinity War (2018).
Chris Hemsworth's Career Started in Australia
Hemsworth spent his formative years in Melbourne as well as a remote part of Australia known as The Outback. Chris commenced his movie career in his native Australia, appearing in a number of TV soaps. They include Guinevere Jones (2002), Neighbours (2002), and Marshall (2002).
He got his first big break in 2004 when he landed the role of the sexy but troubled Kim Hyde on the long-running Aussie soap, Home and Away. The soap had previously served as a launchpad for the career of other Aussie actors, and Hemsworth was no different. After a three year stint on the show, he left to try his hands at the fifth season of Dancing with the Stars Australia. As a contestant, Chris wasn't the greatest dancer. He had the lowest score for five out of the seven weeks and came in fifth place in the end.
His time on the show almost cost him his dream role in the movie Thor. Marvel Studios President Kevin Feige developed cold feet after seeing his shoddy performance in the Dance contest. Feige was of the opinion the role of Thor was incompatible with his time as a dancer.
His Move to the US Proved Pivotal to His Career 
In 2009 Chris landed a role in the science fiction Star Trek. He played George Kirk, in the opening scenes of the film. The film grossed $385.7 million at the box office and paved way for his role as Kale in the thriller A Perfect Getaway. The movie made $22 million on a $14 million budget.
He finally joined the big leagues in 2010 when he landed the popular role of Thor. He didn't even expect to land the role due to a poor audition. In fact, his name did not make the list of the final four actors in the running. It was someone that urged director Ken Branagh to give him another shot. Branagh did, and the rest, as they say, is history.
Hemsworth's next major role was playing Thor once more in The Avengers. He followed that up for a third time in 2013's Thor: The Dark World, and he went on to reprise this popular character in Avengers: Age of Ultron (2015), Thor Ragnarok (2017), Avengers: Infinity War (2018) and Avengers: Endgame (2019)
His performances in these sequels propelled him to A-list status in Hollywood. He played as the Huntsman in Snow White and the Huntsman (2012), and later returned to the role in The Huntsman: Winter's War (2016). In between, Hemsworth appeared in Star Trek Into Darkness (2013) and worked with iconic director Ron Howard for Rush (2013), a real-life car racing story. The actor teamed up with Howard again for the shipwreck tale In the Heart of the Sea (2015).
Hemsworth has gone on to become one of Hollywood's biggest stars. He has also won several awards and recognitions. He has consistently made it to the top of the charts in terms of earnings as an actor. Forbes ranked him as the World's Highest-Paid Actor list in 2014 with an earning of $37 million. He has a net worth of between $70 and $90 million. In 2018 alone, he earned $64.5 million according to Forbes. Among his many possessions is a six-bedroom mansion in Byron Bay, Australia. The mansion features luxuries such as a gym, steam room, spa, games room, and a media room.
In 2014, People Magazine named him the sexiest man alive. Past recipients include the likes of David Beckham, Dwayne Johnson, Blake Shelton, and Idris Elba.
Chris Hemsworth Comes from a Family of Entertainment Royalty
Chris Hemsworth comes from a family of five. It includes mom, Leonie, who is a teacher and dad, Craig, who is a social service counselor. Hemsworth has an older brother named Luke and a younger brother named Liam. Luke and Liam are also famous actors. Luke commenced his acting career in 2001/2002 on the TV soap Neighbours. He has gone on to appear in other TV series, both in Australia and Hollywood. One of them is the HBO series Westworld. The youngest Hemsworth, Liam, is also not doing shabbily at all. He has appeared in many popular movies such as The Hunger Games, Love and Honour, The Dressmaker, and The Last Song.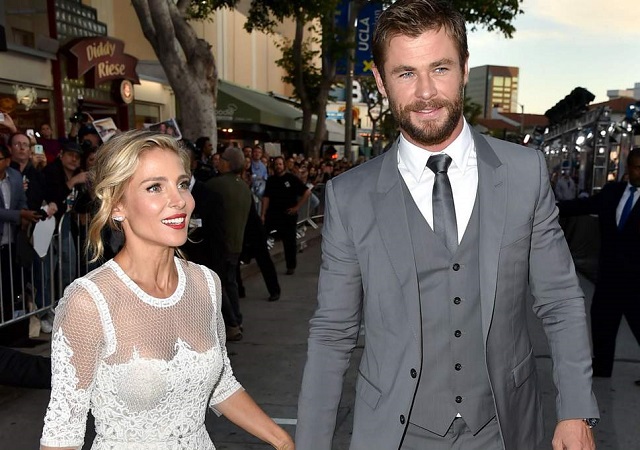 Chris's Wife is also a Popular Actress
The Thor actor is married to Elsa Pataky. She is a Spanish model, actress, and film producer most famous for her role as Elena Neves on The Fast and the Furious franchise. Hemsworth and Elsa started dating in early 2010 after meeting through their reps; they are both represented by the same management company ROAR.
Pataky has featured in more than a dozen Spanish and French films and was also part of the Mexican series Mujeres Asesinas where she played Paula Moncada. She has also featured in Give 'Em Hell, Malone, and Giallo. She was a substitute for Natalie Portman in a scene in Thor: The Dark World.
They tied the knot during Christmas of 2010. The couple has three children together. They are daughter India (born in May 2012) and twin sons, Tristan and Sasha (born in March 2014). Hemsworth has publicly expressed his hope that his children will not grow up spoilt just because they have rich and famous parents. In 2015 the couple relocated from LA back to Australia.