'Beauty and brains' is the expression that best sums up the life of Christina Ochoa, the Spanish movie star who has proven to be incredibly talented not just as an actress but also many other things. As a scientist, an author, and a keynote science communicator, Christina Ochoa has combined marine science research, writing, and acting in the most splendid way possible.
The Blood Drive actress has starred in a number of television series and feature films which have gotten her name on the lips of many movie enthusiasts. But how exactly did she get into acting? Did the whole process come easy for her or not? Let's find out.
Christina Ochoa Did Not Originally Plan To Become An Actress

Born to a Cuban mother and a Spanish father on the 25th of January 1985 in the city of Barcelona in Spain, Cristina Ochoa did not grow up wanting to become an actress. This was mainly because she was born among artists and scientists and was influenced to follow their footsteps.
Our findings show that her father was Victor Ochoa, a highly acclaimed and famous Spanish sculptor and her great-uncle was the 1959 Nobel Prize winner in Physiology and Medicine, Severo Ochoa; hence there was no escaping being influenced by both fields of endeavor.
When she finished high school, Ochoa gained admission into the University of Las Palmas de Canaria in the Canary Islands, Spain. She continued the pursuit of her career in Oceanography at James Cook University, Australia where she studied Marine Biology.
A Chance Minor Role Opened the doors to her Acting Career
In Washington DC, USA Christina Ochoa was on her way to fully embrace a career in biology and oceanology, when her raw artistic ability was noticed by TV producers and script-writers who offered her a minor acting role in theatrical plays. Ochoa accepted and started featuring in plays.
Christina Ochoa acquired her early acting experience at the Little Theatre of Alexandria, Washington DC. At this time, acting on stage was something she saw as just a hobby.
However, she soon found out that she really enjoyed acting and felt really great when she was portraying a character on stage. According to her, acting seemed to have filled up a void within her which she never even knew existed at all. She, therefore, decided to devote more time to her new occupation in acting, a decision that led to her move to Madrid in order to acquire formal training in the Cristina Rota Conservatory and Film Institute.
She Got Her Start In TV Shows and Soon Founded A Production Company
Soon after acquiring formal training in the Cristina Rota Conservatory and Film Institute, Christina Ochoa started landing roles in TV series and feature films. She landed her first onscreen role in 2008 when she was cast in La que se avecina, a Spanish television situation comedy.
In 2009, she was cast to play the role of Gabriela in the 2009 TV movie, [email protected]. These early works got her the needed experience to make bolder moves in the acting world.
She soon ventured into film production by starting up a company of her own named QE (Quantum Entanglement) Productions; and in 2011, her company released the movie Stay with Me. Ochoa also starred in the short film playing the role of Andrea. The film was so successful that it won some American and European Festival Awards. Her performance was so good that she was awarded the Los Angeles Movie Award for Best Actress. In the same year, she was cast to play Dominique in I Hate My Teenage Daughter, an American sitcom.
In 2012, Ochoa gained some more attention when she played a nurse in Modern Family, an American TV mockumentary family sitcom. The next year, she portrayed Princess Leia in The Neighbors, an American TV science fiction sitcom.
In 2014, she landed one of her most notable TV roles when she was cast to play Karen Morales in Matador, an American TV series. In 2016, she landed the role of Renn Randall in Animal Kingdom before scoring the role of Nora Madani in Valor, an American military drama television series. The same year, she played Grace d'Argento in Blood Drive, a science fiction action TV series. She has since been promoting the different series she is involved in on social media including Valor.
In 2018, she was cast to play Ashley Morales in A Million Little Things, an American family drama television series. Apparently, Christina Ochoa is not showing signs of backing down on this acting journey she has embarked on.
It is noteworthy that besides her acting skills, Christina Ochoa had acquired/developed other interesting skills in writing, public speaking as a science communicator, scuba diving, fight and stunt driving, as well as dancing.
Read Also: Who Is Natalie Portman's Husband, Benjamin Millepied? Kids, Height
The Actress Has Dated Fellow Colleagues In The Movie Industry

Christina Ochoa is a beautiful woman and her attractiveness is all too obvious. Her pictures have made it to various covers of glitzy magazines. However, she is yet to tie the nuptial knot with anyone.
So far, Christina Ochoa has been linked to three romantic relationships. According to our findings, the actress used to be in love with Nathan Fillion, a Canadian-American actor who is very well-known for his work on Firefly.
Ochoa and Fillion kickstarted their love affair in 2013 and were in love for about two years before things packed up in 2015 and they both went their separate ways.
After leaving Nathan Fillion, it was rumored that Ochoa was in a relationship with Derek Theler, an American actor and model. It was Derek himself who claimed that they were in love even though Ochoa has never said anything about their rumored romance. It is believed that they dated for about three years before they parted ways.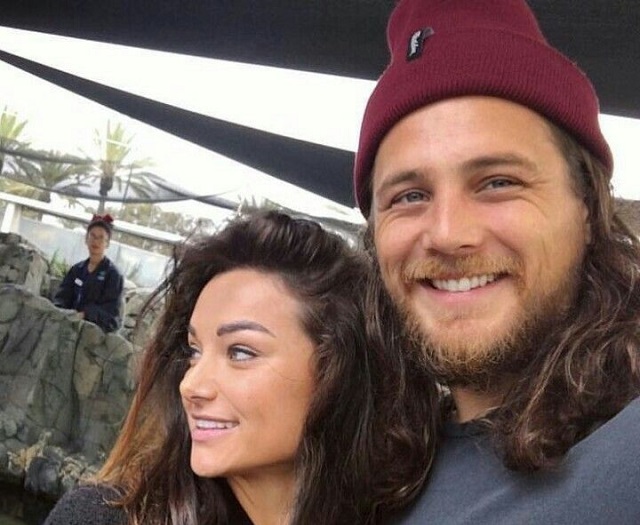 At the moment, her exact relationship status is quite vague. Though yet to be verified, it is speculated that the Spanish beauty is presently dating fellow Animal Kingdom TV actor Ben Robson. Instagram pictures of the couple in a cuddly posture have been circulating since 2017.