Christina Pazsitzky is a Canadian-American comedian, famously known for her commentary on several television programs like E! channel's Wildest Moments and truTV's World's Dumbest. She co-hosts the widely successful podcast Your Mom's House along with her husband, Tom Segura. The show has received top ratings on iTunes, where it garners millions of downloads monthly.
For their outstanding performances, their show received a nomination for the Stitcher Radio Comedy Award in 2013. In addition to this, Christina Pazsitsky also hosts her podcast, That's Deep, Bro, a podcast that covers topics you never talk about in everyday life but should. The podcast, along with her other projects, is part of Christina's successful life as a comedian.
Christina Pazsitzky's First Onscreen Role was an MTV Show
The hearty comedian was born on June 18, 1976, in Windsor, Ontario, Canada. She was born to Hungarian parents that emigrated from Hungary in 1969. By 1980, Christina moved with her family to the San Fernando Valley in Los Angeles, California. However, in the year 1994, she became a US citizen.
She studied Philosophy at Oxford University and tried to follow her mother's wishes by entering Law School. But like most of the world, Christina Pazsitzky found out that the conservative choice and path of least resistance is not her passion. Unlike most of us, however, she found the courage to quit and pursue her true interest in comedy.
But like anyone who has followed their passion knows, the road is not easy. For the first four years after making the decision, Christina worked 22 jobs to make ends meet and either quit or got fired from them. At the time, Christina's only onscreen appearance was a starring role in the MTV reality show, Road Rules, in 1995.
Eventually, thanks to encouragement from one of her bosses to properly pursue a comedy career, she returned to the screen with another reality TV series, The Challenge. She starred in the show between 2001 and 2003 with an additional appearance in the TV documentary, The Hitchhiker Chronicles.
Christina Got Her Initial Breakthrough Writing for Chelsea Lately
Christina Pazsitzky got her first chance at stand-up comedy when she performed at The Comedy Store in Los Angeles in 2001. Her act took up six minutes, but from that point onward, Christina found her stride, and nothing was going to stop her.
Christina has performed at plenty of comedy shows, including Showtime's special Red Light Comedy, Nuvo TV's Stand Up and Deliver, and TV Guide's Stand Up in Stilettos. While her stand up career was taking off, Christina took up writing.
Before she got into the world of stand up, Christina Pazsitzky worked as an animation writer. She wrote and voiced several characters in several projects, like TV: The Movie. She began writing for others, specifically, for the late-night comedy talk show Chelsea Lately hosted by comedian Chelsea Handler on E! channel.
While writing for the show, she also appeared as part of its round table guests, all between 2009 and 2010. She also put her writing skills in action while writing for the TBS show Funniest Wins with Marlon Wayans, among others.
Eventually, with the help of her podcast show, Your Mom's House, her stand up career took off. No longer stuck behind a desk or the screen, writing for others, Christina Pazstizky has taken charge of her comedy career.
She has toured the US and the rest of North America multiple times and performed in various parts of the world. Christina has joined the USO to perform in Africa, Afghanistan, South Korea, and the UAE.
She has also released several comedy projects, like the comedy albums, It's Hard Being A Person and Man of the Year. In 2017 and 2018, she released her Netflix specials, Mother Inferior and The Degenerates. Both, especially the former, received positive critical reviews.
Her Podcast Your Mom's House Counts Among Her Most Successful Works
However, for all her past and continuous achievements in stand-up comedy, Christina Pazsitzky is best known for her work on the comedy podcast, Your Mom's House. She started the podcast with her husband, Tom Segura, via the Deathsquad Network, in October 2010.
On the podcast, Christina Pazsitzky and her husband, along with the episode's guest, discuss a wide range of topics. They cover issues from ongoing events, comedy, and their daily life. They hosted and produced the show under Deathsquad Network for the first forty episodes before moving out to chart their own course.
Since making the decision, Your Mom's House has grown in popularity, and so has Christina's. As of 2020, the podcast records up to one million impressions per episode, and its success has helped Christina and her husband launch their production company, YMH Studios.
Under the studio, Christina and Segura have produced other podcasts like Where My Mom's At, hosted by Christina, The Honey Dew, 2 Bears 1 Cave. Aside from producing other podcasts, Christina and her husband also go on local and international tours under the banner of Your Mom's House.
While YMH remains her biggest work, it is not her only podcast. She also runs That's Deep, Bro, where she puts her philosophy background to work by discussing philosophical and existential issues. While it is not as popular as YMH, it has given Christina Pazsitsky a rounded public persona, as someone with more than a funny mouth but also a smart mind.
Christina Pazsitzky Has Also Worked on Smaller Projects
Her unique and humorous commentary has seen her appear on several other shows. She's well known for her pop culture references on VH1's countdown shows and her hilarious commentary on truTV's World's Dumbest. She has also appeared as a commentator for SyFy's Insane or Inspired, a show that collates videos from the internet depicting peculiar scenes of human imagination.
Christina Pazsitzky's other appearances include truTV's How to Be a Grown Up and was on E!'s Wildest TV Moments. As a member of the Deathsquad Network of stand-up comedians. Also, Christina appears as a regular guest on The Bob and Tom Show, a podcast her husband co-hosts.
She has also done some acting, mostly on TV. She made her debut in Trollz and has made further appearances in Mental Engineering and The Midnight Gospel. Christina and her husband will appear in a comedy show, The Little Things, having had the rights bought by CBS in 2018.
Christina's Marriage with Tom Segura Started on a Rough Patch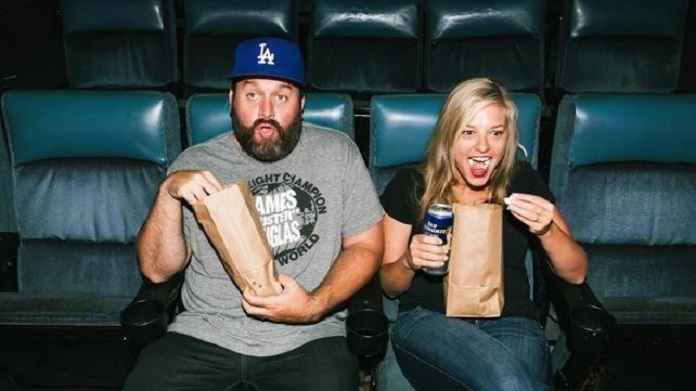 Christina Pazsitzky is married to fellow comedian Tom Segura. They tied the knot in November 2008, and together they co-host the podcast Your Mom's House. Their union and joint success is a result of a chance meeting at a comedy club in Los Angeles in 2003.
At the time, Tom was still finding his feet in comedy while Christina had spent a couple of years in the local stand up scene. Like a mentor to an upstart, the two struck up a friendship, and for months, they stayed friends. That is until Christina broke up with her boyfriend. After an acceptable period of grieving, Tom asked Pazsitzky out and ended up having their first date at a local bar.
After a few years of dating, they got married. The early years of their marriage were rough, as both comedians hardly saw each other, with work keeping them apart. Eventually, a suggestion by Joe Rogan for the couple to start a podcast together led to the creation of Your Mom's House, aligning their professional and personal interests.
Since they fixed their marriage and became further established as a couple, they have grown their family. Christina Pazsitzky and Tom Segura welcomed their first child, Ellis, in 2016 and the second, Julian, in 2018. The couple also has two dogs, Theo Huxtable and Bitsy. The comedian and her family all live in Pacific Palisades, Los Angeles.
Their Family is Worth $12 Million
With their successful podcast leading the pack, Christina Pazsitzky and Tom Segura have a combined net worth of $12 million. The family makes a lot of money via the show's dedicated fanbase, via sponsored ads and the sale of merchandise.
They also make money from touring and it is considered one of the podcast's biggest moneymakers. Since the millions started coming in, Christina and Tom have spent a part of it on upgrading their lives.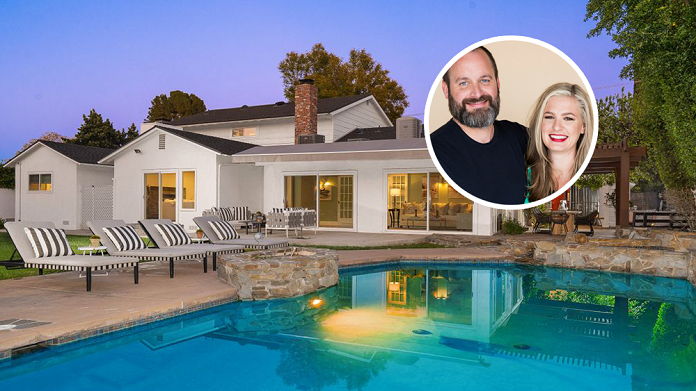 The couple initially bought a $1.6 million home in Woodland Hills, California. In January 2020, they traded up for a large seven-bedroom seven-bathroom home worth $6.65 million.
The house is spread across 5,779 square feet and has amenities like a rooftop deck with a 360-degree panoramic view, an infinity-edged swimming pool, and an outdoor kitchen. Their Woodland Hills home has since been put up for sale.