Anele Mdoda is currently in a relationship with a man named Thoba Mkangisa. Although it is believed that she must have been involved with other men before Thoba, it has proved very difficult to get the identities of these men.
It goes without saying that Mzansi media star Anele Mdoda belongs to that category of celebrities that love to keep details of their personal life under lock and key. Her name is not new on the South African media scene as Mdoda has become a household name over the years. She is a radio personality that doubles as a television talk show host.
She has during this time been involved in a few romantic relationships that were somewhat shrouded in mystery. However, more publicized among them was her dalliance with Thandile which lasted for quite a while before they decided to call it quits and go their separate ways. The most interesting aspect of their relationship is that they created a life together, a son who is solely raised by Mdoda.
Mdoda's name again started trending on the relationship scene when she hooked up with her current boyfriend Thoba Mkangisa, and for the first time in her life, things are beginning to look a bit serious. Then, we got wind of the news about Mkangisa's imminent plans to begin the negotiation of lobola on the media personality's head. From what is perceivable, Mdoda has found the love of her life and things are really looking up for the SA celebrity.
Breakdown of Anele Mdoda's Relationship History
It has proved very difficult to get the identities of the men the radio cum television presenter has dated in the past, but we know that Anele Mdoda has quite a number. Apart from her baby daddy Thandile, the other men she has dated are not known. However, she made a reference to her exes in a recent interview session with one South African mainstream media outlet.
According to the popular talk show host, she still maintains a good relationship with all her exes; at least, they are on talking terms with her. Mdoda went on to reveal that her wish is for all her ex-boyfriends to do well in their individual endeavors. Her reasons being that they might still end up together, you never can tell what the future holds.
Who is the Father of Her Child?
Though she has never exchanged the forever commitment with any man, Anele is a mother of one. Her son Alakhe–Ilizwe announced his entrance on the 10th of August 2015 which means that the little man has already celebrated his fifth birthday in 2020.
Now, the identity of the man who fathered Anele's son is simply revealed as Thandile. According to reports, the duo were an item for quite a long time before she conceived and presented him with a son.
After the birth of their son, the couple's relationship began to fizzle out, leading to their separation. From what is obvious, the media personality got sole custody of their baby boy after the separation and she has been really working hard to give the boy the best that life has to offer.
Since their separation, Anele Mdoda rarely talks about her ex, but previously, she shared some of his photos on her social media. However, the chronicles of that particular relationship have always remained discreet. Anele was in an interview where she was quizzed about the father of her son; her response was simply that she sees him as a great guy.
Anele Mdoda's Most Recent Relationship with Thoba Mkangisa Appears to be Flourishing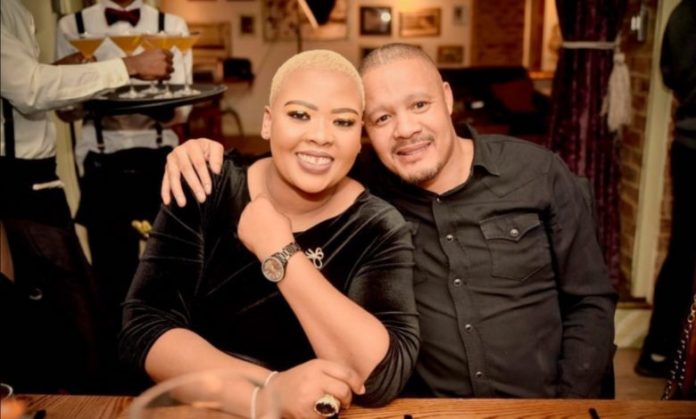 The identity of the current man in Mdoda's life is all out in the open. He goes by the name Thoba Mkangisa. Though he is not a known name in South Africa, Thoba's Linkedin profile has thrown some light on the man behind the name.
He happens to be a self-employed man and the owner of Thoba Mkangisa and Associates. His company focuses on strategic business development and is also into product management which entails planning and execution.
A further perusal of the South African man's Linkedin profile reveals that he is an alumnus of Witwatersrand Technikon – an academic institution where he acquired a National Diploma in Analytical Chemistry. Thoba's years of study spanned from 1996 through 1999 and today, he is an entrepreneur in his own right.
The Couple's Relationship is Presently Trending in South Africa
Being someone that is averse to making her relationship details available for public consumption, it is not surprising that Anele Mdoda and Mkangisa's dalliance took off without the knowledge of fans. Thus, we cannot categorically say exactly when they started or how long they have stayed as a couple.
In the same vein, the couple obviously didn't deem it necessary to intimate fans with details of when they met and where. However, their relationship started making the rounds on different social media platforms recently, and from what is perceivable, the duo are ready to take things to the next level.
According to recent reports, the South African businessman has plans to start lobola negotiations on Mdoda's head. In an interview with Sunday Sun, Mkangisa told the publication that their relationship has come to a stage where they need to take it to the ultimate conclusion of marriage.
The entrepreneur said he is sure that the media personality is the woman for him and is ready to dedicate the rest of his life to her, thus, he is set to approach the Mdodas for her hand in marriage.
Reports say That The Couple are Big on Tradition and Take the Lobola Procedure Quite Seriously
With their plans for the future all out in the public, news about the couple started trending both on social media and the mainstream media. Through the reports, we got to know that both Thoba and his lady love Anele are big on tradition.
As a result, they take the whole lobola procedure very seriously as they consider it important. Even with their news in the public arena, the love birds still try to maintain their privacy, this is why their two social media accounts are not bursting with snaps about their plans.
One of the publications hinted that the negotiations for Anele Mdoda's lobola were slate to start in December 2019 but we don't know how true the info is and how far they have gone with the negotiations.
Another source also told Sunday Sun that once the two families have come to an agreement about the lobola and get it out of the way, they will commence plans for the wedding. However, for the present, all their focus is on getting the lobola settled between the Mdodas and the Mkangisas.
From what we deduced from recent reports, a wedding is clearly in the offing for the South Africans. On their own part, fans are really excited about the upcoming nuptials and are ready for it. An occasional appearance of the couple's pictures on each other's social media page keeps the hope alive.
However, it has been noticed that they are not the type to gush about their partner on social media which has been commended by fans who see couples that overshare on social media as off-putting.