Charles David "Chuck" proudly holds the credit of helping to introduce Mixed Martial Arts (MMA) into the mainstream of American sports and entertainment. Having an extensive background in different forms of Martial Arts including Kenpo, Karate, kickboxing, college wrestling, and Brazilian jiu-jitsu, Liddell made his marks while his career lasted between 1998 and 2010. Within this space of time, he earned a black belt in Koei-kan karate, a purple belt in Brazilian jiu-jitsu, and an 8th Dance black belt in Kajukenbo. Also a former UFC light heavyweight champion, Lidell was inducted into the UFC Hall of Fame on the 10th of July, 2009. Chuck's unnatural calmness before fights earned him the nickname, Iceman, from his trainer John Hackleman. Now, let's introduce you to Chuck Liddell's wife, Heidi Northcott, alongside everything you need to know about her.
Who Is Heidi Northcott?
Heidi Northcott is largely known as a professional poker player. She, however, came to limelight as the wife of Chuck Liddell. Check her records, you will find she was born on the 15th day of January 1980 in the United States of America. She grew up in California where she attended the Marina High School, graduating in 1997.
Following her graduation, Heidi furthered her Education at the University of Southern California. She majored in Management Information Systems and Natural Science, earning her degree in 2001. Heidi is multilingual, she is proficient in several languages including English, French, Vietnamese, and Spanish.
The Accomplishments of Her Poker Career
Heidi Northcott discovered and explored her talent in poker while she was dating José Canseco. Apart from playing baseball, Jose is an experienced poker player; as such, it isn't a mystery how Northcott got involved with poker. During their time together, Jose expertly taught Heidi poker to such extent she became a professional. She would go on to reach the level of being compared with world-famous poker players. Heidi has also won up to $500 from the games she has been a part of. In addition to that, she makes frequent appearances at poker events. In 2007, she was spotted alongside Jose at a summer night poker tournament held at Boulevard 3 in Los Angeles. Subsequently, she would appear on the red carpet of poker events with her husband, Chuck Liddell.
In addition to the poker game, Heidi enjoys diverse outdoor activities such as dancing, motorcycle riding, hiking, traveling, working out, cliff jumping, sky diving, and rock climbing. These show she is a nature-loving person who is not afraid to explore and see the world. Yeah, the woman is quite an adventurer.
What Else Is She Known For?
Heidi Northcott has also tried her hands in the corporate world. She holds the position of Vice President at High Traffic Media, a business development outfit that does online marketing, SEO, and media planning.
Disregarding the attention she gets for being Chuck Liddell's wife, Heidi Northcott garnered a massive admiration through a REEBOK shoe advertisement in 2010. Her fame touched the skies after she went completely nude alongside her husband while promoting REEBOK shoes. The couple shocked the world with photos that showed them working out in a gym stark naked, except for the Reebok boots they wore. Despite receiving massive backlash for this, it earned them widespread popularity.
Also See: Heidi Watney's Bio, Who is her Husband – Mike Wickham?
Heidi Northcott's Relationship and Marital Life with Chuck Liddell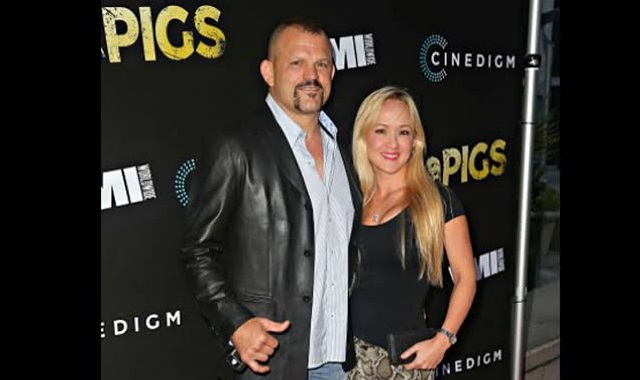 Heidi and Chuck Liddell met at a party where a mutual friend introduced them to each other. It was at the said party that they made a go at their relationship. After about a year of a blossoming relationship, Chuck popped the big question to Heidi.
Following Liddell's proposal on the 4th of November, 2010, the couple welcomed their first child together in 2011. Heidi gave birth to a daughter named Guinevere Liddell. Two years later, their son named Charles David Liddell Jr arrived. The baby boy who takes the name of his father was born in July 2013.
Aside from her biological children, Heidi Northcott has two stepchildren. Her husband had the kids with two women from his earlier relationships. He had his first daughter named Trista with fellow MMA fighter, Casey Noland. He later had the other, a son named Cade with an ex-girlfriend called Lori Geyer.