For actors, there are certain boxes they need to check before having an average to a highly successful career in the film industry. At the top of the list is the ability to act, and for actor Cillian Murphy, this is not a hard feat. Being an immensely attractive person is another thing that he has been working for him, that he has gotten a reputation for his looks. While the Irish actor has continued to wow the audience with his outstanding performances, many have wondered how he was able to attain such feat, as well as who the woman behind such a great talent is. Let's tell his story.
Cillian Murphy's Rise to Fame Began Before He Moved to Hollywood
Cillian Murphy's first experience with acting happened during his teenage years when he performed in a play. For him, the feeling of acting was akin to a new high, and he felt fully alive. But he did not pursue acting then. At that time, he was trying to build a career in music. He grew up with his brother Paidi and two sisters, Orla and Sile. Murphy had always shown an affinity for music, and by the time he was ten, he was already writing his songs.
In his early twenties, Murphy used to play music with his younger brother, Páidi – their music was so good that the pair got a contract from Acid Jazz Records to make 5 albums, but they turned it down. Failing at school while he was studying law at University College Cork made him realize that he had no interest in getting a law degree. Around that time, he became transfixed to the idea of a career in acting after he had seen a stage production of A Clockwork Orange.
Consequently, he joined the school's drama society, and his first actual performance was in their production of Observe the Sons of Ulster Marching Towards the Somme. In September of 1996, Cillian Murphy had his debut as a professional actor, playing a very minor role in Disco Pigs, a play. He would spend the next four years acting in the theater, where he gained exposure from the many plays he appeared in. 
Murphy's first major role in a movie was as a survivor of a deadly Pandemic in the 2002 horror film 28 Days Later. The casting director, who suggested him to the director of the film, had seen him in Disco Dogs and liked how enigmatic he was. His performance was a hit with movie watchers, and at the MTV Movie Awards, he was nominated for the Breakthrough Male Performance. His next major performance was in Intermission, where he starred opposite Colin Farrell. This film, just like Intermission, was commercially successful and also endeared the young actor to the admiration of fans.
Batman Begins Ushered Him Into Mainstream Success
Cillian's remarkable role in 28 Days Later ushered in much more interesting roles in the coming years. In 2005, Murphy was cast to play Dr. Jonathan Crane in the Christopher Nolan Batman trilogy, appearing in all three films – Batman Begins, The Dark Knight (2008) and The Dark Knight Rises (2012). He was to audition for the lead role of Bruce Wayne, but he had reservations about attaining the physical requirement for that role.
The same year he appeared in Batman Begins, Murphy played the villain in the thriller Red Eye. He followed his performances in the early 2000s with roles in Peacock, Perrier's Bounty, Inception, Dunkirk, Sunshine, and Breakfast in Pluto, which earned him a Golden Globe nomination. 
In between the Batman trilogy, Cillian caught the attention of movie stakeholders and played remarkable roles in other popular movies like The Water, Perrier's Bounty, and Peacock, among others. So far, the actor has appeared in over 55 movies and TV shows.
The Actor Has Made A Fortune From His Career
Nolan made many comments on how beautiful Cillian Murphy's eyes are when the actor worked with him on the Batman trilogy. This has been a recurring statement since Murphy started to appear in mainstream films. He is also recognized for how well he dresses, which was confirmed when GQ named him one of the best-dressed men in the 2015 issue. The actor, who is a vegetarian, has maintained a largely scandal-free lifestyle.
The peak of Cillian's career came with his playing of Thomas Shelby on the period crime drama television show Peaky Blinders. The show has received praise for its story, and how well the cast presents their characters. The BBC crime drama series, which premiered in 2013, has garnered millions of views, as well as worldwide recognition and other accolades since its inception.
As of this writing, Cillian Murphy's net worth is estimated at $15 million, which is a testament to the work he has put into his craft. The many awards Murphy has been nominated for and won are also proof of this. In 2006, he won the GQ UK Actor of the Year Award for his performance on The Wind that Shakes the Barley, and in 2018, he won the Irish Film & Television Award for Best Actor in a Lead role for Peaky Blinders. 
Due to his notoriously private nature, what he makes per episode in Peaky Blinders is not known, but it is believed he makes a whole lot playing gang leader Tommy. The public is indeed astonished, as well as stuck with the notorious Tommy image, which has portrayed for so many years.
With his weird signature haircut and cigarette, many may think he leads such an inappropriate life in reality, but Murphy is just as responsible as can be in real life. After the last episode of Peaky Blinders season 5 was aired on September 22, 2019 everyone has been looking forward to the release of another season.
What We Know About His Personal Life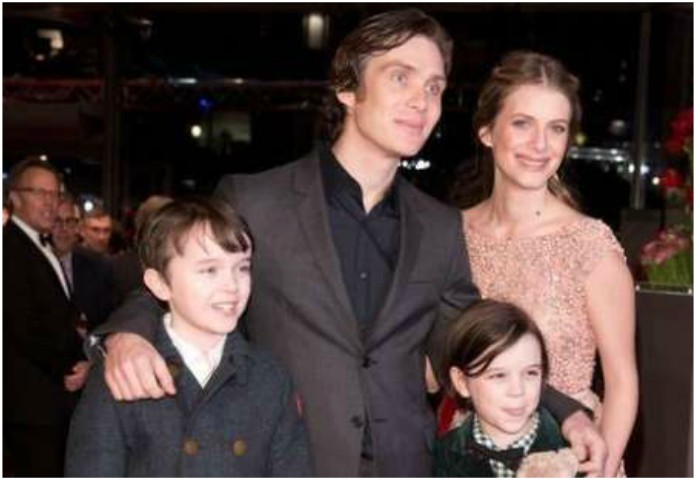 Cillian Murphy's personal life is not as loud as that of his career. This is because the actor prefers keeping his private affairs low key. Although everyone knows he is married, not everyone knows who he married, and of course, how he leads his family life.
For the curious, Murphy is the husband of Yvonne McGuiness, a visual artist. The two met in 1996 when he was still playing music, eight years after, in 2004, they got married. The couple has two sons, Malachy and Aran born in 2005 and 2007, respectively. They currently reside in Dublin, Ireland.
The actor is known for maintaining the same friendships he had before he became popular, and one of the relationships that he has maintained for most of his life is that with his wife, Yvonne McGuinness. The work McGuinness does as a visual artist includes the installation of videos and the use of print in her art. Her work features 3 short films, one in 2011 and two in 2012.