Clare Grant is an American actress, model, and film producer who co-founded the multimedia production company, Team Unicorn and is famous for her appearances in popular films such as, Walk the Line, The Graves, and Happenstance. Grant's career also brushes into music as she has performed in various parody songs like G33k & G4m3r Girls and in Meghan Trainor's All About That Bass. But asides her successful career, she is also known as the wife of one of America's finest comedians and actors, Seth Green. This post zooms into her bio, height, family and other interesting facts about her.
Clare Grant's Bio
Clare Grant was born Clare Camille Johnson, in Memphis, Tennessee on August 23, 1979, to parents Clarence and Glenna Johnson. Being first of seven children, she and her siblings were raised in a middle class, conservative Christian family in Memphis, Tennessee. Growing up, she attended White Station High School and later switched to Clear Lake High School where she rounded up middle school.
Following her graduation from high school, Grant proceeded to the University of Memphis where she acquired a degree in Theater. According to sources, it wasn't all perfect for Grant as she, at some point, had to support herself through college by working as a model under Elite Model Management. Most notable among the brands she modeled for at that time was L'Oréal. However, modeling was just part of a whole lot Grant was doing even while in college.
Career
The Memphis-born beauty started off her career in 2005 with a small but key role in the Academy-winning film, Walk the Line. She was still a college student at the time. It was also around this time that she met ace producer and screenwriter, Craig Brewer, who later cast her in several indie films before handing her a role in the 2006 movie, Black Snake Moan, and eventually the lead role in his 2009 MTV series, $5 Cover.
Grant later appeared as Megan Graves in the 2009 film, The Graves. In 2013, she appeared as Martha Collins in The Insomniac and voiced Black Widow in the Marvel Animation movie Iron Man: Rise of Technovore, later that same year. Her Television appearance began with an episode of Masters of Horror. Since that time, Grant has starred on several shows including, Castle, CSI: Miami and Warren the Ape.
Her career as a producer began with the 2009 short film, Saber, in which she also starred. Saber became an instant success, winning two LucasFilm Fan Film Awards for 'Best Action' and 'Audience Choice.' Together with her team at "Team Unicorn", Grant continues to create and produce catchy contents such as parody songs G33K & G4M3R Girls, which sparked a hell of firework for its overtly sexual depiction of Katy Perry's California Gurls video. G33K & G4M3R Girls grossed over a million views within its first week of release.
Family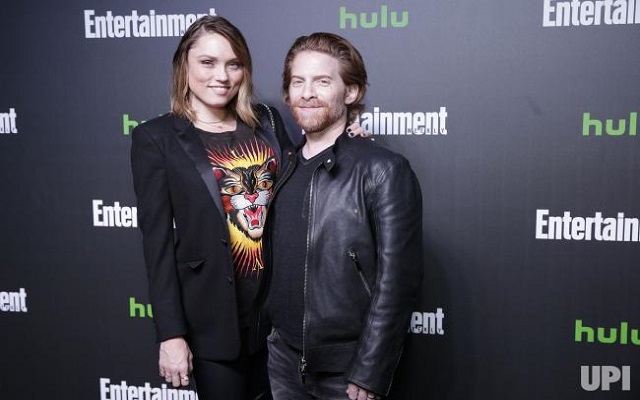 Clare Grant and her husband, Seth Green, first met at the Golden Apple Comics book store's grand re-opening party in November of 2006. They met a year later again at the San Diego's 2007 Comic-Con. It was here the first tingles of love morphed into a romance that lasted three years before they finally tied the knot on May 1, 2010. The ceremony was held at Skywalker Ranch and was officiated by Grant's long-time friend and director, Craig Brewer. So far, there have not been any details about the couple having or expecting a child.
Height and Body Measurements
Clare Grant has a slim build. She stands tall at 5 feet 7 inches (1.70 meters) and weighs 130 lbs (59 kg). She has shiny blonde hair and beautiful blue eyes. Her bra, shoe and dress sizes are 33C, 8 (US) and 7 (US) respectively. Her body measures 36-26-38 inches for bust, waist, and hips.
See Also: Kelsey Darragh Biography: 5 Fast Facts You Need to Know
Other Interesting Facts About Seth Green's Wife
1. Net Worth
Although it's not clear how much Clare Grant earns from her career as an actress, singer or producer, a 2019 estimate puts her net worth at over $5 million. While that's no chicken feed, it shrinks fives times smaller when compared to her husband's $25 million fortune.
2. Dragged into Acting
Although Clare Grant was studying Theater in college, she wasn't so keen on beginning an acting career. Sources reveal that she was "dragged" into acting by her peers who set her up by introducing her to a Memphis-based film director, Craig Brewer. Brewer set the spark for Grant's later success by handing her a few key roles and eventually encouraging her to leave Memphis for California to pursue her acting career proper.
3. Philanthropy
Clare is an avid supporter of several organizations such as the AIDS Healthcare Foundation (AHF), Los Angeles and the National Centre for Transgender Equality.