Australian actress, Claudia Black gained prominence when she portrayed the character, Aeryn Sun in the TV series Farscape. For her appearance in the show, she won a Saturn Award in 2005 for Best Actress. Over the years, she has also been seen in quite a good number of popular works including 90210, the notable police procedural series – NCIS, the epic drama series – The Originals.
Black has also made appearances in an extensive list of video games voicing numerous characters. Her most recent voice role was in the 2019 video game entitled, Gears of War 5 as Samantha Bryne's voice.
Claudia Black's Acting Career Started With Small Roles In TV Shows Back In The '90s
Born on the 11th of October 1972 to Judy and Jules Black in Sydney, Australia, Claudia Black was raised in a Jewish family and she is the only child of her parents. Her parents are Australians who work as medical academics and moved around a lot which made Claudia live in different towns and cities before settling in the United States of America.
For her education, she schooled at Anglican Kambala School in Sydney where she was very active in most sports activities. She was also a good dancer as well as one of the brilliant ones in her class. However, apart from this, further details of her educational endeavors are not yet known to the public.
Claudia Black took her first steps on the screen when she appeared on 2 episodes of the TV drama series; Home and Away in 1992. The next year, she wowed audiences with her acting stints playing various characters in shows like Seven Deadly Sins, G.P, Police Rescue, and A Country Practice. She was later seen playing the lead role of Angela Kostapas in City Life between 1996 to 1998. Black also has other appearances in notable 90s shows like Water Rats, Hercules: The Legendary Journey and Good Guy, Bad Guy amongst others.
She Gained Popularity With Her Appearance On Farscape
Between 1999 to 2003, Black was seen playing the role of Officer Aeryn Sun in Farscape which she starred alongside the American actor, Ben Browder. The series unfolds the events that come about after an astronaut, played by Browder, gets thrown from planet earth into an intergalactic war during an experiment conducted in space. In the chaos, his path later crosses with Aeryn Sun who eventually loses her position as an officer as she joined forces with the astronaut.
As a result of her remarkable performance in the science fiction series, Black was nominated both in 2001 and 2002 for a Saturn Award in the Best Actress category but unfortunately, she did not take home the award on both occasions. Regardless, she later bagged it in 2005.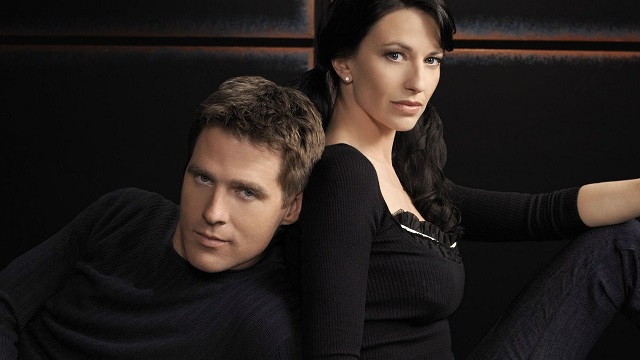 Her breakthrough role eventually opened doors for more offers for the talented actress who was seen in a myriad of popular TV series in the following years. Black was seen in Xena: Warrior Princess as well as reprising her role as Aeryn Sun in the miniseries, Farscape: The Peacekeeper Wars in 2004. She has also been seen in other popular works like NCIS, 90210, the epic drama series – The Originals, and Containment amongst others.
She Has Carved A Niche For Herself As A Voice Actress
More so, the actress has appeared in a couple of other feature films and has since made her film debut playing Sharon Shazza in the movie Pitch Black (2000). She later appeared as Pandora in the movie, The Queen of Damned in 2002. This was followed by a voice role in the 2007 film, Stolen Life. In the subsequent years, she was seen as Vala Mal Doran in Stargate: The Ark of Truth; then talented actress voiced 'Angelic' in the animated film, Rango, 'Parker C. Boyd' in Stage Fame as well as 'Cheetah' in Justice League: Doom. 
Claudia Black has also lent her voice to a plethora of video game characters; a few of those games include Aeryn Sun in Farscape: The Game, Artemis in God of War, Chloe Frazer in Uncharted 2: Among Thieves, and Morrigan in Dragon Age: Origins. Black has also voiced Queen Marwen in Middle-earth: Shadow of Mordor, Tess Everis in Destiny 2, Mrs. Foster in Killing Floor 2, and Samantha Bryne in Gears of War 5, amongst others.
Claudia Black Has Accumulated An Impressive Net Worth Of $2 Million
The multifaceted Claudia Black has made a name for herself as a TV actress, a feature film star, and a brilliant voice actress from which she has made an estimated $2 million net worth. This amount is significant for any voice actress and it is a glaring indication that Black is pretty good at what she does.
More so, her acting prowess has also been recognized by associations like the Constellation Awards who nominated her for Best Female Performance in a 2008 Science Fiction Film, TV Movie, or Mini-Series for her appearance in Stargate: Continuum, which she won. Prior to this, Claudia has also won a Constellation Award under the category of Best Female Performance in a 2006 Science Fiction Television Episode for Stargate SG-1's Memento Mori episode. Black is also a 2005 Saturn Award winner for Best Actress for her role in Farscape: The Peacekeeper Wars.
See Also: Martha Higareda Bio, Measurements, Facts About The Mexican Actress
The Farscape Star Divorced Her Partner After 12 Years Of Marriage
Claudia Black was once married to Jamie Oddie whom she started a relationship with some time in 2001. They got engaged in 2002 and after 2 years of courtship, the lovebirds exchanged vows in 2004.
Unfortunately in 2016, the year that saw Angelina Jolie and Brad Pitt split, and Lady Gaga and Taylor Kinney split, Claudia and Jamie also went their separate ways. Being a very private person, the actress has not revealed the reason behind the abrupt divorce. The couple shares two lovely children together, Odin Black and Viggo Black.
Divorce. My life crashed in every possible way about ten years ago. Health, marriage and then career due to the first two. Very humbling. I wouldn't wish it on anyone. And a shed load of trauma surfacing and looping made it all a living hell. Can't believe im still alive really.

— Claudia Black (@TheClaudiaBlack) February 2, 2020
Recently, there has not been anyone romantically linked to the actress. A few of her fans believe that she hasn't gotten over the divorce just yet while others believe she is focusing on being a better mother and an amazing actress who is seen every now and then in a TV series or voicing a video game character.