Short of their glazed-up appearances in films and TV shows, mathematicians are not exactly intricate parts of pop culture. However, since 2013, Clio Cresswell has made the rare crossover to pop culture thanks to a book that prominently talked about sex.
Since then, she has featured on platforms like Business Insider and even featured on the popular late-night talk show, Conan. The Australian author, essayist, and social commentator has also delivered a talk at the popular TEDx conference. There, she shared her knowledge in the jocular personality that has made her a pop-culture figure. With Clio Cresswell and her theories now a part of our lives, we've compiled everything you need to know about her.
Clio Cresswell Had a Childhood That Saw Visit Multiple Countries
The exact date of birth of Clio Cresswell is unknown. We further know little about the details of her childhood and family background. However, what is public knowledge is the fact that she was born in England and spent her early years in Greece and France before later moving to Australia.
Clio's tertiary education began in the South of France where she was studying Visual Art before realizing she would do better as a Mathematics student. At the age of 18, she enrolled in the University of New South Wales, Australia, where she majored in Mathematics, a subject she was aversed to as a kid but turned around to love.
Her Groundbreaking Achievements as a Mathematician
As an undergraduate in the University, Clio Cresswell did not leave any stone unturned academically and earned the University Medal. She proceeded to further her education by acquiring a Ph.D. in Mathematics from the same school in 1999 with a dissertation on "The discrete Painlevé equations: hierarchies, Bäcklund transformations, and singularity confinement." The paper can reportedly only be read by 10 out of millions of people.
Most of her research and journals have been in Mathematics and other related subjects. She has covered subjects such as Painlevé equations, monodromy (quantum), solution equations, the topology of integrable systems, and Riemann-Hilbert problems.
Clio is a proud member of the Applied Mathematics Research Group, with lots of research and contributions in Integrable Systems. She is currently a lecturer at the University of Sydney.
Her Theory on Mathematics and Sex Made Her Popular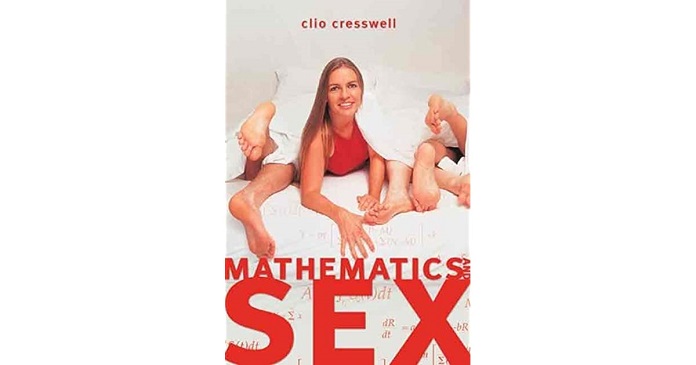 Clio Cresswell lived a relatively quiet life teaching undergrads mathematics at the University of South Wales until she published the book, Mathematics and Sex in 2003. In the book, she theorized on the patterns that create and lead to successful relationships and marriages.
Clio opined that single adults ought to reject at least 12 potential partners before settling down to increase their chances of finding their true love. In the book, she also suggested that there is no 'the one.' Rather, there are several people out there who are capable of being perfect partners to every individual.
Clio Cresswell's theories drew the curiosity of the world, and she went on to sell millions of copies. Not only that, but she also became a media star, granting interviews to multiple media outlets, online, TV, and print publications. She has been interviewed by Business Insider, The Independent, and appeared in an episode of the late-night talk show, Conan.
She has also become a regular fixture at conferences and seminars, especially those themed for women. Her insight into the machinations of how sex and relationships work has made her a contributor of interest to organizers who pay several thousands of dollars to have her at their events.
Dr Clio Cresswell starts Day 3 @SPCconf discussing the mathematics of love @cliocresswell Trying to make sense of relationships! pic.twitter.com/E2WblpaUHb

— Marianne Siokos (@MSiokos) June 14, 2017
Clio Cresswell's Book Also Gave Her a Media Career
While Clio Cresswell did not abandon her calling as a teacher, she has expanded her professional resume to media, thanks to the success of her book. She continues to write from her desk while also making regular appearances in the media for interviews and book reviews. Clio has also interviewed celebrities on the top-rated Australian TV chat show, The Panel.
The bestselling author also hosted a breakfast show known as Not-So-Serious on the Australian radio station – Triple M, giving relationship tips and counsel. Other media outfits that have featured the lecturer include ABC TV, The Sunday Telegraph, and New Woman Magazine, where she writes a column. Also, between 2005 and 2009, she made repeated appearances on the game show, The Einstein Factor.
Clio Has Made a Lot of Money Breaking Love and Sex into 1s and 0s
Between her academic contributions, book, and her media career, Clio Cresswell has earned a lot of fame and wealth. Her speaking career, particularly, has been a notable driver in her rising wealth. So lucrative has the gig become that she reportedly charges between $30,000 and $50,000 for speaking fees, excluding transportation and hotel reservations.
By bridging her expertise in mathematics with popular subjects like sex and love, Clio has become a rare pop-culture star and icon. In turn, she has been richly rewarded. Aside from her media career, she also continues to make money as an academic, publishing papers, and teaching classes.
Details of Her Love Life are Not Public Knowledge
https://www.instagram.com/p/BBEe4tSIUQE/?utm_source=ig_web_copy_link
During press rounds after Clio Cresswell released her book in 2003, we learned that at the time she was single. She made it clear that she did not 'feel the need for a commitment' at that point in her life. After more than one and a half decades, it is unclear if this Australian Day Ambassador is married or not.
Information publicly available about her does not link her to any relationship. It is puzzling to know that a woman who is an expert in the theory of love and sex may not be in a relationship. Perhaps, she is dating and has decided to keep it private.
Clio Cresswell once admitted in an interview that she has been with the twelve partners that are needed for one to find love. This statement is believed to be a declaration of some sort that she has met the one who completes her world. If her words in the interview are anything to go by, then it is safe to say that the mathematician is either married or in a relationship.