Cobie Smulders is the professional name adopted by Jacoba Francisca Maria Smulders. Smulders was formerly a model before she switched fully into acting. Ever since making the career breaking switch, the Canadian actress has gone on to carve a niche for herself in the film and television industry. Her notable movie appearances include playing the role of Maria Hill in Marvel superhero films like The Avengers, Captain America: The Winter Soldier, Avengers: Infinity War, Avengers: Endgame, and Spider-Man: Far From Home.
The widely acclaimed actress has also recorded some tremendous successes in the TV sitcom, How I Met Your Mother, and in other television shows. This flawless transition from being a regular model to becoming one of Hollywood's biggest stars makes Cobie one of the unique multi-faceted talents in the industry. But it all dates back to a decision she made when she fell out with her first career choice.
Cobie Smulders was a Teenager When She Commenced Her Modeling Career
As a young girl growing up in White Rock, British Columbia, Cobie always fantasized about becoming a medical doctor or a marine biologist. However, all that changed as she grew older and got enrolled into the prestigious Lord Byng Secondary School. Smulders began attending acting classes while in high school which kindled her passion and drive to become an actress. She even went as far as featuring in several school productions although her interest somehow tilted towards modeling along the line. According to her, modeling offered her more opportunities than acting at the time.
Shortly after she declared her interest in pursuing a career in modeling, a top modeling agency in Canada spotted her out. The company went ahead to offer a professional modeling contract which she signed. Smulders was just a teenager when signed the contract with the modeling agency. Her work with them saw her travel across various European and Asian countries for different projects.
Unfortunately, her career became a burden to Cobie and her love for modeling turned into some kind of hatred. The talented model began to feel a sense of judgment towards her by persons she encountered at various points in her life. Smulders didn't like the fact that people were judging her personality based on her physical looks. This turned out to become a huge cause of concern for the model at that time of her life. The Canadian celebrity eventually opted to try her hands on acting and abandoned the modeling path.
Her Role as a Guest Star in the Sci-Fi Series, Jeremiah Earned Her More Roles in Hollywood
After quitting modeling, Cobie decided to return to Vancouver and during that period, she enrolled at the University of Victoria, Greater Victoria in British Columbia to study marine biology. However, prior to resuming at the University, Smulders began taking some acting classes during the summer to help her hone her acting skills as she searched for jobs.
The aspiring actress finally landed her first acting gig in 2002 when she played a guest role in the Sci-Fi series, Jeremiah. This television feature opened her up to other acting opportunities. Cobie earned a more permanent role in 2003 when she was cast in the ABC series, Veritas: The Quest. The show was able to run for just one season as it was canceled by the showrunners.
Cobie Smulders later appeared in The L Word released in 2004 playing a recurring role. In 2005, the directors of How I Met Your Mother named her as one of the cast of the sitcom. Cobie appeared as Robin Scherbatsky on the show and her character remained active till the show got terminated in 2014. It was also during this time that the Canadian actress gained prominence and a lot of critical acclaim for her acting prowess and excellent performance.
Theatrical Works & Other TV Appearances
Smulders got her off-Broadway debut in June 2010 when she performed in Love, Loss, and What I Wore at the glamorous Westside Theatre in Manhattan, New York City. Several years later, she was also seen performing in the play, Present Laughter as Joanna Lyppiatt at Saint James Theatre in mid-town Manhattan.
The prolific actress also landed roles in several other series. She first portrayed the Maria Hill character in The Avengers released in 2012 and went on to reprise the role in a couple of episodes in the popular television series, Agents of S.H.I.E.L.D. Following the tremendous acclaim Cobie got for her performances, Marvel Cinematic Universe decided to include her character in its upcoming superhero films. This was typically the break Smulders had been aiming for throughout her career.
Some other notable film productions Cobie has appeared in include Safe Heaven, They Came Together, Jack Reacher: Never Go Back, Delivery Man, and Results.  She currently stars in the ongoing crime drama television series, Stumptown as Dexedrine Parios.
She is Married to the Hollywood Celebrity, Taran Killam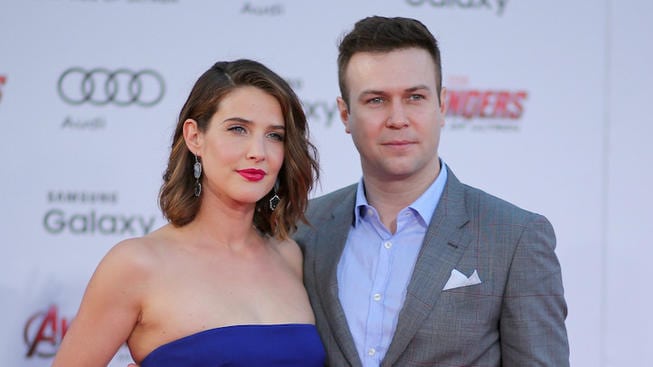 The beautiful actress exchanged marriage vows with Taran Hourie Killam on September 8th, 2012. The ceremony which was held in Solvang, California was attended by many close friends and family members. Prior to that, the pair who got engaged in January 2009 welcomed their first daughter, Shaelyn, about 4 months later. Cobie and Taran then had their second daughter, Janita, in January 2015.
See Also: Who Is Keira Knightley Husband, Daughter, Age, Height, Weight, Bio 
Just like Cobi Smulders, Taran Killam is also a talented actor and comedian. He was born on 1st April 1982 in Culver City, California. He is a graduate of the prestigious Los Angeles County High for the Arts. He reportedly spent some time at the UCLA School of Theater, Film, and Television before leaving to start his career. The California native is best known for his roles in Stuck in the Suburbs, Wild 'n Out, Single Parents, Mad TV, The Amanda Show, and the popular Saturday Night Live (SNL). Taran was also part of the performance at the Broadway production of Hamilton which held at the Richard Rodgers Theatre in New York City, on April 13th, 2017.
Meet Cobi's Less Famous Family Members
Smulders was born to a British mother and Dutch father granting her multiple ethnicities. The widely acclaimed actress has 7 siblings that we know of. They include 3 brothers- Adam, Mark and Scott, and 4 sisters- Melissa, Fiona, Julie, and Amy. However aside from their names, not much is known about her parents and siblings' whereabouts and professions. Cobie on her part has not really been forthcoming about them in the media. It is obvious that none of them had towed the career path the model cum actress had embarked on which accounts for their low keyed lifestyle.