Colin Jost's net worth as a versatile media personality has no doubt seen an increase since he began his showbiz career. He is an accomplished standup comedian, screenwriter, and a Saturday Night Live (SNL) star. Those that follow the variety TV show can attest to the fact that Colin Jost has been very involved in the show since his entry as a Weekend Update co-anchor in 2014.
Prior to being a co-anchor, Colin Jost had been working behind the curtain as the show's writer since 2005. His determination, commitment, and passion to his job eventually paved the way for him to become the head writer of the longest-running TV show in history. There is no doubt that with his new position, Colin Jost's net worth increased tangibly.
Colin Jost Net Worth – How He Built It
The handsome media guru was born as Colin Kelly Jost in Grymes Hill, in the United States to a medical officer mother, Kerry J. Kelly, and a teacher father, Daniel A. Jost. He was born precisely on the 29th of June, 1982. He grew up in his place of birth alongside his brother named Casey Jost.
Colin attended Regis High School in Manhattan where he began his writing career by holding the post of the editor of the school's newspaper named The Owl. After his High School, he enrolled at the prestigious Harvard University where he emerged the president of the Harvard Lampoon (a Harvard University undergraduate humour publication founded in 1876 by seven undergraduates). He graduated and quickly ventured into showbiz.
Right from his days in the High School, Colin Jost equipped himself with necessary skills that would see him succeed in his chosen career. From the time he was the editor of his high school's newspaper (The Owl), till when he won $5,250 on a college edition of Weakest Link while still in the University, Colin has been smiling to the bank. His earnings from SNL as well as his standup comedy and event hosting have put his net worth at $6 million.
Despite his financial standing, the New York-born media guru is very much committed to adding to his net worth. One may ask with whom does Colin shares his life and wealth. Well, Colin is still an unmarried man but he once dated an American actress Rashida Jones, they were together for three years before they broke up.
In recent times, the 5 ft 10 inches tall comedian is in love with another actress named Scarlett Johansson. They have been together since May 2017. In May 2019, they announced their engagement.
Read Also: BJ Novak Net Worth: How Much is The Office Actor Worth Now? 
How Much Does The Saturday Night Live Star Make?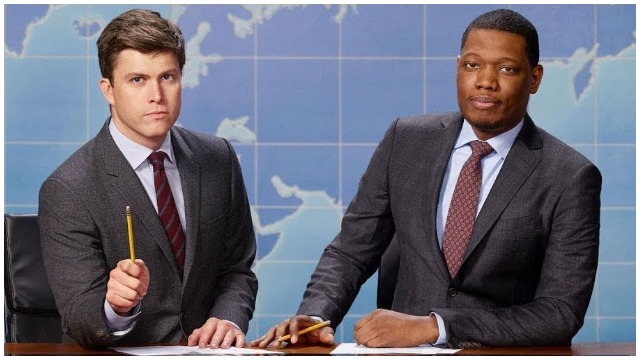 Colin Jost obviously started making money right from when he at the University. When he left University, precisely in 2005, he was hired by the NBC's Saturday Night Live as a writer. Between 2009 and 2012, Colin Jost was the SNL's writing supervisor. In the year 2012, he rose to the rank of co-head writer until the year 2015.
Following the exit of Seth Meyers as co-anchor of "Weekend Update" segment of SNL, Colin Jost was called up by the executive producer of the show, Lorne Michaels to step in as the co-anchor. An offer he accepted and made his debut appearance on March 1, 2014 episode of the show.
Not the type to be satisfied with one engagement, Colin Jost has appeared as a standup comedian on Late Night with Jimmy Fallon as well as on TBS and HBO.
It is no longer news that Colin Jost is among the highest-paid casts of Saturday Night Live (SNL); having begun his writing career in 2005 before making his screen debut as a co-anchor in 2014. Colin Jost is said to be earning $25,000 per episode of SNL which puts his total earnings in a season to $525,000 per season if he makes at least one appearance on all 21 episodes per year.
Aside from the SNL, he has starred in films like Staten Island Summer (2015), How to Be Single (2016) as well as television appearances in shows like Kappa Mikey (2006). He has co-hosted prestigious events like the 70th Primetime Emmy Awards (2018) and featured in an episode of WWE Raw (2019) and WrestleMania 35 (2019).