Colin Kaepernick is a former quarterback with the National Football League's San Francisco 49ers – starting 2011 and ending 2016. He has become more known for his activism as he protested injustice by consistently refusing to stand up for the national anthem during games.
Colin Kaepernick's Ethnicity & Bio
Colin Kaepernick was born on the 3rd of November 1987 in Milwaukee, Wisconsin. He was adopted when he was younger and it was in that way that the bi-racial Colin Kaepernick became the son to a white couple named Rick and Teresa Kaepernick.
The Kaepernicks were aware of their son's athletic ability from a young age. They moved to California when Colin Kaepernick was only 4 years old and he started playing youth football at the age of 8. He has a strong arm that enabled him to rise swiftly to the quarterback position. He was also an elite high school pitcher who threw a fastball at 94 miles per hour. Colin attended high school at John H. Pitman High School in Turlock, California where he was a selection for first-team All-District, All-Conference and All-Academic. He got passed over by major college football programs due to his frame and concerns that he would get hurt on the field but he finally got a scholarship to the University of Nevada, Reno and enrolled in 2007.
The San Francisco 49ers selected Colin Kaepernick in the second round of the NFL draft in 2011. The quarterback led the San Francisco 49ers to Super Bowl XLVII about two years later.
Colin Kaepernick had a signature touchdown celebration at the end of the 2012 NFL season. It involved him flexing and kissing the bicep of his arm. The quarterback who is also known for his plenteous tattoos said that he kisses the tattoos bearing "Faith", "To God The Glory", and Psalm 18:39 out of reverence to God who had brought him that far and who he remains grateful to.
In 2016, Colin Kaepernick started to draw a lot of negative heat as a result of the form of protest he adopted against the oppression of black or colored people. He would kneel while the United States national anthem was playing prior to the start of the games. It was a move that generated quite a lot of anger and the issue soon transformed to a hot-button political topic. After starting up that form of activism, Colin Kaepernick pledged to give a donation of one million dollars to organizations who were doing work with oppressed communities. He followed through with his words and in 2018, he announced that he would be making his final donation of $100,000, as per the pledge, in the form of  $10,000 donations to charities that would be matched by other celebrities.
See Also: Who Is Milo Yiannopoulos and Is He Gay?
His form of protest made him both admired and hated. He had become a free agent by the time the 2016 NFL season ended and he remained so at the beginning of the 2017 NFL season. His protest spread into something bigger with more players across the various NFL teams deciding to kneel during the anthem and players from other sports also followed suit. Even President Donald Trump was forced to weigh in on the form of protest by asking that players who knelt during the national anthem be sacked while he was speaking at a September rally in Alabama. Numerous other Americans also felt that the protest was an insult to the flag and made their displeasure known loudly via social media and other platforms.
In October of that year, Colin Kaepernick filed a grievance case against the NFL owners on the grounds of collusion. He claimed that the NFL and its owners had colluded to deprive him of his employment rights as a retaliatory measure for his activism. Still, the reaction to his activism was not all bad. In 2017 GQ magazine named him the Citizen of the Year and in April 2018, Amnesty International gave him the 2018 Ambassador of Conscience Award. He has also been honoured with the Eason Monroe Courageous Advocate Award and was a finalist for TIME's Person of the Year. He has also gotten Sports Illustrated's Muhammad Ali Legacy Award.
His Parents and Family Members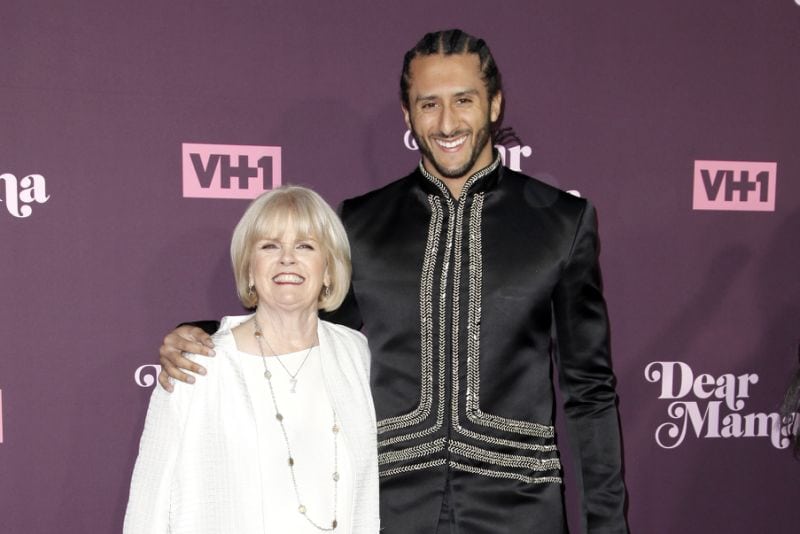 Colin Kaepernick's biological mother is identified as Heidi Russo. At the time of his birth, she was only 19 years old and his biological father had fled the minute he discovered that she was pregnant. She met the Kaepernicks who had lost two babies to heart defects after they were born and decided to give up her son to the couple.
Who Is His Girlfriend?
Colin Kaepernick is reportedly dating a radio personality and television host named Nessa Diab. Their relationship is alleged to have begun in 2015 but officially went public with the details of their relationship in February 2016.
How Much Is His Net Worth?
Colin Kaepernick was a successful NFL football player and whether or not he plays another day in his life, he is an influential personality. He is said to be worth over $20 million dollars which puts him in the ranks of the highest paid quarterbacks in NFL history.