Collen Mshawana is a South African businessman whose net worth is between $3 million and $5 million. Mashawan is well known as the founder and CEO of Afribiz, who came from nothing, started his business from scratch, and nurtured it into the vast enterprise it is today. 
Mashawana did not start out creating great businesses; he worked in paid employment and finally decided to go entirely into wheeling and dealing. Among the high-profile companies that aided the launch of his high worth are Microsoft and Dimensi data before he founded Afribiz and his chain of restaurant businesses. Even more interesting is that he spends a good amount of the wealth he has acquired on charity. 
Collen Mashawana's Profile Summary
Full Name: Collen Tshifhiwa Mashawana
Gender: Male
Ethnicity: Black
Nationality: South African
Sexual Orientation: Straight
Religion: Christianity
Marital Status: Engaged
Collen Mashawana's Children: Prince and Dakalo
Siblings: One older brother
Collen Mashawana's Net Worth: $3 to $5 million
Famous For: Business and philanthropy
Collen Mashawana's Instagram: @collenmashawana
Collen Mashawana Comes From A Humble Background
The South African businessman's early life started in Venda, Limpopo where he was born. The Venda was called Collen Tshifhiwa Mashawana at birth. Collen spent a better part of his growing-up years in his place of birth but his real date of birth is not readily available, though many take him to be in his forties.
The identities of his parents have never been revealed in the public space but their respective professions are known. According to kept records, his father ran a travel and tours company that barely stayed afloat and his mum on the other hand earned a living as a petty trader. His parents' meager income was what kept the family going during those early days. This obviously points to the fact that the businessman's background is a humble one where the children even had to juggle school and work to survive.
From what is perceivable, Collen is far from being the only child of his parents. Though there is a dearth of information on the number of siblings he shared his childhood with, we at least know of an older brother, but his name is not known. It was this older brother's footstep that the entrepreneur followed to go chase money in Johannesburg.
The Businessman's Academic Journey
Despite his humble beginnings, the up-and-coming businessman was lucky to be admitted at Tshikevha Christian School where he acquired basic academic qualifications. Mashawana's matric was in the year 2000 following which he took the conscious decision to leave his place of birth, Limpopo, to go in search of a better life. Then, his older brother was already a Joburg resident, trying to create a niche for himself in the big city. Collen Mashawana went to live with his big brother upon arriving in Johannesburg.
Though Collen's main purpose for relocating to the big city was to make a better life for himself and his family, the Venda native saw the need to boost his academic qualifications along the way. Thus, he went to study information technology at one of the local colleges in the city where he earned an IT diploma upon graduation. Mashawana has since passed through UNISA (the University Of South Africa) to obtain a degree in Business Management. Apparently, Collen's academic qualifications came in handy when the young man was set to create a niche for himself in the business world.
Because of where he is coming from, Collen has always been used to the hard life and it was just normal for him to find something to do while studying. The young entrepreneur decided to go look for a means of livelihood and was lucky to land one in a retail shop. Due to his lack of academic qualifications, he could only work as a packer; the pay wasn't so much but it did put food on the table and paid his personal bills.
What Is Collen Mashawana's Net Worth?
Collen Mashawana's fortune has been on the rise since he left home for Johannesburg. Though he earned good pay while working with Microsoft and Dimensi Data Company, the business mogul struck gold with the establishment of his company, Afribiz, which has grown beyond his expectations.
We would not be far from the truth to say that a lion's share of the tycoon's revenue is generated from Afribiz as he seems to be completely focused on its operations. However, we must also acknowledge the fact that Afribiz has long become a huge mother company, housing several other firms which were calculated to be seven in number at the last count. All these firms are what contribute to the revenue generated by Afribiz.
Though Collen's net worth has been assumed to be under review, there are sources that have gone ahead to make some estimations. The most credible among them pegged Collen Mashawana's net worth somewhere between $3 to $5 million which may be close to the mark.
Considering the way Collen is gunning for expansion in his business, his net worth is expected to shoot up at the next review.
The Sources of Collen Mashawana's Net Worth Include His Multi-faceted Career
Collen Mashawana is one shrewd South African man who saw viable business opportunities everywhere. A man of many hats who is popular as a businessman, many know him as a serial investor, Colleen is a construction developer and has made a name as an IT specialist. In addition to all these, the Limpopo-born businessman proved his mettle as a competent salesperson at Microsoft and he is known all over South Africa as a philanthropist.
Collen Dabbled Into Small Businesses While Studying
Collen didn't get to stay long with his big brother in Johannesburg as the latter had to leave for Lyndhurst in search of greener pastures. Left alone in Joburg, the enterprising young man saw a viable opportunity in launching a payphone business which he started operating after school hours. In a bid to boost his sources of revenue, he decided to try his hands at the car wash business. Though they were small ventures, both businesses did a lot for Collen during those early days as he was able to complete his academic pursuit, qualifying him to look for professional jobs in big companies.
The Limpopo Born Businessman Scored his Big Break at Microsoft
It was after Collen Mashawana bagged his IT diploma that all his efforts to earn a better paycheck paid off. The promising young man landed a job at Microsoft South Africa – owned by one of the world's richest men, Bill Gates. Microsoft is counted among the largest tech companies worldwide.
Needless to say, working at Microsoft was a big break for Collen which provided him with the much-needed income to better his lot. At Microsoft, he started from the position of a center agent selling IT goods. The records say he even sold building materials during this period. Collen eventually worked with the company for three long years before taking the decision to move on.
He Made A Stop At Dimensi Data Company
After three years well spent at Microsoft, Collen's next port of call was Dimensi Data Company. There, he was under the employ of the South African government and enjoyed promotion opportunities. The position he started from was never mentioned but the records have it that he was eventually promoted to the level of the divisional salesperson in 2006.
The exact time he started working at Dimensi Data Company was never mentioned, however, going by what we could filter from kept records, he left the government work as a divisional director. His exit from paid employment occurred after making the conscious decision to go do something for himself.
Collen Also Earned In The Restaurant Business
While he was still in paid employment with Microsoft and Dimensi Data Company, Collen did not relent from running his prior businesses which were still raking in revenue. With the boost in his capital from remunerations from professional jobs, the youngster eventually went into the restaurant business.
According to reports, he opened one restaurant in Joburg and another one in Limpopo his hometown. Though the eateries were said to be thriving, Collen didn't keep them for long, he sold them off after prosperity smiled on him.
He Is The Founder And Chief Executive Officer of Afribiz
While working for other companies, Collen Mashawana did not relax on his success. The shrewd entrepreneur was busy gathering experience and the needed skills to break out on his own. This particular dream came to fruition when he floated his own firm, Afribiz Invest Pty Ltd which wasted no time in showing profits. Collen went into the business alongside his big brother, including seven other partners who put in the quality effort, time, and funds towards the overall success of the firm.
Afribiz Invest Pty Ltd started doing well from inception and so far, the company has exceeded expectations. Presently, it serves as a mother company with seven other firms under its umbrella; these include the likes of information technology startups and construction companies. Reports say Collen built all the businesses under Afribiz from scratch and was also responsible for moving them to their present positions. His tremendous success was achieved with powerful business tools, including acquisitions, takeovers, and mergers.
Collen is Still Fired Up To Do More
Even with all the recorded successes, the Venda native isn't resting on his laurels as he is fired up to break new frontiers. The businessman is so passionate about infrastructural development and according to him, he is set to explore avenues of making Afribiz a mother company to 30 additional businesses at the very least. Also, Collen has high hopes that one day, Afribiz will join other companies that are currently listed on the Joburg Stock Exchange.
In the South African business world today, Collen Mashawana is known as a goal-getter and his influence has gone beyond the country. Although life has not always been a smooth sail for the Venda native considering his beginnings, Collen is one man who knows how to find his way even in a fog.
So far, he has served as a board member and executive personnel in multinational companies under diverse industries such as Engineering, Construction, and Information and Communication Technology. Good instances of the companies he has served include Internet Solutions and Group Five. Thanks to his elevated position, Collen now hobnobs with men of wealth and power in South Africa. He has been severally spotted with Cyril Ramaphosa and other affluent businessmen in SA.
How Does Collen Mashawana Spend His Money?
When you have made the kind of wealth that Collen Mashawana enjoys, it would be understandable if you decide to take the route of the lavish life and spend on properties and automobiles like money is no object.
Though Collen does enjoy the best that life has to offer as evidenced in his plush houses and powerful automobile which he never flaunts on social media, the Venda-born businessman has proved that he has the milk of human kindness running in his veins by spending generously on the poor and the needy. A large chunk of his monthly income goes into life-saving projects all of which are targeted at the underprivileged in South Africa.
Collen Mashawana Spends Big On Charitable Causes
It is fast becoming the norm for successful men and women of Collen Mashawana's ilk to spend on charity and the Limpopo-born entrepreneur is living up to expectations. Collen is not just passionate about creating communities, he is equally enthusiastic about rendering support to the less privileged in his society.
His hectic business schedule notwithstanding, Mashawana makes out time to personally attend to the poor. We have seen several photographic shreds of evidence where he was spotted handing out palliative packages to the underprivileged. South Africans are full of admiration for the business mogul for devoting both his wealth and time to the benefit of the poor. He achieves most of his philanthropic projects through Collen Mashawana Foundation.
Collen Mashawana Foundation
Mashawana has always harbored the belief that nation-building is a collective responsibility and not something that should be left for the government alone. This was what prompted the business tycoon to launch Collen Mashawana Foundation. CMF is a charitable organization with the goal of reducing poverty by empowering young people in the country.
From its inception, the non-profit organization has touched several areas in the country like youth unemployment which has in turn improved the standard of living among the citizens. CMF achieved this by creating a workforce of forward-thinkers and dream builders whose activities have been helping in driving SA's economy forward.
His foundation once visited victims of Mamelodi storm where he extended financial help to as many people as possible. This singular gesture saved the sanity of many victims who were completely devasted by the disastrous storm.
No doubt, the construction mogul has done his bit in ensuring that the common South African gets to enjoy a better life, but he does not think it is enough. This is why Collen has been urging other wealthy South Africans to do the same and collectively, they will go a long way in smoothing the rough edges of people's lives.
Collen Lifts People Out Of Abject Poverty By Gifting Them With Permanent Accommodations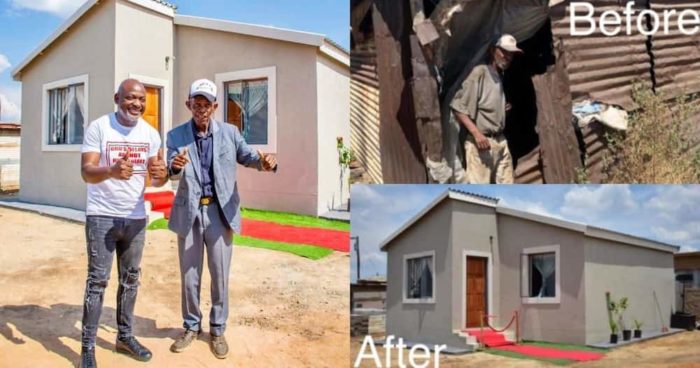 Collen Mashawana's call to other influential people to extend a helping hand to the poor seems to be working as reports soon surfaced about his collaboration with some wealthy South Africans to change the story of an old man who goes by the name, Thabethe.
Thabethe used to hole up in a shack without basic amenities – no water, no electricity, no toilet facility, and the house barely provided the aged man with a shelter as it was almost crumbling. However, the man's story took a turn for the better after Collen took up his matter. Within a few months, Thabethe stood in the exalted company of Lindiwe Zulu – SA's Minister for Social Development, Kgosi Maepa – ANC's chairperson in Tshwane Region, and Collen to cut the ribbons that ushered him into his brand new bungalow and a brand new life. Reports say Mashawana's foundation undertook the building of the house in collaboration with other unnamed philanthropists. The business mogul shared this touching story with his fans on social media.
His foundation also did a similar thing for the Chauke family after 16 of them were rendered homeless following the mighty flood that ravaged their environs. Prior to his intervention, the Chaukes were counted among the dregs of Venda as they could only afford to shack up in a couple of mud huts. Thanks to CMF, the previously poor family now live comfortably in a four-bedroom bungalow complete with household amenities like a kitchen, proper sanitation, living area, and many more. What's more, the house was fully furnished with furniture and utensils before it was handed over to the Chauke's.
Coolen's milk of human kindness did not just end with gifting the family with a house, he equally extended helping hands to the oldest son of the family. Jabu who is interested in construction is now under his payroll, assisting CMF in the construction of houses for several other poor people in the country. This, Collen said is one way of giving his family a means of livelihood.
CMF Was Active During the Covid 19 Pandemic, Supplying People With Palliatives
During the Covid-19 pandemic that ravaged the entire globe, many affluent people in South Africa were outstanding in handing out relief materials to the masses and one man that took center stage in this charitable cause is Collen Mashawana. The Venda businessman really contributed his quota towards the fierce fight against Covid-19 by distributing essentials like protective masks, blankets, foodstuff, and other essentials.
His philanthropic gesture benefited over 300 families around the Bekezela Informal Settlement. Collen personally embarked on this project and before that, the entrepreneur took to his social media handle to announce the project, mentioning the items to be distributed to the people. He even said a word of prayer, asking for God's protection on their behalf.
It goes without saying that South Africa applauded this kind gesture from the business tycoon and many people took the story to social media where positive comments kept rolling in.
Collen Mashawana Sued His Business Partners For A Case Of Financial Fraud
David Madisha and Themba Rikhotso have been business partners with Collen Mashawana for a long while, thus, people were actually surprised in 2021 when Mashawana filed a complaint of fraud and theft against the duo. A summons was issued to the two partners on the 7th of June 2021 to make an appearance before HAWK – South Africa's Directorate for Priority Crime Investigation (DPCI),
Mashawana, Madisha, and Rikhotso belonged to the Mokgolokwane Civil CC that benefited from GDHS' (Gauteng Department of Human Settlements) contract to construct a total of 4000 homes in the Palm Ridge area of the country, reports say.
Reports also say Madisha and Rikhotso were involved in the transfer of funds from Mokgolokwane Civil CC account to outsiders who were not in any way involved in the project's advancement. On discovering this anomaly, Mashawana enlisted the help of HAWK in unraveling the issue. The complaint he filed included damning evidence like bank statements showing the movement of funds from the account to the undeserving beneficiaries.
People who benefited from the fraudulent funds include;
Seruwane Investments CC; the company received R3,000 in 17 different payments
Ms. Raisibe Tshetshe Seoka, and Lyzanne, including her son got a total of R2,264,000 within a few months
One baffling aspect of the revelation is that Raisibe is the wife of Rikhotso, and the boy is his son. Collen wanted to know why they should be entitled to such huge amounts from Mokgolokwane Civil CC when they have never been directly involved in the activities of the company.
Since the incident came to public knowledge, Madisha has been avoiding confrontations with the media, but he found a way to send his statement home. According to reports, Madisha stated that he doesn't take nonsense and cannot be intimidated by the press. In Rikhotso's case, he reacted in a similar manner and even went as far as threatening the media with legal action if they continue to meddle in his affairs. These were just threats issues from afar as neither of the two has come out in the open to defend themselves against the serious allegations of fraud.