Collins Tuohy is an American entrepreneur, philanthropist, blogger, and social media personality. She is also better known as the adoptive sister of NFL player, Michael Oher, whose life story inspired the Hollywood blockbuster The Blind Side. The Blind Side tells the true life story of Oher who grew up in an impoverished background consisting of a drug addict mom and a convict dad. He became homeless and survived by eating leftovers at school. This was until Collins' mom, Leigh Anne, saw him. She and her family took him in and eventually adopted him. They also encouraged him, both in academics and sports. Michael Oher would go on to earn a football scholarship to college and was drafted into the NFL in 2009. He played for teams such as The Baltimore Ravens and won the Super Bowl in 2013. Through it all, Collins Tuohy played an important role in Michael's life as his close friend and confidante. Get to more about this wonderful lady including her husband, wedding, and net worth.
Who Is Collins Tuohy?
Collins Tuohy was born on the 29th day of December 1986 in Memphis Tennessee where she was also raised. Her mother's name is Leigh Anne while her father's name is Sean Albro Tuohy. Her mother is an accomplished interior designer while her dad is a former basketball player turned sportscaster. Her parents own numerous restaurants over the US. The restaurants are franchises of popular chains such as Taco Bell, KFC and Pizza Hut.
Collins Tuohy has a younger brother named Sean Tuohy. Her famous adoptive brother, Michael Oher joined the family in 2004. The family's exemplary kindness was eventually captured in the 2006 New York Times bestseller, The Blind Side: Evolution of a Game. The book was authored by Michael Lewis and was the origin of the 2009 movie of the same name.
The Tuohy family has remained bigtime advocates of adoption and charity. They also have a foundation known as Making It Happen Foundation dedicated to changing the lives of youngsters.
Collins Tuohy attended Briarcrest Christian School Memphis where she was a standout student and athlete. Tuohy continued her impressive ways at the University of Mississippi where she studied Broadcast Journalism. While in college, she held several positions such as the president of the student alumni council as well as an officer of the Kappa Delta sorority. She was also a champion pole-vaulter and a cheerleader. Since graduating from college, Tuohy has built an impressive career as an entrepreneur and a blogger.
Net Worth
Tuohy has a net worth estimated at $2 million. She made her fortune from several sources including her popular lifestyle blog. Known as Collins Closet, the blog focus on lifestyle, travel, and fashion. Tuohy commenced blogging on Instagram. It became so popular that she made it a regular affair. She now has almost 250,000 followers on Instagram. Tuohy is also the co-founder of a company known as Whimsy Cookie Company Memphis. The company produces special cookies that are sold all throughout America.
What to know about her Wedding and Husband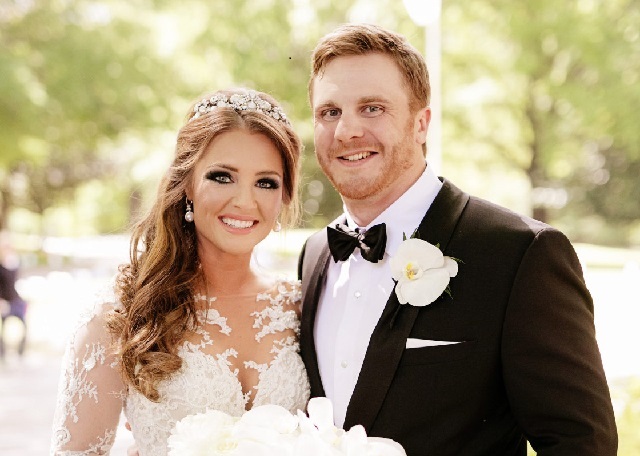 Collins Tuohy (who now goes by the name Collins Tuohy Smith) is married to her long-time boyfriend, Cannon Smith. Cannon is also a Tennessee native. He is an alumnus of the University of Memphis as well as an actor, producer, and businessman. He is also the youngest son of FedEx founder, Frederick Smith. He has a sister named Molly Smith who is a Hollywood producer. Tuohy and Cannon commenced their relationship after meeting at a cookie party when she was just 18. They dated for 10 years before he popped the question at another cookie party.
The couple tied the knot in a beautiful two-day ceremony held in Memphis, Tennessee. It comprised of an intimate dinner for their close friends and family as well as a big party. The ceremony took place at the Memphis Hunt and Polo Club, which is near the childhood homes of the couple.
The wedding was planned by the bride and her mom with some professional help. It featured a dance floor set atop a pool. Guests also had the option of tennis shoes for serious dancing. The groom looked dapper in a black tux. His bride, on the other hand, stunned in a Steven Khalil dress which featured an 11-foot train. The wedding had many guests in attendance including the bride's famous brother, Michael Oher.