Connie Ferguson has two children; daughters Lesedi Ferguson and Alicia Angel Ferguson. She had Lesedi with actor Neo Matsunyane in 1992 and Alicia with actor Shona Ferguson in 2002.
Connie was quite ecstatic when she heard that her older daughter, who is also an actress and film producer, was going to become a mother and she just couldn't wait to hold her grandchild. Mrs. Ferguson, who did not have a son of her own, was thrilled that her first grandchild is a boy. Connie can't stop talking about her grandchild and never seems to get tired of showing him off to the world.
Connie Ferguson Was Just 45 When She Welcomed Her First Grandchild
Connie Ferguson who gained popularity for her work in Generations – SA's most popular soap opera – where she played the lead role as Karabo Moroka – was born on the 10th of June 1970. This made the acclaimed actress' age to be around 45 when she welcomed her first grandson in 2015.
Rowena is the first child of Connie's first daughter, Lesedi Matsunyane, whom she had from her marriage to Neo Matsunyane; who is an actor himself. Connie first revealed the exciting news of becoming a grandmother to Woman&Home magazine. The then grandma-to-be told the publication about the level of excited anticipation the family experienced upon hearing the news that her first grandchild was on the way.
Connie Was On Hand To Assist Her Daughter Through The Pregnancy
She further said that the baby was expected to arrive in May 2015 and the entire family is overjoyed with expectations. Besides, the baby being a boy was also another source of excitement as she had always wanted to have one herself. Welcoming the boy into their family was something she was happy to do. Connie was grateful for having the opportunity to have a good mother/daughter relationship with Lesedi as she would make good use of the chance to walk with the mother–to–be through her pregnancy. She revealed that this was something she never had from her own parents who lived in Botswana where she spent her formative years.
As for the expectations of the soon-to-be grandma, she wants to be loved by her grandson and expects the little boy to think she is cool! According to Connie, by the time her little man will be 10 in the next decade, she wants him to look at her and think, 'oh my grandma is super cool!' and truth be told, Connie is really easy on the eyes with a very good sense of fashion. She sure doesn't look like anybody's grandmother.
Rowena is Obviously Going To Have A Smooth Sail Through Life with Connie Ferguson As His Grandma
It goes without saying that Connie is a household name in South Africa, especially with her long-standing position in the SA entertainment scene. Her years of acting on TV have proved that she is exceptional in everything she puts her mind on and has a closet full of awards to prove this.
Needless to say that little Rowena stands to benefit from his grandma's fame and popularity. If he so desires, Rowena can get his big break from the entertainment industry without too much stress. The young man would only need to let his proud grandma know about his wishes and he would have an A-list mentor at his disposal. Connie Ferguson is connected enough to fetch the stars from the sky for her grandson and Rowena will definitely get to know this as he becomes older.
Connie Has A Record of Two Marriages And One Divorce
Connie was barely 23 when she hooked up with Neo Matsunyane who equally works in the entertainment industry as an actor. Though the exact date of their nuptials is not known, it is on record that the couple exchanged marriage vows in 1993. Their union lasted for five years before it hit the rocks, ending in a 1998 divorce, but not before they had one daughter, Lesedi Matsunyane who is fondly called 'Pumpkin' by her mother.
However, since their separation and ultimate divorce, the ex-couple have maintained a cordial relationship, perhaps for the sake of the daughter they share. We would not be far from the truth to say that the birth of their grandson has further brought them closer.
Connie Ferguson Is Now Married To Shona Ferguson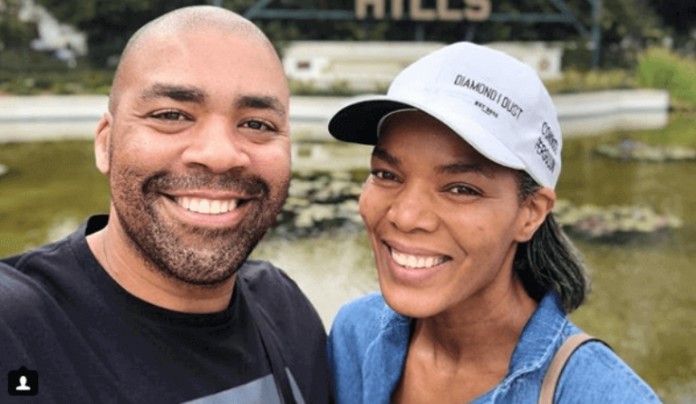 After Connie Ferguson, got divorced from Neo Matsunyane, she stayed three years before venturing into a second marriage. This time, the actress exchanged marriage vows with Shona Ferguson, a renowned movie actor, and director. Like Connie, Shona was also born in Botswana which is one thing the couple has in common.
They exchanged the forever commitment in November 2001 and after a decade, they renewed their wedding vows in 2011. Their union has lasted for almost 19 years and they are still together to date. Shona's marriage to Connie makes her a daughter-in-law to the movie director's mother Boitshwarelo Ferguson. The couple also shares one daughter – Alicia Angel Ferguson.
Meet Connie Ferguson's Daughters
Lesedi Matsunyane
Lesedi Matsunyane is the actress's first child whom she had with her first husband, Neo. Lesedi was born just before the new year was ushered in, on the 31st of December 1992. The young lady's date of birth is a clear indication that her coming preceded her parents' nuptials in 1993.
She started trending on the internet when her celebrity mum announced her imminent grand-motherhood. Connie Ferguson revealed that her first fruit was pregnant and the baby was expected in May 2015. Lesedi seems to share a very close relationship with Connie as the actress was on hand to walk with her daughter through the pregnancy. Not much is known about Rowena's father, however, the grapevine pointed fingers at Austin Malema.
Ahhhh my son is almost a year old 😍😍 pic.twitter.com/Xjq7jyhpzs

— _RTCStudios (@rtc_studios) March 3, 2016
Lesedi has already shown signs of following in her mother's footsteps in the entertainment industry as has debuted on SA's TV series The Queen. What's more, she didn't need her superstar mother's help in landing the role, Lesedi did it all by her self and her fanbase is growing by the day.
Alicia Angel Ferguson
Barely one year after they exchanged marriage vows in 2001, Connie and her spouse Shona Ferguson welcomed their daughter Alicia Angel Ferguson on the 7th of June 2002. From what is perceivable, Alicia is in her mid-teens and is probably a student. Connie's second child is also an internet star.