Shatta Wale's net worth is estimated at $10 million, The Accra born Ghanaian reggae-dancehall musical artist is one of the richest and most influential musicians in Ghana.
Charles Nii Armah Mensah Jr., who is popularly known as Shatta Wale has acquired a significant net worth from his music career which can be traced back to his early years as a teenager, when he picked interest in music and was determined to make it big in the entertainment industry. Although the road to his current affluence was not a rosy one, Shatta is proud of what he has been able to achieve both on the local scene and at the international level.
The young music artiste is a recipient of numerous awards and honors which justifies why he is dubbed, the 'Dancehall King'. In 2014, his name appeared on the list of the 'Top 100 Most Influential Ghanaian Musicians' and in 2017, he emerged as the 'Most Influential Musician on Social Media'. In addition to these recognitions, Shatta Wale's net worth of $10 million and affluent lifestyle is also proof of his success in the music industry.
Shatta Wale's Net Worth Came From His Music Career
Shatta Wale was introduced to music at a very young age by his father who loved to play reggae records in their home. More so, he took him on frequent trips to the United Kingdom to visit their half-Jamaican relatives which further piqued Shatta's interest in music as a child. He eventually grew up loving music so intensely that at some point, he wanted to drop out of high school to pursue his dreams of becoming a musician. However, his father did not allow him to quit high school as he ensured that he completed his schooling at the Winneba Secondary School, Ghana but after that phase, Shatta could not be cajoled to further his studies as he set out in pursuit of his music dreams.
It is also gathered that during his high school days, he was a member of the musical class/department where he learned how to play the keyboard as well as vocal training. This started to pave the way for his musical career as he developed his basic musical skills. More so, his decision to venture into the dance hall music genre back then was a step in the right direction as those kinds of songs in Ghana were still in the budding stage. Shatta Wale, who initially went by the stage name – Badana, eventually broke into the music industry with the release of the 2004 single, 'Moko Hoo' in which he featured the Ghanaian musician, Tinny. The song was also followed by other singles like, 'No Problem' and 'Obaa Yaa' which were also well received and earned him a lot of recognition.
Between 2009 to 2012, the budding star rebranded his music style and came up with the name he currently goes by, 'Shatta Wale'. Still bent to make it big in the dance hall genre, he received tutelage from the likes of Yoggy Doggy and Terry Chaka who nurtured his talents, and he began to amass a wide fan base within a short while. During that period, he was also known to have withdrawn from the Ghanian music circle for a while in order to perfect his craft as well as horning his skills at mixing and producing beats.
In the years that followed, Shatta Wale did not just gain prominence in Ghana with his back to back hit songs, but he also became notable for his collaboration with other African musicians including the Nigerian music icon, Davido. Beyond Africa, Shatta Wale has also gone on to collaborate with international music stars like Beyoncé. He was featured in the song 'Already' from her latest album, 'The Lion King: The Gift' which has earned a Grammy Award nomination.
Lucrative Endorsement Deals & Awards Contribute Immensely to Shatta Wale's Net Worth
Shatta Wale's popularity has earned him a lot of endorsement deals over the years which have contributed to his $10 million net worth. As of 2014, Guinness Ghana made Shattta their brand ambassador and he also became the face of Rush Energy Drink which has gone on to sell not just his image but also enriched his pocket.
The Ghanaian musician was also made a brand ambassador by Kasapreko Company in September 2017; the company is notable for the production of both alcoholic and non-alcoholic drinks in Ghana and Shatta was made their brand ambassador for the Storm Energy Drink. That same year on the 17th November, he became a representative of Boss Baker Beef Roll.
Infinix Ghana is also one of the companies Shatta Wale represents as he signed a deal with the smartphone company on September 11th, 2019. This was followed by another lucrative deal with BetPlanet Ghana in May 2020 as well as the renewal of another 1 year deal with Infinix Ghana. More so, there have been talks of the music icon signing a deal with the notable beer company, Budweiser as well as an alleged GHc 2 million from Exim Bank Ghana being paid to Shatta with respect to a new brand endorsement deal.
In addition to his deals, the Dancehall King has received numerous awards recognition both locally and internationally for his words. One such award includes the honoree award given to Shatta on May 11th, 2018 by Obaland Royal Awards, Nigeria which was created by King Ewuare II of Benin City, Edo State. It was later reported that the plaque which was given to the musician at the Award show has an estimated worth of $34 million. Prior to this award, the Mayor of Worcester, in July 2017, honored Shatta Wale by giving him the Key to the City award for his great contributions to the world of arts.
He Has Achieved Great Strides With The Shatta Movement
Shatta Wale is notable as the president of the Shatta Movement which is a top music production company as well as a talent management firm that strives to improve the lives of young Ghanaians. The focus on the Ghanaian creative arts sector is to find raw talents which they train to become superstars. Over the years, they have gone on to sign several local talents, and recently, Shatta revealed that the company has enlisted two new female artists whose identities remain hidden at the moment.
However, beyond empowering young talents, the musician also runs the Shatta Wale Foundation which is known for its humanitarian services. The musician uses the foundation to distribute aid to the less privileged. One significant philanthropic action was when Shatta Wale, alongside his colleagues, presented various prisons in Ghana with food items. Although many assumed he did it because of the COVID 19 pandemic, the singer made it clear that he usually did such good deeds and the pandemic had nothing to do with his actions; all his team intended to achieve with the kind gesture was to put smiles on the faces of the less privileged.
Shatta Wale Has Other Investments In Real Estate & Menzgold
The popular Ghanaian music act has also ventured into several other investments which also accounts for why his net worth is as robust as it is presently. According to the singer, his investments were all funded by the money he makes from his music, which is a lot. He also goes on to mention that although many other musicians will tend to invest in bars and night club, he won't try such.
So far, it has been gathered that the Dancehall King has heavy investments in the gold firm, Menzgold. Shatta Wale is also into the real estate business and recently, he took to his Snapchat page to share that he was selling one of his properties and he was the agent to contact for the business.
Total Recap of Shatta Wale's Net Worth Sources
Music
Awards
Shatta Movement
Endorsements
Gold Business
Real Estate
The Musician Has A Collection Of Exquisite Homes
According to Shatta Wale, he was advised by his godfather, Kofi Boat, to buy a house to live in instead of continually paying rent. Prior to buying his first house, Shatta was living in an apartment at East Legon. This piece of advice has been quite useful to the Ghanian music act as he has gone on to acquire several other residential homes apart from the ones he gets for his real estate business. Some of the homes he owns include the following:
Shatta Wale Owns A $1 Million Mansion 
In November 2016, the Dancehall King took to social media to announce that he had acquired a mansion which cost him $1 million. The singer, who is known for flaunting his wealth, showcased pictures of the new mansion on his social media handles. Sometime later, he went on to declare that the property would be a gift to his long term girlfriend and baby mama, Diamond Michelle Gbagonah popularly known as Shatta Michy.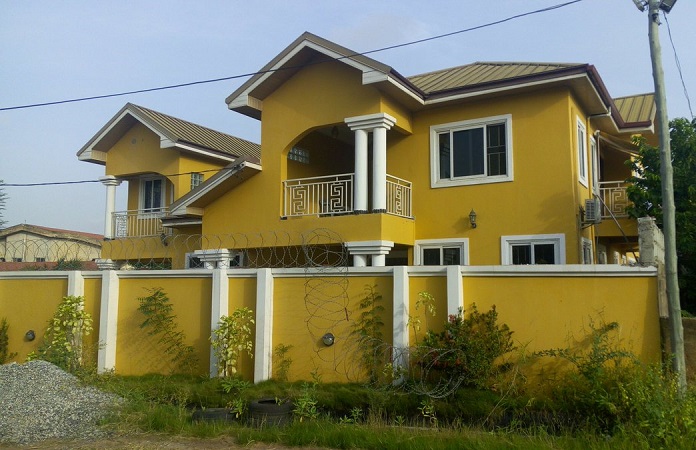 It was later gathered that the impressive building was located in East Legon and it had several luxurious features which include a swimming pool, a summer hut, and several other posh amenities.
At the unveiling of the house, some very close friends of the singer, like Solash and Pope Skinny, were in attendance. Shatta Michy, whom the mansion was gifted to, was also present and she said to be very affectionate with the musician as they gave their guests a tour of their home.
He Received A House From Zylonfon Label
The Ghanaian music icon, who works with Zylofon record label, is also a proud owner of a $500,000 house which the record label gave him as a gift. Like his first mansion, this house is also located in East Legon. Interestingly, at the time he received this house in 2018, he was the only Ghanaian artiste to own two homes in East Legon.
This house also comes with several luxurious amenities which include a big swimming pool, boys' quarters, 3 balconies, a roof terrace, a wine room as well as a well-furnished kitchen. This home also boasts of having a very good security surveillance system.
He Recently Got A House At Trassaco Valley As A Birthday Gift
In October 2020, Shatta Wale is known to have purchased another home in celebration of his 36th birthday on the 17th of October 2020. Although the cost of his new mansion is yet to be revealed, it is known that Shatta organized a lavish house party which had in attendance his close friends and colleagues. His godfather, Kofi Boat, was also present at the party and like always, Shatta acknowledged the great impact of the advice he gave him about buying his own houses.
Apart from this house, it is also believed that the Ghanaian music act has another mansion in Kumasi which is still under construction. However, facts about the house will probably soon make rounds on the internet as Shatta is notable for bragging about his wealth and does not shy away from showcasing it. According to him, showing off his wealth is done in order to motivate people. He once pointed out that he had suffered a lot before enjoying his present success.
Shatta Wales's Cars Are Equally Classy
The controversial Ghanaian music star, who claims to be the richest artist in Ghana, knows how to spoil himself with some of the finest rides that have been produced so far. He revealed sometime in 2019 that he had a total of 9 cars. However, he did not go into details like when he acquired each car in his garage or how much they cost as he mentioned that many Ghanaians will not believe that he had that amount of cars.
Never the less, some of the luxury cars that can be found in Shatta Wale's garage include: a G-Wagon which Bola Ray of EIB Network gave him as a birthday gift in 2017; a sleek Toyota Highlander which a fan gave him the next year; and a brand new Benz that he was also gifted the following year. Again, in 2020, the singer also received another car as a gift and this time around it was a 2020 BMW 7 Series which had an estimated worth of $158,000 ( this is about GHC 913,695).
Apart from these cars which he has received as gifts, the self-acclaimed richest man in Ghana also owns an Escalade, Chevrolet Camaro, and 2 Range Rovers. All of these and other aspects of Shatta's flamboyant lifestyle point to the musician being one of the richest men in Ghana with a net worth of $10 million.