Ghanaian media personality, news anchor and broadcaster, Nana Aba Anamoah is renowned for her excellence in her field. She has won several awards, including the RTP Awards' Media Personality of the Year. Outside of her professional career, Nana Aba Anamoah cuts a controversial figure as a single mother of Paa Kow, whom she gave birth to at age 20.
Beyond the social stigma that comes with her motherhood, there have been public disputes involving her and her baby daddy. He was allegedly out of the picture for the majority of Paa Kow's life, and his return has driven social friction with fans who want their reconciliation.
Nana Aba Anamoah Gave Birth to Paa Kow After Completing SHS
The GHOne TV news editor is one of the outspoken people against the menace that is teenage pregnancy, driven by beliefs born out of first-hand experience. Shortly after finishing high school education, she got pregnant through a relationship with Richard Brown, also known as Osebo, in 2002.
Osebo, who is a fashion businessman, met Nana on the streets of Amasaman. It was a meet-cute that would have attracted laugh and awws at any wedding reception, but the story had a different ending. Not long after they got together and after Anamoah gave birth at the age of 20, things fell apart.
Her pregnancy was not the positive step she hoped for in her life trajectory. It certainly wasn't one for their relationship as Osebo allegedly left her to cater to the child alone, including refusing to show up to Paa Kow's naming ceremony.
Having a baby at her age deprived Nana Aba of the carefree life that many of her peers in their early 20s enjoyed. Raising Paa Kow, making money, and building a career forced Nana to give up many friendships, compounding what was already a lonely journey. However, despite the struggles, Paa Kow's smile served as respite and encouragement, and today, she has become a success story.
She Forged Her Successful Career through Willpower and Resilience
In her forties at this writing, (born 19 June 1978), Nana Aba Anamoah is old and accomplished enough to look back on her teenage years with a smile on her face. Despite giving birth to Paa Kow, Nana Aba forged ahead, determined to make something of herself and refusing to become part of the statistic.
After high school, she attended Ghana National College before heading over to the Ghana Institute of Management and Public Administration. There, she studied Banking and Finance. Her professional journey eventually led her to TV3, where she hosted Diva Show and was the station's information presenter.
Nana Aba Anamoah later left the station and joined GH One TV. She began as the host of the political show, State of Affairs. Later, she became the anchor of the station's evening news bulletin, GhOne News Tonight. Outside of broadcasting, she is a member of the Women's Premier League committee, following an appointment by the Ghana Football Association.
She has received multiple awards, including TV Personality of the Year, TV News Anchor of the Year, RTP TV Female Newscaster of the year, and many more. Her son, Paa Kow, who has grown to become a handsome young man, is also doing alright for himself as a second-year American university student as of 2020.
The same degree of positivity cannot be said for Nana Aba Anamoah's baby daddy, Richard Brown. He has been a source of controversy around the media personality since he came back into the picture.
Richard Brown Claims Nana Aba Anamoah Shut Him Out of Paa Kow's Life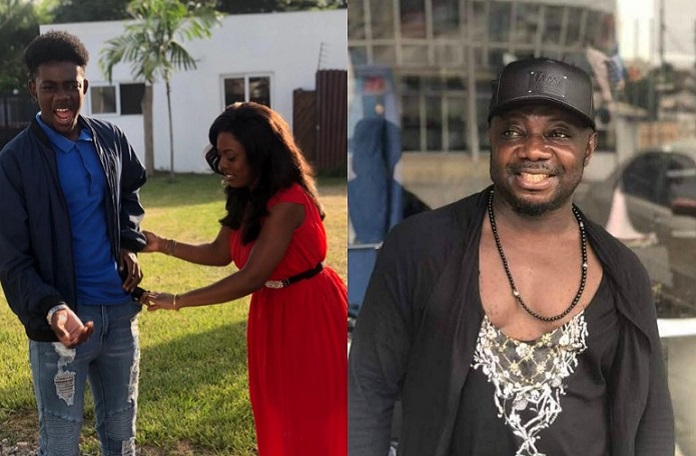 For years in the spotlight, as she went from a newbie in the media industry to its leading star, Nana Aba Anamoah kept her baby daddy's identity secret. That changed in 2019 when the previously unknown man confirmed in a Facebook post that he is her son's father.
Ever since, Richard Brown has attracted controversy, most notably by denying Nana Aba's claims that he abandoned their child. According to him, they fell out following her insistence on shutting him out of her and his son's life. Despite the ban, Brown claimed he tried reaching out to Paa Kow, often through third parties. However, as soon as Anamoah finds out, she blocks the outlet too.
He also refutes Nana's claim that they have not communicated in over 17 years. According to statements made during an interview with Pulse, he claimed he invited her to his shop's expansion ceremony in 2018, and she promised to come. She did not, eventually, citing an emergency. However, his claims seeded doubt on Nana's widespread narrative that her baby daddy was an absent father.
Nana Aba's Animosity Has Not Stopped Richard from Offering Olive Branches on Social Media
Despite his stance, Richard Brown, the CEO of ZaraShop Clothing, continues to shower the media personality with praise on his social media. He celebrates her for raising their child, but his positive disposition has attracted skepticism and malice from observers and Nana herself.
Some have claimed he is leveraging their connection for fame. Nana, on the other hand, publicly at least, refuses to acknowledge him as the baby daddy. An example of her defiance came in September 2020, when he posted a comment under a photo of Nana Aba and Paa Kow, praising and encouraging her to forgive him. The GhOne TV news anchor subsequently deleted the post.
Meanwhile, observers have taken to his posts and public life with scrutiny. Brown, who has an unusual fashion sense, has drawn criticism from many who think he is unworthy of being Nana's baby daddy. In response, Osebo has reiterated his status as a self-made man, one who was once called 'a god' by Nana. It is unlikely the statement has endeared him to the GhOne TV star, and it certainly hasn't improved his standing with his son.
Paa Kow Does Not Have a Relationship with His Father
Richard Brown's public antics drive a wedge between himself and Nana Aba Anamoah. It is also not improving things between him and Paa Kow. It is unknown if Paa Kow always knew of the existence of Richard. If he did not, Richard's reappearance in the picture since 2019 has not moved the needle on their relationship.
At 19, Kow is legally old enough to reach out to Brown without his mother's permission. But so far, he does not appear to have made the decision. According to the Pulse interview with Osebo, he alluded to the fact. He also said he is hopeful that one day, his son will return to him. Asked if he has considered forcing the issue in court in a custody battle, Brown says he has not given it a thought, suggesting that he wants Paa Kow to do it of his own accord.