Cosmas Maduka  has an estimated net worth of $800 million, and is now one of the bonafide elite Nigerians who have ascended to the utmost rung of the ladder of importance in Nigerian society.
Maduka has risen to become one of the most successful business tycoons in the world's most populous black nation. He has become a household name all over Nigeria particularly for his exploits in the transportation and automobile industries.
He is the owner of Coscharis Group, a popular business conglomerate with interests spanning across many sectors of the economy, including manufacturing, petrochemical, ICT, auto care and auto components, agric and agro-allied, and automobile sales and services sectors.
The story of Cosmas Maduka is very inspiring, mainly because he was able to rise from deep obscurity to become one of the most popular businessmen in Nigeria. Starting from his childhood, Maduka overcame some obstacles that could have easily discouraged other people from finding great success in business and establishing himself among the elites in society.
Cosmas Maduka Started Out As An Underage Apprentice
Cosmas Maduka is a very wealthy man today and he can afford to buy whatever he wants with all the money that he has. However, this was not always the case with the man. There was a time in his life when he was just a poor young boy with only dreams of doing something with his life. As a matter of fact, he started out in life as an underage apprentice.
Maduka, who hails from Nnewi, Anambra State, was born to the late Peter and Rose Maduka on 24th December 1958 and is now 64 years old. He was born in Jos, the area now known as the capital city of Plateau State, and began his education there as a child. However, he lost his father when he was just about four years old in 1962. Things became so hard afterward that he had to drop out of school while he was in elementary three because of lack of funds and promptly began to assist his mother in her akara (bean cakes) business. According to him, he would wake up really early and go out to grind beans for his mother to fry akara. He would then hawk the bean cakes after that around the city of Jos.
Cosmas Maduka continued helping his mother with her bean cakes business until he turned 12 years old. At the age of 12, his maternal uncle who lived in the Ebutte Metta area of Lagos State decided to reduce the weight off Maduka's mother's shoulders by taking Maduka to live with him in Lagos. As a result, Cosmas relocated from Jos to Lagos where he was employed as an apprentice by his uncle at his automobile shop where he sold automobile parts on Lagos Island.
How Working As An Apprentice Helped Him Learn The Ropes
Because he was just 12 at the time, Maduka was clearly underage but he served as an automobile apprentice all the same. Also, the conditions were not very conducive as his uncle lived in the very shop he sold spare parts from. Maduka once revealed that while he served with his uncle, he usually slept on the floor right inside the shop at the end of the day's work while his uncle usually went to sleep at his friend's place.
But his experience as his uncle's apprentice was what fired the spirit of entrepreneurship into him and later motivated him to start his own business when he left. Even though he was so young at the time, Maduka became so committed and devoted to his work as an apprentice that he completely won his uncle's trust. In fact, his uncle trusted him so much that he saddled Maduka with the responsibility of traveling alone to other states like Sokoto in Northern Nigeria to work at one of their branches there or make some purchases on his uncle's behalf from Nnewi. He was learning the ropes very fast even as a teenager.
Maduka Ventured Into Business After Being Sacked By His Uncle
Although the relationship between Cosmas Maduka and his uncle was really smooth and filled with trust at the beginning, things fell apart after some years when his uncle got angry with him and decided to terminate his apprenticeship. Maduka's uncle got enraged because the young man had closed the workshop one day to attend a church program. This action got his uncle livid and he decided to send Maduka away. All this happened in 1975 when Cosmas Maduka was just 17 years old.
However, Maduka did not leave his uncle's workshop empty-handed; his uncle gave him about N200 as the settlement for his apprenticeship so he can continue his life elsewhere. At first, Maduka was sad but knew that with the experience he had already gotten in his uncle's workshop, he was going to stand on his own business-wise with time.
His First Business Move Failed
Soon after leaving his uncle's shop, Cosmas Maduka formally ventured into business and started an auto spare parts business in collaboration with his brother. They called the business 'Maduka Brothers'. However, even though they started out with enthusiasm and eagerness, the business failed because Maduka and his brother soon fell out due to some ideological differences that they had.
After parting ways with his brother, Cosmas Maduka refused to be discouraged, instead, he went ahead and started his own spare parts business of which he was the sole proprietor. The new business saw Maduka buying and selling motorcycle spare parts from Boulos Industries in Lagos. At the time, Boulos Industries had just introduced a new innovation called the motorcycle crash bar, which was meant to be worn to protect people on motorcycles. Maduka knew that the new innovation would be loved by people so he bought more of the motorcycle crash bars to sell. He was right because, in just about a week, he had made a gain of N3,000 from his initial capital of N300. He was ecstatic!
The Mistake That Nearly Killed His Drive
Cosmas Maduka's buying and selling business continued booming and he decided to start importing motor spare parts into the country. He saved up enough money from the profits he was making at his business and ordered some goods from abroad. However, he was struck by great misfortune after he made a mistake on the part number and ended up receiving the wrong spare parts consignment.
Because of the mistake that he had made, the goods he had received were way below the quality of what he had ordered so he had no option than to sell them off way below the cost price. Of course, this put him in serious debt. In fact, he was in so much debt that his landlord ended up locking his shop for owing several months' rent. He was left with virtually nothing. He knew that he had to start all over again.
However, although he was initially thrown off balance and really sad by the losses he had incurred, Cosmas Maduka made up his mind to start again and bring his business back to life. To raise the capital that he needed, he took the weight scale that he had received as a gift during his wedding and took the device to the market where he began to measure people's weight for a fee of 10 kobo per person. This was a very sad moment in their lives and his daily routine of measuring people's weight moved his wife to tears because of what he was going through especially because it was way below the standard of life they had previously lived.
Maduka continued measuring people's weight until he had saved up some money enough to serve as capital to start a new business. He then teamed up with one of his friends to start a new spare parts company called CosDave. The business started smoothly at first but then things collapsed after Maduka and his friend fell out. The partnership ended and the CosDave company folded up.
Cosmas Maduka Established Coscharis Motors In 1977
After the CosDave motor spare parts company folded up, Cosmas Maduka proceeded to kickstart his own company which he called Coscharis Motors in 1977. According to him, the name Coscharis is a combination of his first name, Cosmas, and that of his wife, Charity. Cosmas Maduka formed Coscharis Motors with the sum of three hundred naira (N300) which he had saved up over time. The company was focused on the sale of automobile spare parts.
As time went on, Coscharis Motors grew massively and he started selling cars in addition to selling spare parts. The company also dealt with repairs and servicing. It was not long before Coscharis Motors found its footing, showing a lot of promise.
He Got His Big Breakthrough 5 Years After Starting Coscharis
Even though Coscharis Motors was already doing really well, the company did not really get its big break until 1982, five years after it was formed. In 1982, the Nigerian government led by Shehu Shagari decided to grant ten motor companies import licenses. Fortunately, Cosmas Maduka's company, Coscharis Motors, was selected. This was the turning point in his business.
According to Maduka, when he was granted the import license, Coscharis Motors witnessed a quantum leap. He explained that he began to make the kind of money he had never seen before and this provided him with the opportunity to expand the businesses as much as he could. In 1984, two years after getting the license, he had made so much money that he was about to buy a massive land in Maza-Maza, Lagos State, and in 1986, he had finished building a gigantic company where he started manufacturing some motorcycle parts. The success he witnessed at the time was like wildfire.
Coscharis Motors has since become a household name in Nigeria, earning the trust of the people. The company has grown massively and has continuously provided the Nigerian people with vehicles from a robustly diversified auto dealership, comprising of five luxury and two value brands. In 2015, Coscharis Motors became the sole distributor of BMW cars in all of Nigeria. Coscharis Motors also became the very first company to build an Assembly Plant of Ford Ranger in Nigeria. The company also emerged the winner of the Auto Brand of the Year at the Marketing World Awards held in Ghana.
Today, Coscharis Motors is the sole representative of Ford Motor Company in Nigeria. It is also the distributor of other brands of cars, including Range Rover and Jaguar. The company that Cosmas Maduka started in 1977 has become one of the most popular companies in Nigeria. The company is now also one of the largest distributors of spare car parts in Nigeria.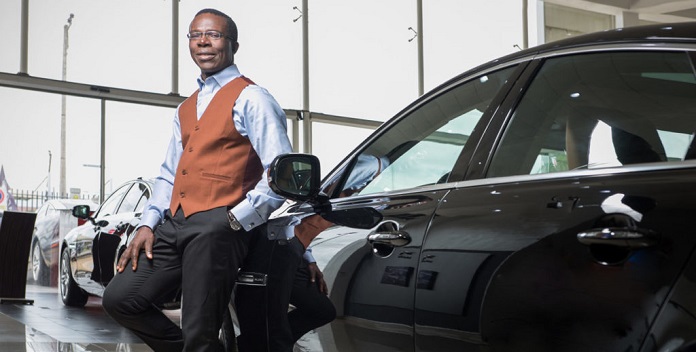 The Company Has Evolved Into Coscharis Group
As Coscharis Motors company continued to grow, Cosmas Maduka kept diversifying and turned the company into a conglomerate called Coscharis Group. The Coscharis Group is now a huge business conglomerate with arms spreading across different sectors of the Nigerian economy. The Coscharis Group now has subsidiary companies dealing in medical science, automobile, food & beverages, Information Technology, agric and agro-allied, and engineering.
Agriculture is a very strong area that the Coscharis Group is investing in. In fact, in the year 2016, the government of Anambra State approved a massive 5,000 hectares of land for Coscharis Farms, a subsidiary of Coscharis Group, to cultivate rice. Reports claimed that the project would generate 3000 jobs upon completion.
Over the years, the company has partnered with globally respected partners to become a major considerable contributor to Nigeria's economy. Today, the Coscharis Group is rated as one of the top 50 brands in Nigeria.
How Cosmas Maduka's Affiliation With The Japanese Helped His Busines Grow
Cosmas Maduka has always maintained that his affiliation with the Japanese helped him build his Coscharis company into what it has become. He explained that the Japanese have thought him so much over the years and what he has learned from them completely revolutionized the way he saw and did business. Maduka visited Japan for the first time in 1979 and was so impressed by the culture and courtesy of the people there that courtesy and respect became his watchword. He soon began to do business with the Japanese, buying cars and exporting them back to Nigeria for sale.
In an interview with Forbes Africa, Maduka emphasized that his success story would never be without the Japanese. This was mainly because from the first day he began to interact with them, the Japanese taught him to always keep to his promise. Maduka explains that because of this vital lesson, he now makes sure that he always underpromises and over-delivers and this has greatly helped his business grow in leaps and bounds.
In his interview, Maduka also revealed that meeting the Japanese transformed his way of thinking. In fact, he was so transformed that he began to set up his office model the way that he saw them set up their office model. He drew inspiration from them in many aspects of his business. Also, it was as a result of his interaction with the Japanese that he fully kickstarted his modest importation and distribution of genuine automotive spare parts and accessories of Japanese vehicles as well as several other kinds of automobile-related products. This was what served as the foundation for which Coscharis Motors consolidate its automobile business.
He Has Been On The Board Of Reputable Companies
As expected, Cosmas Maduka has been appointed to the boards of different reputable companies. He has sat on the board of several reputable companies and organizations. As a matter of fact, he served as a Director in Access Bank Plc., one of the leading banks in Nigeria for 12 years, from 2000–2012.