Managing a three-tier career in the world of arts and making it big in each of them isn't an easy task. However, in the case of Crispin Glover, he has been able to build quite a successful life as an actor, musician, and author. He is popularly known for his remarkable performances on-screen especially for the characters, George McFly in the Back to the Future film series, Layne in River's Edge, and Mr. World in the TV series, American Gods.
Glover's company, Volcano Eruptions, has also enhanced his fame over the years as he has published several books through the company, as well as produced his films, including What Is It? in 2015 and It Is Fine! Everything Is Fine in 2017. His level of success in the entertainment industry does not come as a surprise as his parents were prolific entertainers in their time.
Crispin Glover's Early Years Under His Parents' Tutelage
The widely acclaimed filmmaker was born on the 20th of April, 1964, in New York City. He is the only child of film stars, Bruce Glover and Marion Elizabeth Lillian Betty Krachey. Marion was a dancer as well as an actress who later retired following the birth of her son. It is also known that the prolific actor has multiple ancestries owing to his rich family history. His father, actor Bruce Glover, is of English, Swedish, and Czech descent while his mother is of Czech and German ancestry.
Despite being born in New York City, Crispin Glover was raised in Los Angeles, California. In fact, Crispin attended the famous Mirman School, located in Bel-Air, Los Angeles, for his elementary education. From there, he was enrolled at the Venice High School where he completed both tenth and eleventh grade.
In 1982, the Hollywood star rounded up his high school education at Beverly Hills High School. Crispin's interest and love for his parent's trade spurred up while he was in high school and it prompted him to join the school's theatre team. Throughout his years in high school, he appeared in several plays and even played a lead role in the school's stage production of the popular movie, Sound of Music.
His Film Career Started In His Teenage Years
Despite being a teenager, Crispin Glover was cast in a number of film and television productions including Facts of Life in 1982 and Happy Days in 1983, amongst several others. He also went on to land his first film feature a year after he left high school in the classic film, My Tutor. Following his superb performance, Glover earned himself juicy roles in Teachers and Friday the 13th: The Final Chapter.
The young actor subsequently earned his career break in 1985 when he starred in Back to the Future as George McFly. The movie was an instant hit both domestically and internationally earning tremendous critical acclaim and it was given an outstanding 96% rating on the film rating site Rotten Tomatoes. He was later seen in a handful of 90's productions like Wild at Heart, Little Noises, Chasers, and Dead Man.
Glover also received widespread praise for his role as the 'Thin Man' in Charlie's Angels which was released in 2000. This was followed by other notable films and television series which include Bartleby, Willard, Beowulf, Hot Tub Time Machine, Alice in Wonderland, American Gods, We Have Always Lived In The Castle, and Lucky Day.
Crispin Glover Is An Accomplished Filmmaker
The talented actor is also an acclaimed filmmaker with many directorial roles in his portfolio. In 2005, he had his directorial debut with What Is It? which featured a cast with Down syndrome. The film premiered at the 2005 edition of the Sundance Film Festival.
Glover's second directorial role was in It Is Fine! Everything Is Fine which was premiered in 2007, also at the Sundance Film Festival. Reports making the rounds indicate that the widely acclaimed filmmaker has completed work on his third feature film as a director but he is yet to bare the facts concerning that work.
In 2013, the Museum of Arts and Design based in New York City staged a series in honor of Crispin Glover. It featured his live performances, speaking engagements, and directorial work.
The Writing & Musical Phases of His Career
The multi-faceted Glover also has a studio album to his credit. The album titled 'The Big Problem Does Not Equal the Solution, The Solution Equals Let It Be'  was released in 1989 when he took a short break off acting. The studio album was produced by Barnes & Barnes and released by Restless Records, California.
Crispin Glover went on to do a cover of Michael Jackson's 'Ben' which was released alongside the 2003 film, Willard. He has also influenced and inspired a lot of singers and musicians across the United States. Some of these include musicians like Wesley Willis and singing groups like Children in Adult Jails and Scarling.
As an accomplished writer, the film star owns his own publishing outfit, Volcanic Eruptions which he formed in the late 1980s. His books which have been published by Volcanic Eruptions include Oak-Mot (1989), Concrete Inspection (1990), What it is, and How it is Done (1992), and Round My House (2016). More so, Crispin's company not only publishes his books but also serves as the production company for his films. They produced What Is It? and It Is Fine! Everything Is Fine.
The Filmmaker Has Never Been Married But He Has Been Linked To Numerous Ladies In The Past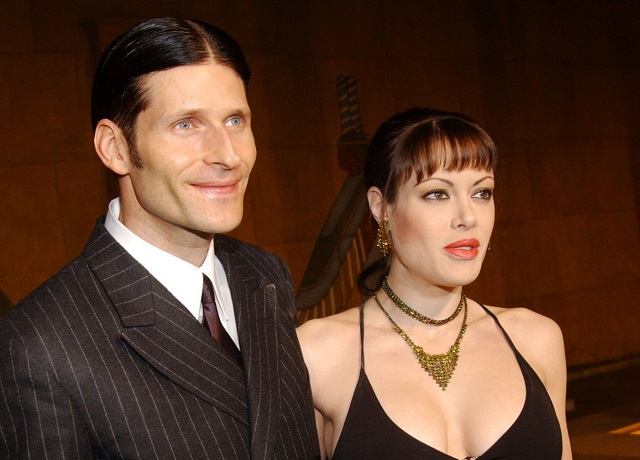 According to several sources, the talented Crispin Glover is currently single. Notwithstanding, he has been romantically involved with a couple of ladies in the past. Crispin's earliest relationship in the public eye can be traced back to 2004 when he started dating Marina Drujko. The pair were together for only a year as they broke up in 2005.
After ending things with Marina, the acclaimed author was believed to have dated Amber Heard. However, his relationship with Amber was never confirmed by either of them. The next authentic dalliance he had was in 2008 when he started a relationship with Vanessa Marra. Sadly, their relationship towed in the path of his past relationship lasting for about a year before coming to an abrupt end.
Other ladies he is rumored to have been involved with include Alexa Lauren, Fairuza Balk, Trisha Paytas, and Courtney Peldon, among others. However, Crispin Glover has never been married.