The Niche Media Vice Chairman, Cristina Greeven Cuomo is known to have gained much fame as the wife of the notable journalist, Chris Cuomo, who works as the host of Cuomo Prime Time at CNN. She has also garnered wide public recognition with her flourishing career as a prominent editor, having founded and worked as the Editor-in-chief and publisher of a lifestyle magazine called Manhattan file.
In addition to holding the prestigious position of the Vice Chairman of Niche Media, Cristina is also the Vice Chairman of GreenGale Publishing LLC. Read on, as we uncover more facts the talented editor's life, career, and family.
Cristina Greeven Cuomo Biography 
Cristina who is of Brazilian and German ethnicity was born into the family of Rainer and Regina Greeven in New York, the United States on 12th of January 1970. Her father is a legal practitioner. Details about her childhood and siblings are not yet made public.
She attended one of the schools within her vicinity in New York before enrolling into Cornell University, where she graduated from in 1992. From a young age, Cristina Greeven Cuomo had always had a strong desire to be a writer and also for creating unique write-up, no wonder she instantly pursued a career in writing as soon as she graduated from the university.
She kicked off her career in journalism by establishing a lifestyle magazine dubbed Manhattan file. Cristina held the position of the Editor-in-chief and publisher of the journal for seven years. Later on, the renown journalist was associated with an affiliate of Niche Media named Niche Media Holdings, where she worked as Gotham and Hamptons magazines Editorial director before she eventually landed her job with Niche Media LLC in New York, where she presently serves as the Vice Chairman.
In 2001, the media company formed a partnership with Jason Binn, which enabled the prominent editor to launch all their published works as the company's Vice Chairman. However, Cristina Greeven Cuomo has gone ahead to build quite a thriving career as a reputable journalist.
Family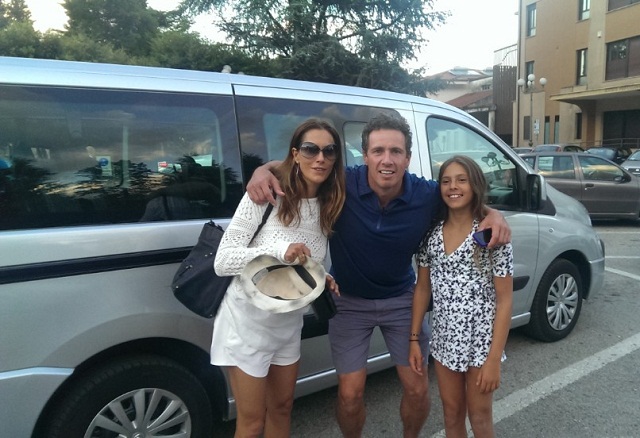 The beautiful magazine editor is married to the notable journalist, Chris Cuomo, who previously worked as ABC News anchor before joining CNN, where he works as the host of a self-titled program, Cuomo Prime Time.
However, the couple dated for quite a long time before they solemnized the union in a Catholic Church in Southampton, New York, on 24th November 2001. They have gone ahead to welcome two girls and a boy, namely Bella Cuomo, Carolina Regina Cuomo, and Mario Cuomo.
The couple is happily married and they love spending time with their children. Despite having a busy career, Cristina Greeven Cuomo has worked hard in maintaining a balance between her professional and personal life as she often spends quality time with her husband and kids.
She is also known to be active on social media as she has been thrilling her fans with the beautiful pictures of her fun-filled family moments. One, for instance, was on 2017 Father's Day, the multi-talented journalist uploaded cute pictures of her husband alongside her three lovely children on her Instagram account. Similarly, on 14th June 2017, she also took to her Instagram to wish her parents, Rainer and Regina Greeven, a happy 53rd wedding anniversary, stating that they are the best parents on earth.
Facts about Chris Cuomo's Wife
1. Cristina Cuomo's US ambassadorship
Cristina Greeven Cuomo was made the United States ambassador of a notable line of skin care/natural beauty products called Natura Bisse. She was selected for the job as a result of her strong likeness for naturally healthy skin.
2. Her Delta and app-based advertisement
The notable Magazine editor is currently featured in a female empowerment advertisement for Delta and app-based helicopter service, Blade.
3. Website
Aside from her editorial job, Cristina Greeven Cuomo has created a website named The Purist – thepuristonline.com. She uses the website to provide information and blog about sound body fitness and healthy living.
See Also: Rachel Bonnetta – Biography, Net Worth and Family Life of The Journalist
4. Love for Natura Bisse products
The renown editor is well known for her natural beautiful look. Following her love for naturally healthy skin, Cristina makes use of Natura Bisse products such as Gel Anti-aging, DNA Mask, along with her favorite, The Inhibit-Tensolift.
5. Fashion style
According to the talented editor, she loves Bohemian products a lot when it comes to her fashion style. She also stated that she has a Brazilian ornamented Bohemian bag which she loves to use on a frequent basis.