Crystal Reed is a widely acclaimed American actress best known for her role in Teen Wolf. The actress endeared herself to both critics and fans alike with her brilliant portrayal of Allison Argent in the 2011 MTV show. She departed the drama series in 2014 after its third season. Notwithstanding, the actress later appeared in a guest role in the show's fifth season. After which the talented actress went on to star as Sofia Falcone in Gotham – an action crime drama series created by Bruno Heller. She also appeared in Swamp Thing where she played the character of Abby Arcane.
Achieving such a great success in Hollywood did not come without sacrifices. It is reported that Crystal had to make very crucial decisions during her early life which defined her career pursuit.
Crystal Reed's Early Life 
Crystal Reed was born in Roseville, Michigan on February 6, 1985, as Crystal Marie Reed. Although there is no information about her parents online, it is known that Crystal is not the only child born to her parents, she has an older brother named Corey. Reed and her brother were raised in a conservative Catholic family. She, however, revealed that they attended a Baptist church while growing up.
Reed attended Roseville High School and graduated in 2003. She loved dancing and her parents enrolled her in a dancing school at an early age (she even headed her high school's dance group). The actress was also an active member of the local theatre in her community and performed musicals with the group.
After high school, she enrolled for the BFA conservatory program at Wayne State University but soon dropped out as she continually wondered if she really needed a degree to be an actress.
She Moved To Chicago To Pursue An Acting Career
Upon leaving Wayne State University, Crystal decided to take the bold step to pursue her career as a movie star. She moved to Chicago where she landed some roles in a number of local theatre productions. However, Reed needed to try her skills on a bigger platform so by the end of 2008, she left Chicago for Hollywood to pursue a career as a screen actress. A few years later in 2010, she made guest appearances on The Hard Times of RJ Berger, CSI: Crime Scene Investigation, CSI: NY, and Rizzoli & Isles.
The next year, Reed landed the female lead role on MTV teen drama, Teen Wolf. After playing Allison Argent on the show for three seasons, the actress wanted to leave the show in order to pursue other endeavors and told the film's executive producer, Jeff Dais who backed her decision. Finally, in March 2014, her departure from the show was arranged in the form of the death of her character at the end of the season 3 of Teen Wolf.
However, the actress later revealed that her main desire to leave the show was basically as a result of the discrepancy between her real age (29) and the age she played on the show (17). Prior to exiting the show, her performance had earned her the 2013 Young Hollywood Awards for Best Ensemble. In addition, she was also nominated 3 times for Teen Choice Awards for her role in the popular American television series.
In 2017, Crystal Reed appeared in the fourth season of Bruno Heller's Gotham as Carmine Falcone's daughter, Sofia Falcone. She was also seen playing Elizabeth Keller in Pascal Laugier's horror movie Ghostland, which first premiered in France in March 2018. She has landed roles in other movies like Skyline, Crazy, Stupid, Love, and has made guest appearances on The Hard Times of RJ Berger, CSI: Crime Scene Investigation, and Rizzoli & Isles. 
Crystal Reed's First Marriage Ended In Divorce
Reed first got married in 2008 to Peter John Nottoli at a private wedding ceremony which took place in Roseville, Michigan and was attended by close friends and family members of the couple. After a couple of years of marital bliss, the tables turned as the marriage went through a challenging period between 2010 and 2011. The star actress couldn't cope with the turn of events and decided to file for a divorce.
The divorce was officially filed on September 12, 2011, at the Los Angeles County Court and was finalized on May 31, 2012.
Who is the Actress Involved With Now?
Before the Teen Wolf star finalized her divorce from Nottoli, she began dating co-star Daniel Sharman in February 2012. The relationship was blissful but like with most celebrity relationships, it didn't stand the test of time. The pair broke up in June 2013 after spending a year and 4 months together.
Reed later hooked up with popular TV presenter, Darren McMullen barely a month after breaking up with Sharman. McMullen is known as the host of The Voice Australia. They spent several years free from any controversy but in June 2016, the media space was awash with the rumor that Reed had been unfaithful to McMullen with actor, Joshua Jackson. However, the rumor was never confirmed by the pair as they decided to keep the details of their love life private.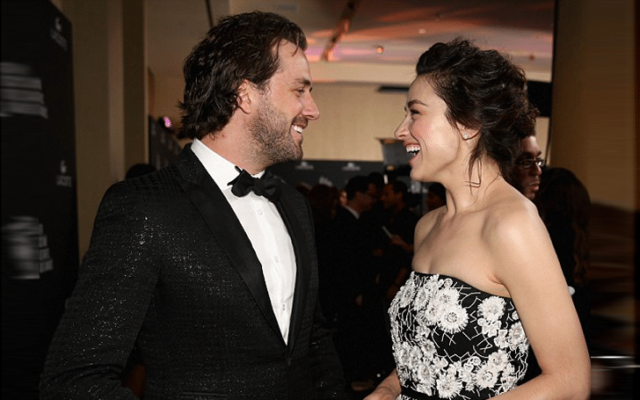 In 2017, it was also rumored that the two were engaged after Reed was spotted on a red carpet event wearing a diamond ring. McMullen would later tell Daily Mail that they plan to get married and have kids in the future if his birth country – Australia – legalizes gay marriage. The television host, Darren McMullen has always been a firm supporter of gay rights and the gay community leaving many to wonder if he is gay.
Read Also: Gal Gadot Husband, Height, Age, Children (Daughter), Net Worth, Family
Unfortunately for Darren and Crystal, their relationship suffered a lot of strain and things began to go south. The pair broke up officially in early 2019. Ever since then, Reed has not been romantically linked to any other guy.  However, there has been some rumors making the rounds on the internet that the award-winning actress is now dating American-Canadian actor, Joshua Jackson.
Neither party has come out openly to refute or confirm the rumor. Furthermore, the speculations finally died down when Jackson tied the nuptial knot with his girlfriend, Jodi-Turner Smith in December 2019 welcoming a child together in April 2020.