These love quotes are quite awesome, lovely quotes that says deep and heart touching truths about love. People lack words to express how they feel about their loved ones simply because they don't know the right words to use, the fact is that there are many words you can actually use to express your love. Words are strong, so we ought to use them wisely and in the right manner. In this article, we have compiled a list of cute love quotes for that special one in your life, hope you find them interesting.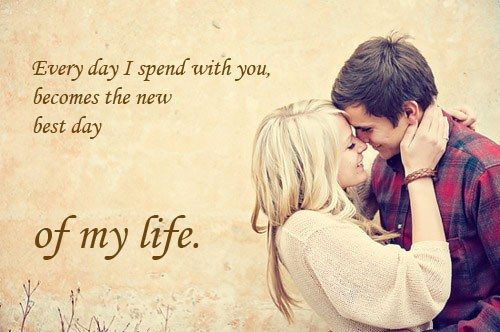 Cute Quotes About Love
1. I've fallen in love many times… always with you ― Anonymous
2. I seem to have loved you in numberless forms, numberless times, in life after life, in age after age forever ― Rabindranath Tagore
3. I was born when you kissed me. I died when you left me. I lived a few weeks while you loved me. ― Humphrey Bogart
4. The hours I spend with you I look upon as sort of a perfumed garden, a dim twilight, and a fountain singing to it… you and you alone make me feel that I am alive. Other men it is said have seen angels, but I have seen thee and thou art enough ― George Moore
5. The sweetest joy, the wildest woe is love ― Philip James Bailey
See Also: 100+ Funny Trivia Questions and Answers 
6. "The only time I want to be near you is forever"
7. "I know your life can go on without me, that you can be happy without me, that you can survive without me. But even if you turn me away, I will still choose to stay with you and be your sweetest stranger forever."
8. "The most authentic thing about us is our capacity to create, to overcome, to endure, to transform, to love and to be greater than our suffering. – Ben Okri"
9. "I don't know why I keep on loving you despite the fact that I'll get hurt again just like before. I never learn cause I don't want to. Not now when I'm still strong to fall for you over and over again."
10. "We spend most of our time talking about nothing but I just want to let you know that all these nothings mean so much more to me than so many somethings."
11. "To be brave is to love unconditionally without expecting anything in return."
12. Love is composed of a single soul inhabiting two bodies.
13. Late at night when all the world is sleeping, I stay up and think of you. And I wish on a star that somewhere you are thinking of me too.
14. If the weapon is your love, I got my hands up. If you're gonna take me down, I surrender.
15. You'll know they're special when no matter what kind of mood you're in, they can always manage to make you smile.
16. Life is for living; I live mine for you. Love is for giving; I give mine to you. Hearts are for beating; mine beats for you. Dreams are full of meaning; mine are full of you.
17. When you fall for someone's personality, almost everything about them becomes handsome and beautiful.
18. I'd rather spend one moment holding you than a lifetime knowing I never could.
19. I am absolutely, definitely, positively, unquestionably, no strings attached, beyond any doubt, unconditionally, in love with you.
20. I'm not perfect. I'll annoy you, make fun of you, say stupid things, but you'll never find someone who loves you as much as I do.
See Also: 100 Good Questions to ask your Guy and 100 Long Distance Relationship Quotes
21. The sweetest place to be is to be in someone's thoughts… and the safest place to be is to be in someone's heart!
22. Although we are miles apart, the thought and touch of you lives within my heart. It is for that reason my dear you will always feel near, even though we are thousands of miles APART!
23. I want a cute, long relationship where everyone is like damn they're still together?
24. To be your friend was all I ever wanted; to be your lover was all I ever dreamed. ― Valerie Lombardo
25. Every time I see you I fall in love all over again. ― Anonymous
26. Sometimes your nearness takes my breath away; and all the things I want to say can find no voice. Then, in silence, I can only hope my eyes will speak my heart ― Robert Sexton
27. If I had a flower for every time I thought of you, I could walk in my garden forever ― Alfred Tennyson
28. Immature love says: 'I love you because I need you.' Mature love says 'I need you because I love you.'
29. A man reserves his true and deepest love not for the species of woman in whose company he finds himself electrified and enkindled, but for that one in whose company he may feel tenderly drowsy.
30. A kiss is a lovely trick designed by nature to stop speech when words become superfluous.
31. I have found the paradox, that if you love until it hurts, there can be no more hurt, only more love.
32. A loving heart is the beginning of all knowledge.
33. The first thing I imagined when I saw the word 'love' is you.
34. I want you to look at me like you've never looked at anyone else. I want you to look at me like I have something other girls don't.
35. Every girl needs a good guy who can help her laugh when she thinks she'll never smile again.
36. There's a love that only you can give, a smile that only your lips can show, a scene in your eyes and my life that only you can complete.
37. Sometimes you can't explain what you see in a person. It's just the way they take you to a place no one else can.
38. I don't want to be your favourite or your best. I want to be your only and forget the rest.
39. "A man is a little thing while he works by and for himself; but when he gives voice to the rules of love and justice, he is godlike. – Ralph Waldo Emerson"
40. "For one human being to love another: that is perhaps the most difficult of our tasks; the ultimate, the last test and proof, the work for which all other work is but preparation. – Rainer Maria Rilke"
41. "The best things in life are never rationed. Friendship, loyalty, love do not require coupons. – George T. Hewitt"
42. "True love cannot be found where it truly does not exist, nor can it be hidden where it truly does."
43. "I've looked around enough to know that you're the one I want to go through time with. – Jim Croce"
44. That moment where you're thinking of someone and you start laughing or smiling out of nowhere and when someone asks you why, all you do is smile even bigger and just say NOTHING.
45. I love the way you make me so happy, and the ways you show you care. I love the way you say, "I love you", and the way you are always there.
46. Someone has stolen my heart and you are the highest on my list of suspects
47. She likes him. He likes her. Everyone knows. Except them.
48. No matter how far we go, our hearts will always stay closest to each other.
49. Since the time I've met you, I cry a little less, laugh a little harder and smile all the more, just because I have you, my life is a better place
50. Your prince will come. He may not be riding a white horse, or have a big castle, but he will want you, and only you, and that would be better than any fairytale.
Don't Miss: How to Attract and Date African Men and 10 Fun Things To Do With Your Boyfriend
51. There's always going to be a girl that's prettier than you. You just need to find a guy that doesn't care.
52. For once in my life, I don't have to try to be happy. When I'm with you, it just happens.
53. Your Lips? I kiss that. Your body? I hug that. My smile? You cause that. Your heart? I want that.
54. When you are with me, you make me perfect. I love you.
55. All a girl wants from a guy is love, honesty, trust, respect, caring, loyalty, and all of his attention.
56. I wish dreams were like wishes, and wishes came true, cause in my dreams I'm always with you!
57. She kissed me like she meant forever, we were too damn young to know any better.
58. If you think missing me is hard, then you should try missing you.
59. I am absolutely, definitely, positively, unquestionably, no strings attached, beyond any doubt, unconditionally, in love with you.
60. I wanna be the reason behind your smile because surely you are the reason behind mine.
61. That new relationship, where you guys flirt with each other every day, but even after you have been together for a long time, you still flirt like first loves, it's just totally meant to be.
62. I want a guy who calls me beautiful instead of hot, who calls me back when I hang up on him, who will stay awake just to watch me sleep, the boy who kisses my forehead, who wants to show me off to the world, who thinks I'm pretty without makeup on, the one who is constantly reminding me that ever since he met me, no one else is worth thinking about!
63. You are the reason for my smile. The one who makes my life worthwhile. I wonder what would I be doing without having you in my life. I am glad I never have to worry about that.
64. They say when you are missing someone that they are probably feeling the same, but I don't think it's possible for you to miss me as much as I'm missing you right now.
65. It would be cheesy to say that we are made for each other. But if the way I feel when I'm with you is anything to go by, I truly believe that God intended for us to be together, now and forever. I love you my dear.
66. Every girl deserves a boy who won't make her mascara run but will mess up her lipstick.
67. All a girl really wants is for one guy to prove to her that they are not all the same.
68. Sometimes my eyes get jealous of my heart. Because you always remain close to my heart and far from my eyes.
69. Love is when you can still feel their hand on your heart when they're not near.
70. "It feels so good to wake up with you in the morning."
71. "When I say I love you, please believe it's true. When I say forever, know I'll never leave you. When I say goodbye, promise me you won't cry. Cause the day Ill be saying that would be the day I die."
72. "He has the most adorable eyes you could ever fall for and the cutest smile that takes your breath away. He has the ability to make you laugh every time he speaks and whenever you look into his eyes its so hard to turn away."
73. For it was not into my ear you whispered, but into my heart. It was not my lips you kissed, but my soul.
74. A flower cannot blossom without sunshine, and man cannot live without love.
75. Let us always meet each other with smile, for the smile is the beginning of love.
76. If snuggles were seconds, I'd give you the entire day. If cuddles were minutes, I'd give you the four seasons of the year. If hugs were hours, I'd give you eternity.
77. It is a nice feeling when you know that some one loves you, misses you, needs you, but it is better when you know that's some one never ever forgets you.
78. I want to kiss you at 11:59 new years eve and again at 12:01 on New Years Day because then it would be the best end and start to my year.
79. I don't want someone who promises me the world, I want someone to sit on the porch with me and watch it go by as we grow old together.
80. I wish falling in love has traffic lights too, so that I would know if I should go for it, slow down, or just stop.
81. If every time I thought of you, a star fell, Well, the sky would be empty.
82. When; a girl is in-love, you can see it in her smile. When; a guy is in-love you can see it in his eyes.
83. If a girl leans toward you, kiss her. If her hand is free, hold it. If she's upset, hug her until she is okay.
84. I don't like waiting, I'm so impatient. But I'll wait forever, as long as I end up with you.
85. A real guy is not a guy who loves a million girls, he only loves one girl in a million ways.
86. They always say we're too young to love, but maybe they're too old to remember.
87. If ever you remember me, I will be thankful. If ever yours lips meets mine, I will be grateful. If ever we fall in love, I will be happy. If ever we fall apart, I will be sorry.
88. Happiness is falling asleep next to you and waking up thinking I'm still in my dreams.
89. I'm the girl who will put her head on your shoulder, not because she's sleepy, but because she wants to be closer to you.
90. Nobody teaches the sun to rise, a fish to swim, a bird to fly, a plant to grow, a child to cry… and nobody teaches me to remember you… I just do. I love you!
91. I've seen you over and over again; in the halls, in my thoughts, in my dreams, but most importantly, in my heart.
92. I could be anywhere in this world and everything would be okay as long as I'm with you.
93. Every moment I spent with you.. is like beautiful dream come true.
94. Falling in love is only half of what I want. Staying in love with you till forever is the other.
Don't Miss: 200 Happy Birthday Quotes and 200 Funny Random Questions to Ask Someone
95. There's nothing in life that makes me happier than loving you. You're my sunshine in the morning and my starlight in the night.
96. You hold me in your arms and make my whole world seem bright.
97. Love is timeless, it's the memory of yesterday, the happiness of today and the promise of tomorrow.
98. I want to hold you close to me to kiss your face and share your dreams. I want to wrap you with my love and show you just what I'm made of. I'm holding out my hand to you.
99. Oh, what a wonderful life it would be if I could lay in your arms for all eternity.
100. A precious moment is not when you say I LOVE YOU. But it is when you hear I LOVE YOU TOO.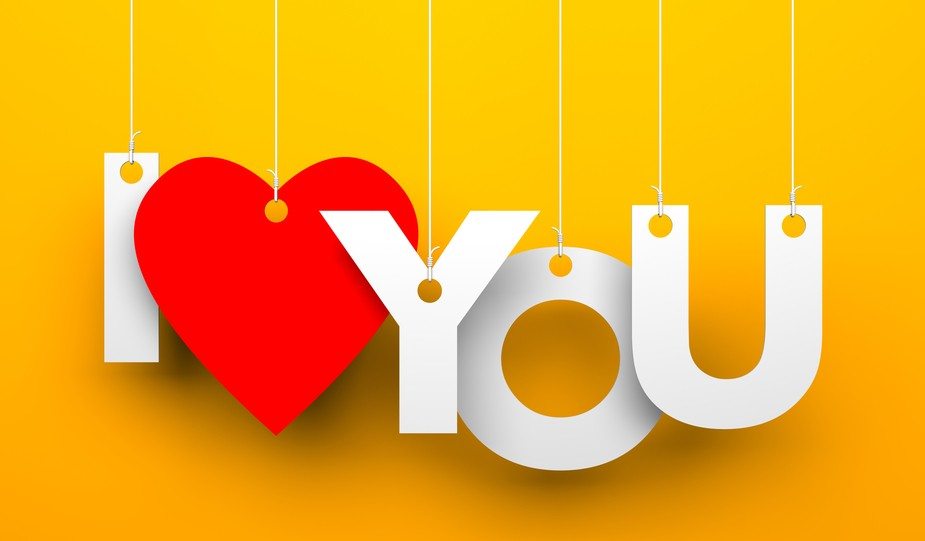 Cute Love Quotes For Him – Cute Love Quotes For Her
101. I used to be lonely, waiting for the right person to come by and love me and then you came like the morning star, bright as ever…loving as only you could ever have.~ Lynette Warren
102. Every time you say those 3 beautiful words, I cherish that moment like a treasure. I will never forget the first time you said that you love me. It will always stay as the best moment of my life.~ Andrea Croft
103. Your love has changed me so very much. People say I am a different person now. I guess when you fall in love, everything changes.~ Paula Street
104. You came like the night thief. Bloomed in my heart like the red rose and I want you to light up my life like the
morning sun.~ Saffron Lumber
105. From the day you walked into my life, your all I think about. You're the reason I breathe. You are the stars in my sky. I wouldn't want this any other way. You're the love of my life
106. When I think rain, I think about singing. When I think about singing, it's a heavenly tune. When I think about heaven then I think about angels. When I think about angels, I think about you
107. I love you. You annoy me more than I ever thought possible, but… I want to spend every irritating minute with you
108. I have a lot of problems but they seem like they don't exist when I am around you
109. You make me laugh even when I don't want to smile
110. The day I met you I knew that this was not going to be just for a day. I knew that I will see your sweet face every day, that I will know you and live with you for the rest of my life.~ Kristi Hansel
111. If today I die, I will be at peace because I have known
my soul mate and have understood the true meaning of love.~ Lora Joseph
112. I love you and why should I care for what people say about you? No matter what they say, I know that satisfying everyone every time is impossible but pissing them is so much FUN.~ Marisa Point
113. Even though I found you on an ordinary day, it felt like I found a precious pearl in an oyster when I deep dived into the sea. Baby, you are really that precious to me.~ Fiona Torrent
114. Come live in my heart, and pay no rent
115. I never knew what love was until I met you, then when distance pulled us apart, I found out what true love is
116. I love you not because of anything you have, but because of something that I feel when I'm near you
117. The first time you touched me, I knew I was born to be yours
118. I still fall for you every single day
119.  I fell for you in a heart beat because you are such a sweetheart.Though I fell so easily missing you is is the toughest part.That is why I have locked you as priority and only you have the keys to my heart.~ Wayne Macy
120. We all automatically close our eyes when we experience something beautiful like a happy dream or an intimate kiss. These days, whenever I close my eyes all I see is YOU!~ Tara Fantastic
121. There is a story behind every little emotion that a person experiences in life. You are the most beautiful story behind the emotion of love in my heart.~ Winnie Kings
122. There is not enough that I can write about you, but I want to end this page by saying that I really, glaringly and daringly love you.~ Sophia Pacey
123. I like your last name. Can I have it?
124. I keep myself busy with the things to do but each time I pause, I still think of you
125. I knew the second I met you that there was something about you I needed. Turns out it wasn't something about you at all. It was just you
126. I love you without knowing how, or when, or from where. I love you simply, without problems or pride: I love you in this way because I do not know any other way of loving but this, in which there is no I or you, so intimate that your hand upon my chest is my hand, so intimate that when I fall asleep your eyes close
127. Your smile is like the sunshine and it brightens up my day. Your thoughts in my head create the sweetest melody and I can't help but fall for you
128. Loving you never was an option – it was necessity
129. I am here, I will always be here. Watching you, loving you
130. A flower cannot blossom without sunshine, and man cannot live without love
131.  Good things happen to good people. I wonder what did I do that I got that I got an angel like you?~ Brock Torrens
132. You are like the bright morning star which lights up my day. My life has been so beautiful after you came in. You are someone I will always love and there is no replacement for you in my heart!~ Sigmund Ran
133. You make me happy with your funny gestures which is why I liked you. But then your sweetness and your cute style is what makes me think that you are the one for me.~ Hings Lawson
134. This time next year we will be looking back and smiling for all the joys that we experienced and all the good things we have seen. Than I will know that you are not just a part but you are my whole heart.~ Jonah Atwood
135. You are my life. You are the only thing it would hurt to lose
136. Yes we are imperfect but true love will make everything perfect. There are few things in life that i care for beyond life, one of them is love and the other is you
137. "No love, no friendship, can cross the path of our destiny without leaving some mark on it forever."~ Francois Mauriac
138. "I miss you and sometimes I hate you but I don't love you anymore."~ Unknown
139. "Women wish to be loved not because they are pretty, or good, or well bred, or graceful, or intelligent, but because they are themselves"~ Henri Frederic Amiel
140. "I secretly love you. The pain is so real, yet so delicate and should not see the light."~ Unknown
141. "Just because somebody doesn't love you the way you want them to doesn't mean they don't love you with everything they got"~ Thomas Jefferson
142. "Love me without restriction, trust me without fear, want me without demand, accept me for who I am."~ Unknown
143. "No matter how hard I try, I can never just look at you and pretend to feel nothing anymore."~ Unknown
144. "Most guys are players until that one special girl comes along that makes them lose their game."~ Unknown
145. "Sometimes we tend to be in despair when the person we love leaves us, but the truth is, it's not our loss, but theirs, for they left the only person who wouldn't give up on them."~ Melai
146. "You can't ever let go of all the feelings, But you need to let go of him."~ Unknown
147. "Love is never wanting to lose faith, never wanting to give up, and never truly moving on. Love is knowing and praying in the deepest part of what's left of your heart that they feel the same."~ Unknown
148. "We were both young, when I first saw you. I close my eyes and the flashback starts- I'm standing there, on a balcony in summer air."~ Taylor Swift
149. "Find someone worth your tears, worth your laughter, worth your heart and that loves you as much as you love them."~ Unknown
150. "I'm not giving up on love, I'm giving up on you."~ Unknown