Dan Aykroyd is undoubtedly one of Canada's best exports to Hollywood. The actor, comic star and musician, first found fame as an original cast member of the legendary show, Saturday Night Live. He has since parlayed his musical sketches into a successful blues band known as The Blues Brothers. Aykroyd has also embarked on a thriving movie career, appearing in iconic movies such as Ghostbusters. So, just how much is Dan Aykroyd's net worth as gathered from his successful career? What is his age? All these and more of your burning questions are answered below.
Dan Aykroyd's Age
Daniel Edward Aykroyd was born on the 1st of July 1952 in Ottawa, Ontario province, Canada. His nationality is therefore Canadian and he also has Scottish, Irish, French, Dutch and English ancestry. The Hollywood star hails from a family of four, comprising of her father, Samuel, mother – Lorraine, and brother, Peter. Aykroyd grew up in Ottawa and attended various Catholic institutions, including St Pius X and St Patrick. He later studied Criminology at Carleton University but dropped out along the way. After dropping out of college, Aykroyd started performing stand-up comedy at various local clubs and before long, he landed a part on the Canadian sketch comedy series, The Hart and Lorne Traffic.
Dan Aykroyd got his carer breakthrough in 1975 on the legendary variety show, Saturday Night Live. The Ottawa native was originally engaged as a writer but was upgraded to cast member even before the show first aired. He was, therefore, one of the original cast members of Saturday Night Live. Aykroyd spent a total of four years on SNL (1975 to 1979), during which he endeared himself to many with his eccentric personality. He impersonated several personalities, including Jimmy Carter and Richard Nixon. He also portrayed some unforgettable recurring characters like a sleazy late night TV host, E. Buzz, and a male prostitute named Gavin. Aykroyd is now regarded as one of the top five greatest SNL cast members of all-time.
How Does He Make His Money?
The former SNL star boasts of an enviable fortune and this is not surprising, given the accomplished career he has built. So, how exactly did Aykroyd acquire this fortune?
Music
Aykroyd is the founder of a blues band known as The Blues Brothers. The actor/comic first fell in love with blues while he was still a young chap in Ottawa. He later joined hands with fellow SNL cast member, John Belushi, and they set up The Blues Brothers in 1978. The band was initially conceived as an SNL musical sketch but they later grew to become a legitimate music act. They have since performed at several concerts. They have also released several albums, including Red, White & Blues, Made in America, Briefcase Full of Blues, and The Last Shade of Blue Before Black. John Belushi has since passed away but Aykroyd and other members of The Blue Brothers continue to forge on.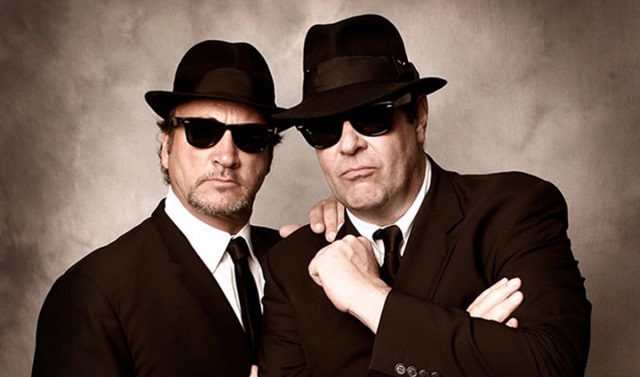 Movies
Another veritable source of income for Dan Aykroyd is his robust acting career. Since his breakout on SNL, he has featured in several movies and TV series. They include Soulman, According to Jim, The Defenders, Workin' Moms, Happily Divorced, The Campaign, 50 First Dates, Pearl Habour, Loser, Diamonds, Feeling Minnesota, Getting Away with Murder, Nothing but Trouble, The Great Outdoors, Spies Like Us, and Ghostbusters. Ghostbusters is a 1984 film about three eccentric parapsychologists who join hands to set up a successful ghostbusting business in New York. Ghostbusters featured Aykroyd, Bill Murray, and Harold Ramis as the three lead stars. The movie was a critical and commercial success and has since grown to become a cultural phenomenon. Dan Aykroyd also featured in the highly-acclaimed 1989 film, Driving Miss Daisy. His performance earned him an Oscar nomination for Best Supporting Actor.
See Also: Who Is Erwin Bach and How Much Is He Worth?
Other Enterprises
Asides his artistic pursuits, Dan Aykroyd also made his fortune from several business ventures. The Ghostbusters star is the co-founder of House of Blues – a chain of concert halls and restaurants dedicated to promoting the contributions of the African-American community to blues and folk art. The organization opened its first location in Massachusetts in 1992 and has now expanded to multiple locations across the United States and Canada.
Dan Aykroyd is also the co-founder of a thriving vodka brand known as Crystal Head Vodka. The vodka is quadrupled distilled and comes in a crystal skull-shaped bottle designed by John Alexander. Crystal Head Vodka has scored several awards, including three gold medals and one silver medal at the San Francisco World Spirits Competition.
Dan Aykroyd's Net Worth
All of the aforementioned showbiz and business pursuits have contributed to Aykroyd's net worth of $135 million. Make no mistake about it, the veteran is not retired and has remained active in his career in recent years.