In American football, the ball spends most of its time in the hands of various players, but the game also requires players who are incredibly fast on their feet. This is especially true for the placekicker position and Dan Bailey is one of the most prominent placekickers in the NFL.
Despite the fact that he joined the NFL as an undrafted agent, Bailey has gone on to write his name in Dallas Cowboys' history. If you would like to know more about the former Dallas Cowboy's player who now plies his trade with the Minnesota Vikings, read on below.
Dan Bailey Biography (Age)
Dan Bailey, the man who has risen to NFL greatness, had a pretty humble beginning. He was born in Oklahoma City on January 26, 1988, to Gary and Ann Bailey and their small family was also blessed with a girl who was named Sarah. He ventured into sports via the route of soccer, starting to kick around a ball at the tender age of four. Most of his childhood was focused on soccer but he always had his eye out for a different type of ball – the one used in American football.  He finally made the switch from soccer to football at his high school, Southwest Covenant School. All the years he spent playing soccer then paid off for Bailey who ended his high school football career holding the record of the longest field goal and most field goals in a season.
Bailey's college career did not start on the brightest note as he had to change schools for financial reasons. He began his college career at Oklahoma State University in 2007 and during his time at Oklahoma, contributed to the Oklahoma State 2010 Alamo Bowl win. His college resume also has a Lot Groza Award win and a Big 12 Special Teams Player of the Year award on it.
After completing his college career, Bailey went undrafted in the 2011 NFL Draft but was eventually signed by the Dallas Cowboys. His rookie season with the Cowboys saw him score several game-winning field goals. Bailey's exploits in his first season put him in the history books as the third rookie to make six field goals in a game in NFL history.
Bailey continued as the team's kicker in the 2012 season and in the 2013 season, he became the third kicker in franchise history with the highest number of field goals. Bailey's time at the Cowboys was a journey in shattering and setting records. His kicking skills were unrivaled in the league. And, his consistency at delivering good performances made him become the most accurate kicker in NFL history in 2014 after just four seasons in the league.
In the 2015 season, the record-setting was not over and he moved one up to become the second placekicker in franchise history with the highest number of field goals. The 2015 season saw him get selected for his first Pro Bowl.
Bailey had his worst performance throughout a season in the 2017 season. He was subsequently released by the Cowboys and was signed by the Minnesota Vikings in 2018. At the end of his career at the Dallas Cowboys, however, he was the all-time number one placekicker in field goals and second most accurate in NFL history.
His Salary
Dan Bailey has so far earned over $15 million since he became a professional player in 2011, ranking as the 784th earner among currently active NFL players. He earned most of that money as a Dallas Cowboys player before getting released in 2017. He recently signed a one year contract with the Minnesota Vikings worth $1.9 million.
Dan Bailey's Wife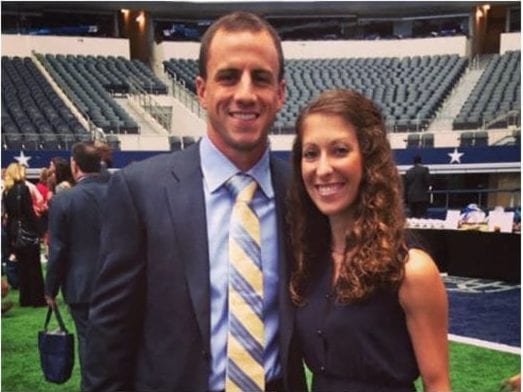 Dan Bailey met his wife, Krista Bailey at Oklahoma State University. The couple who had been dating since college got married in 2011. Krista is also an athlete, competing as a gymnast. She worked at the Texas Dreams Gymnastics before moving on to another opportunity. The couple is yet to have children.
See Also: Derek Carr Bio, Injury Update And Career Stats, Wife, Brother, Salary
Height and Weight
Football players are expected to be well-built machines and Dan Bailey is no exception. Despite being a kicker, the Minnesota Vikings star has a listed height of 6 feet and 0 inches with a weight of 196 lb (88kg).