In American football, the ball spends most of its time in the hands of various players, but the game also requires players who are incredibly fast on their feet. This is especially true for the placekicker position, and Dan Bailey has made a career being one of the best at it in the NFL.
It seems silly to imagine a world where Dan Bailey wasn't a star in the NFL, but the reality came eerily close to happening. But he never gave up, and now, the soft-eyed placekicker from Mustang, Oklahoma, is part of his town's most respected natives.
Dan Bailey Was Raised in Mustang, Oklahoma
Dan Bailey, the man who has risen to NFL greatness, had a pretty humble beginning. He was born in Oklahoma City on January 26, 1988, to Gary and Ann Bailey. Bailey and his only sibling, a sister named Sarah, grew up in Mustang, Oklahoma. He ventured into sports via soccer, kicking the ball around at the tender age of four. Initially, his childhood interest was in soccer, but he always had his eye out for a different type of ball – American football.
He finally made the switch from soccer to football at his high school, Southwest Covenant School. All the years he spent playing soccer then paid off for Bailey, who ended his high school football career, holding the record of the longest field goal and most field goals in a season. Aside from his football achievements, he was also a competitive golfer and a bright student. He won the state golf championship and finished as a valedictorian of his class of 2007. Yet, none of it was enough to earn Dan Bailey a football scholarship.
Because a football scholarship never came, Bailey opted for an academic scholarship and chose to be a walk-on for the University of Arkansas. But he was unable to stake a place as the team's starting kicker, which in turn cost him the scholarship. Unable to pay for college, Dan Bailey spent one year without a college before walking on at his local state school, Oklahoma State University. He began his college career at Oklahoma State University in 2007 and set a host of personal records.
Despite an Impressive College Career, He Went Undrafted
In his freshman year, he made 20 out of 20 extra point picks. His records improved in his second year, making ten consecutive field goals, and recorded a 78.9% conversion rate over the entire season. In his junior year, he scored 46/46 extra point attempts, including scoring a 51-yarder.
Dan Bailey's best year in college came in his senior year. He made 24.28 field goals and scored 65/66 extra points. In recognition of his performances, he won the Lou Groza Award as the best kicker in the country. He was also named the Big 12 Special Teams Player of the Year after helping his team to victory in the Alamo Bowl, scoring three out of three field goals.
Surprisingly, however, his college exploits were not enough to get him drafted during the 2011 NFL Draft. He went undrafted before the Dallas Cowboys threw him a lifeline. The franchise signed him as an undrafted free agent to a three-year $1.39 million contract.
From Undrafted Free Agent to Dallas Cowboys Icon
When he joined the Dallas Cowboys, he competed for a starting place with three players. But by the end of the preseason, Dan Bailey had put up a performance to become the team's kicker. It didn't take long before he started rewarding the faith and trust in his talent. He made a 48-yard field goal in his second regular-season game to send the game into overtime and then scored a winner from 19 yards. Such impressive feats will define his rookie season. Bailey's exploits in his first season put him in the history books.
With a conversion rate of 86.5%, he had the second-highest kicking percentage by a rookie and set the record for the most field goals by a rookie for the Cowboys. He also recorded the second-most consecutive field goals in club history. Bailey continued as the team's kicker in the 2012 season, and in the 2013 season, he became the third kicker in franchise history with the highest number of field goals. Bailey's time at the Cowboys was a journey in shattering and setting records.
His kicking skills were unrivaled in the league, and he became the most accurate kicker in NFL history in 2014 after just four seasons in the league. In the 2015 season, the record-setting was not over, and he moved one up to become the second placekicker in franchise history with the highest number of field goals. Also in the 2015 season, Dan Bailey earned his first Pro Bowl selection.
New #Vikings K Dan Bailey is the 2nd-most accurate kicker in NFL history, having connected on 88.2% of his field goals.

📰: https://t.co/ZO3qTRrUuf pic.twitter.com/LuM1cnko4B

— Minnesota Vikings (@Vikings) September 18, 2018
Bailey had his worst performance in a season in 2017. He was subsequently released by the Cowboys, and afterward, he was signed by the Minnesota Vikings in 2018. At the end of his career at the Dallas Cowboys, however, he held the record for most consecutive extra points, field goals, and career field goals.
Dan Bailey Reestablished His NFL Career at the Minnesota Vikings
Although the Cowboys unceremoniously released him, Dan Bailey did not throw out the towel. Although he struggled in his first season with the Vikings, recording a 75% conversion rate, he kept his place in the team, despite the threat of the Vikings' new kicker, Kaare Vedvik. In the 2019 season, Dan Bailey returned to the height of his powers, after signing one year $1 million deal.
He won NFC Special Teams Player of the Week awards after his team to two major victories. He finished the season with a 93.1% conversion rate for field goals and won 40/44 extra points. As a reward for his resurgence, he signed a three-year contract worth $10 million in March 2020. It is his second-biggest contract after signing a seven-year deal worth $22.5 million in 2014 with the Dallas Cowboys.
As of April 2020, Dan Bailey had played 138 games in the NFL, scoring 234 field goals out of 268 attempts. 96% of his field goals have come over 30-39 yards, while 95% of them have come from 20-29 yards. His lowest field goal percentages come from 50+ yards and 40-49+ yards, with 68.9% and 81.3%, respectively.
See Also: Derek Carr Bio, Injury Update And Career Stats, Wife, Brother, Salary
Dan Bailey's Life As a Family Man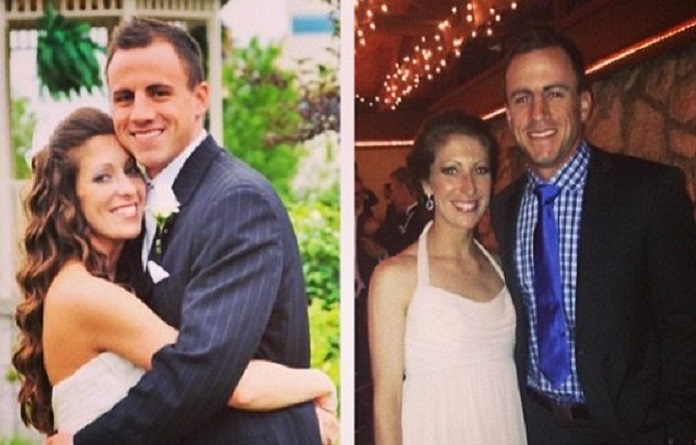 When Dan Bailey finishes his on-field exploits and changes in the shower, he heads home to his wife, Krista Bailey. They met at Oklahoma State University and began dating in 2011. Like Dan, his wife is also an athlete, a gymnast to be specific.
Unlike Dan, Kristia is from Cincinnati, Ohio, and as a gymnast, she used to work at Texas Dreams Gymnastics. Her exact role in the organization is unknown. She also once appeared in a film, We Are Marshall, as a cheerleader. As a family, Dan and Krista Bailey are enjoying life as a couple, and are yet to become parents to a child.