There is never a shortage of talents who have risen to stardom in Hollywood. Some of them have grown their brands to match the demands of their success, while others have crumbled under the weight of it. Dana DeLorenzo, since she got her big break in Hollywood on The Late Late Show with Craig Ferguson, has been able to match the weight of her success, continuing to rise to the top.
She has gone on to star in several other projects, showcasing her talents to the world while picking up fans and financial success along the way.
Dana DeLorenzo Started Acting As A Child
Dana DeLorenzo is an American actress of Italian descent who was born in Youngstown, Ohio. She was born to Phyllis and Jerry DeLorenzo on the 1st of January, 1983, and also grew up with a brother.
Sadly, on the 5th of June, 2018, she lost her mother to stage 4 metastatic cancer. From her career trajectory, it is easy to deduce that her parents played a prominent role in nudging her in the right direction.
Dana's entry into the entertainment world was quite early. Although, she still managed to have a formal education up to college level, attending DePaul University in Chicago and earning a Bachelor's degree in Media Communications in 2005.
Dana DeLorenzo had begun making acting appearances since she was a child. As a 3-year-old, she would record herself telling jokes and having fun and this probably caught the attention of her parents who supported her to harness her talent. She made her debut in a radio commercial for her father's clothing store.
When she was 11 years old, she earned money for the first time as an actress while performing in a play – Who's On First in a weekly dinner show. She made the appearance alongside her brother and that is assumed as the only time they worked together. The beginning of her entertainment career also included acting in theatre for the environmental comedy play, Tony 'n' Tina's Wedding in the Chicago theatre scene.
She Got Her First National Exposure On A Radio Show
She got her first real shot as an entertainer and actress on a radio show titled Mancow's Morning Madhouse. The show which she starred in as Marissa Sanchez and also produced was popular among local listeners and was subsequently syndicated nationally, giving Dana DeLorenzo her first national exposure. She then appeared in a series of short films from 2004 to 2008 before she starred in a television film, Peep Show as the character Valerie.
The year 2011 turned out to be the breakout year for Dana DeLorenzo as an on-screen actress. She was cast in the 2011 comedy film, A Very Harold & Kumar 3D Christmas, playing the character of Becca the P.A. In that very year, she also got her television debut, appearing on an episode of 2 Broke Girls and In the Flow with Affion Crockett, a sketch comedy show. She continued to appear on television in 2012, making guest appearances on shows like Eagleheart and Workaholics. 2012 was particularly great for Dana DeLorenzo because she got a big role as the character Beth on the popular TV program, The Late Late Show with Craig Ferguson.
Playing Kelly Maxwell On 'Ash vs Evil Dead' Confirmed Her As An Action Hero
Gimme some sugar, baby.#Halloween #AshvsEvilDead #kellymaxwell pic.twitter.com/Gp8LzSI8t2

— Dana DeLorenzo (@ImDanaDeLorenzo) November 1, 2017
Since made her breakthrough, she has had a number of television appearances, including playing a regular role in Impress Me in 2015 and as Kelly Maxwell in Ash vs Evil Dead. Her role in Ash vs Evil Dead turned out to be one of her most popular and most significant projects. She equally earned herself a couple of award nominations from the Fangoria Chainsaw Award; she was nominated in the category of Best TV Supporting Actress in 2016 and landed another nomination the next year. She also warmed her way into many hearts with her role as the sassy Kelly Maxwell, female sidekick to the show's anti-hero.
Dana became a nominee for an iHorror Award for Best Actress in a Horror Series in 2017 and in 2018, she went home with the Artemis Women in Action Next Wave Award.
Her other television credits are from shows like NBC's Will & Grace, Nickelodeon's Teenage Mutant Ninja Turtles, Barely Famous, and a couple more. Back to films, she has starred in a few of them since she appeared in A Very Harold & Kumar 3D Christmas, including The Mad Ones and The Moleman of Belmont Avenue.
Her Career As Beth With Craig Ferguson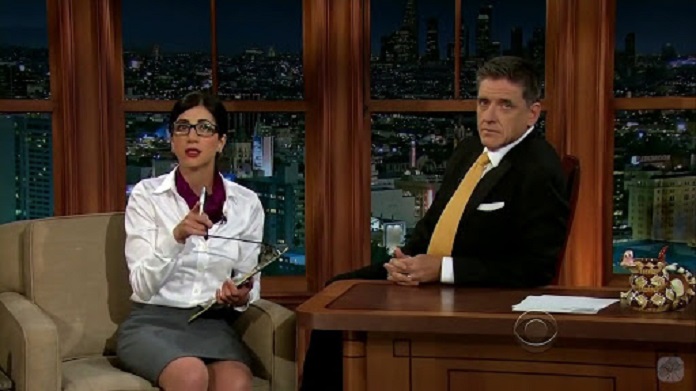 One of Dana's significant credits has come from working on The Late Late Show with Craig Ferguson in 2012. While she was on the show, which featured Craig Ferguson, a popular and acclaimed comedian as host, she played the character, Beth. Her character on the show is a network executive who was attracted to Craig Ferguson.
The sketch involving both of them made semi-regular appearances on the show and it helped increase Dana DeLorenzo's acting profile. Moreso, her comedic and improvisational abilities were brought to the fore through her recurring role on The Late Late Show with Craig Ferguson.
Other Comedy Projects Besides 'The Late Late Show With Craig Ferguson'
Asides The Late Late Show With Craig Ferguson, Dana also portrayed Sara Foster's publicist in VH1's Barely Famous where she continued to showcase her comedic side. Still on her comedy career, she performed in The Best of Craigslist Live!; the shows were enjoyed by fans in sold-out tours, including Hollywood Fringe Festival, The Royal George Theatre in Chicago, as well as Joe's Pub at the Public Theater in New York City.
Other comedy projects in DeLorenzo's résumé include the web series Driving Arizona and SoulPancake's Impress Me alongside Ross Marquand as his love interest Emily/Andrea. Some of her recent projects include Three Women, The Mad Ones, Friendsgiving and Perpetual Grace, LTD.
Exploring Dana DeLorenzo's Mysterious Love Life
According to several notable celebrity dating sites, Dana DeLorenzo's love life is either devoid of any activity or she keeps a tight lid on the details. In all her years in the spotlight, there are no records of any relationship, past or present.
Despite the fact that it seems she has no boyfriend, Dana always tweets about a beau she is yet to reveal. Her social media handles are filled with tweets and posts about her 'boyfriend' and the times they spend together. However, a critical look would reveal that the posts are often referring to the delicious food she had or her dog.
Me and my boyfriend, Brutus. Our date was filled with cuddles and kisses and treats. Best date FTW! ❤️ #TheItalianDachshund #bestdogever pic.twitter.com/cPPLKm7efR

— Dana DeLorenzo (@ImDanaDeLorenzo) January 14, 2017
The closest she has come to reveal an actual boyfriend was on an Instagram post which, however, turned out to be a throwback post reminiscing about playing love interests with her costar Ross Marquand on Impress Me. In all, Dana is still supposedly single or yet to share the identity of her boyfriend.