Aliko Dangote is practically synonymous with Dangote Group, his group of companies over which he is president.
For this reason, when the Dangote Group loses N50 billion it is akin to saying Dangote lost.
See Also: Top 10 success Tips That Built Dangote's Empire
This was the revelation Africa's richest man delivered on Saturday; his company lost N50 billion to the recently introduced flexible foreign exchange policy in Nigeria.
Last week Monday, the Central Bank of Nigeria (CBN) had put an end to the dual exchange rate regime and introduced a single window for the trade in naira.
Reacting to that move, the billionaire businessman was speaking with Vice President Yemi Osinbajo who toured the project sites of Dangote Fertiliser and Dangote Refinery in Lekki, Lagos.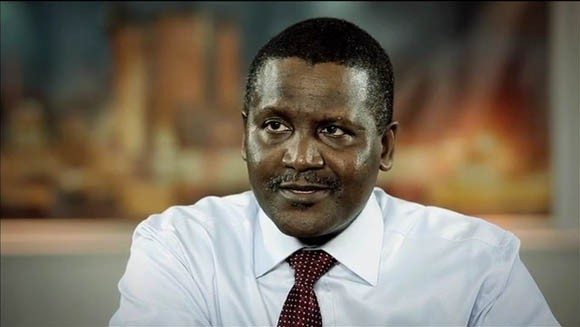 He said that they had been badly affected like any other company, arguing that operational costs totaled $100 million each month due to recurring expenses, such as the purchase of parts for cement production and running a fleet of 9,000 trucks.
"When you are talking about 20 billion dollars worth of projects, what is 161 million? One-hundred-and-sixty-one million dollars is what I need in just six weeks."
See Also: Dangote Says GEJ's Economic Policies Made Him The 25th World Richest
Dangote lost N50 billion because the price of gas instantly went up at the devaluation, he said;
"This week (last week), the Central Bank removed the peg that has held the naira at the official rate of 197 for the last 16 months, leading to a 30 per cent devaluation as the currency traded freely on the interbank market.

This devaluation alone, we have lost over 50 billion naira ($176 million)…The gas, which is our main source of power, is priced in dollars. If there is 40 per cent devaluation, your price will go up by 40 per cent. Every single aspect of the production will go up by that percentage."
It was not all gloom and doom however as Dangote despite the loss, spoke of the now unavoidable need for diversification in the Nigerian economy.
He shared Agriculture as a really viable option stating that; "By the time we complete this project, there will be opportunity to take on agriculture and say bye to poverty, because there will be jobs, no sector has more job potential than agriculture."