Daniel Tosh is an American actor, comedian, executive producer, writer, and television host known for making deliberate comic remarks that usually get some people outraged. Besides his ability to make epic jokes, an acting career which started in 2008 has also made him people's favorite. The multi-talented actor turned into a household name in 2001 when he appeared on Late Show With David Letterman.
Biography
Daniel Tosh was born in Boppard, Rhineland-Palatinate in West Germany. He spent his early childhood in Titusville, Florida. The actor attended Astronaut High School and finished in 1993. He joined the University of Central Florida in 1996 where he received a degree in marketing.
Tosh took up different jobs including working as a telemarketer at Central Florida Research Park. When he felt that the going was continuously going tough, he relocated to Los Angeles. Although he believes that his choice to dabble in comedy was because of the time he spent in Florida, his decision to move has rewarded him well.
Not only has he gained fame, he became a Comedy Central Staple and now owns his own TV show Tosh.0.
He has also been on The Tonight Show and on radio shows like The Bob & Tom show, Loveline, Kevin, and Bean. In his early years in comedy, he appeared on Just For Laughs in Montreal. Apart from his stand-up comedy tours and specials, Tosh's other impressive accomplishments include featuring in multiple remarkable shows and films like Love Guru, and MTV's Punk'd. He also captivated the audience when he appeared on "Elevator" produced by HBO's Runawaybox.
Tosh's career growth has also reflected in his bank account. In 2013, Forbes estimated his annual income to be around $11 million, naming him the 9th highest earning comedian in the globe. Currently, he looks like a bag of money with a net worth estimated at $16 million.
Read Also: Keenen Ivory Wayans Siblings, Children, Wife, Girlfriend, Net Worth, Height
Is Daniel Tosh Married? Who Is His Wife?
Daniel Tosh has on different occasions tried to make his fans believe he is married but without any convincing evidence to back up his claims.  The first time he did it was in 2014 when he tweeted that his union with his mystery ballerina woman has changed his life wonderfully. Just as it gathered up numerous retweets, it raised many questions with many of his fans demanding more details. For some reason, Tosh brushed off the questions, sparking various rumors.
Some of his comedian fans became sarcastic about it and even suggested that maybe the ballerina is a code name for a different thing and that Tosh is just being his normal playful self. About three years later, Tosh pulled another fast stunt on his fans, tweeting about the ballerina wife of his.
Though the Tweet sounded matter-of-fact, giving the impression that Tosh was too busy to tweet that night as his ballerina wife got her tragus pierced and the surgeon botched the placement. He added that he and the unknown woman were heading to urgent care.
In like manner, his fans requested that he posted a photo to back up his claims that he actually has a wife. Tosh for the second time deliberately shut his eyes to the questions.
For us, the reality is, there is still no compelling evidence that Tosh is married. We think it was just a prank he intentionally dished to get people talking.
Is He Gay Or Has A Girlfriend?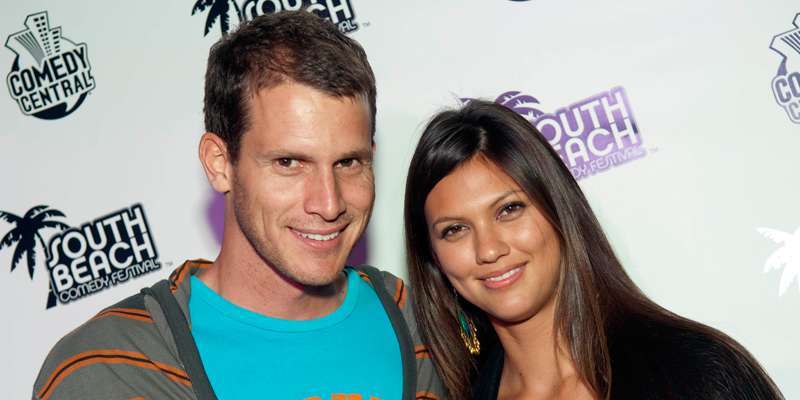 Daniel Tosh has been outspoken about his support for LGBTQ rights. That, coupled with his singlehood, and the endless wife hoax he has been playing on fans have forced many to believe he is not straight sexually. The star has not denied or confirmed these speculations. However, he has been in relationships with women. One time, he opened up about his model girlfriend, Megan Abrigo whom he started dating in 2009.
The two went to red carpets events together and were seen at Gansevoort South hotel in Miami Beach, Florida. Apparently, their relationship got punctured and they stopped moving together. Neither of the two lovers spoke about the reason for their separation but some sources said Tosh's ungracious jokes probably led to the separation.
Tosh is widely known for his deliberately derogatory and controversial style of black comedy. So it won't be surprising if his girlfriend gets upset over some of his jokes. Anyway, at the moment, the actor's new girlfriend has remained unknown. We are not sure if he is dating anyone now, as he has tried to keep his personal life private.