If there is a meteorologist to watch out for, it is Danielle Gersh. You've probably seen her in front of the weather screen and since too few people get to 'really' pay attention to the weather forecasts, there are chances that you aren't quite familiar with her, yet. Oh, except for the beauty, of course. Her effervescent smile and key points about the weather make her a mainstay on TV.
Whether you're an ardent follower of weather forecasts or not, Gersh is certainly a face to look out for. In the course of her career, she has worked as an American meteorologist and journalist – weekdays on CBS News. This article burrows through her background, as well as other interesting deets about her.
Danielle Gersh Grew Up Riding Horses
A native of Los Angeles, Danielle Amanda Gersh grew up in the Westlake Village, at the west end of Los Angeles County, California, the United States. She was born on February 22, 1991, as the daughter of Jack and Lori Gersh. Her dad died a few years later and she was raised solely by her mother, alongside her younger brother, Ethan.
Danielle was a very active and athletic child growing up. As a child, she was more into horses than she was in journalism. She enjoyed riding horses and also participated in competitions. She was the team captain of her high school equestrian team which won the varsity championship in the Interscholastic Equestrian League. Following high school, she successfully traded her riding skills for scholarship and got into Southern Methodist University (SMU), Dallas, Texas, on an equestrian scholarship in 2009.
Other Interests Beyond Horse Riding
In college, journalism and weather forecasting eclipsed horse riding. She was the first to anchor the weather broadcast segment at SMU's morning broadcast. Gersh helped cover the opening of the George W. Bush Presidential Library on the SMU campus in April 2013 for the school and its student-led media outlets. In 2013, she earned a Bachelor of Arts in Convergence Journalism. To foster her weather reportage, she enrolled for a meteorology program at Mississippi State University and obtained a Bachelor of Science in Meteorology in 2016.
Danielle Gersh's Career Timeline As A Media Personality
Danielle Gersh's professional career could be described as diverse but interesting and wholesome. From her start as a weather broadcaster back in college to internships, she has risen through the ranks to the position of a meteorologist. She started as an intern, first as a Story Developer in FishBowl Worldwide Media Inc, an L.A-based media outlet from June to August 2010 and then as a Fashion Columnist, Writer, and Freelancer at Abby Gregory, in Dallas, Texas the following year.
In Texas, Gersh covered the severe weather outbreak in 2013 that moved through parts of Texas and also resulted in the Moore tornado. Following up, she started the weather broadcast segment at SMU-TV and worked between January 2012 to May 2013. Within this time, she had begun a 5-month internship at CBS DFW's weather unit from January to May 2013. While at the station, she got to make demo tapes to send out with her job application, hoping to find a station in Southern California upon graduation.
Post-College Career
Countdown to August 2013, her career took a whole new turn. She got her first major job from one of the demo tapes she sent out. Danielle Gersh joined KESQ/CBS Local 2 in Palm Springs, California as the weekend weathercaster cum reporter in September 2013. Her duties included producing and delivering forecasts on both stations for the weekend evening and morning newscasts. She equally served as the primary fill-in for the weather teams, as well as shot, edited, and wrote stories for dayside newscasts during the week until September 2015.
In October of the same year, Gersh moved to Boston, Massachusetts as a traffic and weather anchor for the WHDH-TV and also had a special series, D-Tours with Danielle. Sixteen months later, she was thrilled to go back home to work with CBS News in Studio City, California, as a meteorologist/reporter in January 2017. Her attention to detail and of course her charming persona soon endeared her to her viewers, launching her to fame.
To catch up with her, you can watch her on CBS2 News This Morning, weekdays at 4:30 am, 5 am, 6 am, and 11 am. You can also follow her on social media: Facebook, Twitter, and Instagram.
Earnings and Career Recognition
Although relatively young, Danielle Gersh is doing a good job engraving her name, not only in the minds of her teeming viewers but also on the annals of time. Her career has provided her with strings of experiences and exposure in the weather casting space, and a worthy pay, too.
Albeit her career is fraught with notable moments, especially her coverage of a 700-year storm in the desert as a weekend weathercaster in Palm Springs, it has not only launched her to the fame but also earned her notable recognition. The coverage gained her an Emmy Award nomination. In 2017, she was listed under the news-report light series for the 40th Boston/New England Emmy Nominations.
At the time of writing this piece, her net worth is estimated to be over $1 million. Additionally, her work as a meteorologist with CBS earns her an average salary of $73 thousand annually.
What You Need To Know About Her Private Life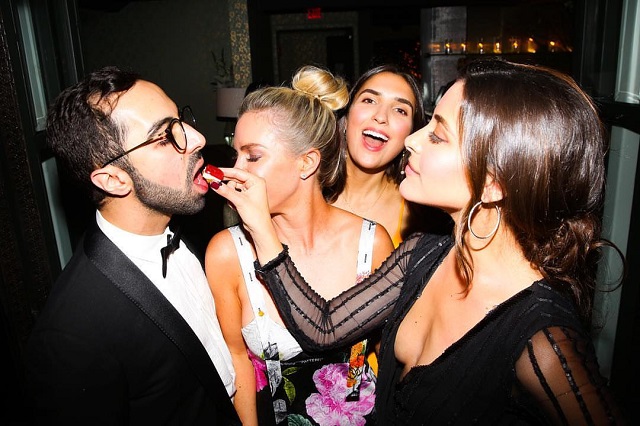 Danielle Gersh has done quite a commendable job keeping her personal life off the public radar. She has not been rumoured to be dating anyone nor has she been spotted with a mystery man. However, with her fame and beauty, fans are always looking into her personal life, with some making speculations.
But so far, Gersh hasn't come out to either confirm or rebuff any of these claims. She has been really busy building her career as a weather forecaster at CBS. From her Hidden Hills, California home, Danielle tells stories and forecasts weather surrounded by family and friends. Being an ardent animal lover, the family includes her dog and horse. For Gersh, dating and marriage can wait.
While she is active on Instagram with over 20k followers, her feeds are dedicated to her job, friends, and family. She posts cute pictures with her Cavalier King Charles Spaniel and horse, Pixie, as well as shares photos with her friend and colleagues. Back on Valentine's Day 2017, she shared a photo with her cute puppy with the caption "forever Valentine."
When she is not working, which is mostly on weekends, she spends her time either horse riding or having fun with family and friends. Danielle Gersh loves hiking, trying new restaurants, and travelling.