You've probably seen her in front of the weather screen. And since too few people get to 'really' pay attention to the weather forecasts, there are chances that you aren't quite familiar with Danielle Gersh, yet. Oh, except for the beauty, of course. Whether you're an ardent follower of the CBS weather forecasts or not, Gersh is a face to look out for. This post burrows through her bio as well as other interesting details like her age, height, relationships, salary, and net worth. Read on!
Danielle Gersh – Bio (Age)
Danielle Gersh was born in Los Angeles, United States. Although she has done quite a "good" job keeping her age under wraps, we do know, however, that she was born on a February 22. Gersh has a younger sibling, Ethan, with whom she was raised in Westlake Village, at the west end of Los Angeles County.
She attended Southern Methodist University (SMU) where she earned a Bachelor of Arts degree in Convergence Journalism in 2013. Her studies at SMU was on an equestrian scholarship. She then proceeded to Mississippi State University and obtained a Bachelor of Science degree in Meteorology in 2016.
Career
Danielle Gersh's professional career kicked off in June of 2010 when she interned as a Story Developer in FishBowl Worldwide Media; a Los Angeles-based media outlet. She soon left FishBowl in August of that year and a year later, she began working as a Fashion Columnist, Writer, and Freelancer at Abby Gregory, a company based in Dallas, Texas. After her internship, Gersh became the first to start a weather broadcast segment at her school's morning broadcast, SMU-TV. She worked there between January of 2012 to May 2013. Within this time, she had begun a five-month internship at CBS DFW's weather unit.
The internship lasted until May 2013. Back in April 2013, while on campus, Danielle Gersh helped her school and other media outlets run by students in providing coverage during the launch of the George W. Bush Presidential library. Gersh's career took a whole new turn after she joined KESQ/CBS Local 2 and WHDH-TV as a weathercaster. She remained there until September of 2013. Two years later, she moved to WHDH-TV where she worked as a traffic and weather anchor.
After leaving WHDH in January 2017, she joined CBC News as a meteorologist. As at the time of writing, Danielle Gersh works with CBS News. Her career is fraught with notable moments, especially her coverage of a 700-year storm in the desert as a weekend weathercaster in Palm Springs, California. This earned her an Emmy Awards nomination. In 2017, Gersh was listed under the news-report light series for the 40th Boston/New England Emmy Nominations.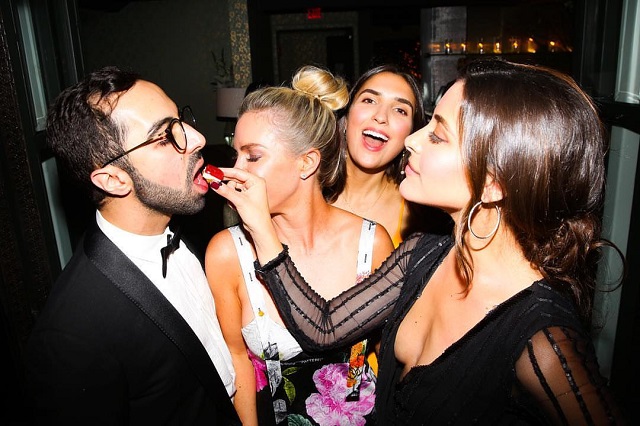 Salary and Net worth
Danielle Gersh's broadcasting career has offered strings of experiences and exposure in the weathercasting space, and a worthy pay, too. At the time of writing, her net worth is estimated to be over $1 million. Her work as a meteorologist with CBS earns her an average salary of $73 thousand annually.
See also: Carly Hallam – Bio, Everything To Know About Daniel Tosh's Wife
Is She Married, Who is Her Husband?
Danielle Gersh has managed to keep her love life off the media eye. She has not been rumored to be dating anyone nor has she been spotted with a mystery man. However, her viewers have continued to ask for the man in her life, with some making speculations. But so far, Gersh hasn't come out to either confirm or rebuff any of these claims. She has been really busy building her career as a weather forecaster at CBS.
She lives in Hidden Hills, California. Danielle has kept much of her personal life from the public eye as her Instagram feeds only shows cute pictures with her pet dog. A dog? Yes! Gersh is an ardent pet lover. And back in Valentine's day of 2017, she shared a photo with her cute puppy with the caption "forever Valentine." Nevertheless, she continues to share pictures of her friends' weddings, too.
Danielle Gersh's Height and Body Measurements
Danielle Gersh has a gorgeous physique. Although details of her height, weight, bra size, and body measurements are not known, we know that she rocks shoe size 9 (US), has no tattoos, sees through a pair of hazel eyeballs—with extra green—and wears light brown hair. Her weekends are either spent horse riding or having fun times with family and friends.