Dara Kravitz (born 24 February, 1970) is the wife of Gilbert Gottfried, the famous comedian, voice actor, and podcast host, who passed on on April 12, 2022.
She is a 53-year-old film producer and podcaster who has experience working in the music industry.
Many also know that she and her hubby were together for a decade prior to tying the knot in 2007. However, Kravitz is so much more than all the above. She is an accomplished individual in her own right and has variously worked as a record promotion executive and film producer. Would you like to know more about this incredible lady? Then, we have got all the details right here.
Summary of Dara Kravitz's Biography
Full name: Dara Kravitz
Gender: Female
Date of birth: 1970
Dara Kravitz's Age: 53 Years Old
Ethnicity: White
Nationality: American
Sexual Orientation: Straight
Marital Status: Widowed
Parents: Stephen Myron Kravitz (father) and Heather S. Sokuvitz (mother)
Siblings: Jana Kravitz Willis
Children: 2
Dara Kravitz's Late Husband: Gilbert Gottfried
Dara Kravitz's Height in Inches: 5 feet 6 inches
Dara Kravitz's Height in Centimetres: 1.67m
Dara Kravitz's Net worth: $1 million
Famous for: Being the wife of Gilbert Gottfried, the famous comedian, voice actor, and podcast host, who passed on on April 12, 2022.
Dara Kravitz's Instagram: @daragottfried
Who Is Dara Kravitz?
Dara Kravitz was born on the 24th of February 1970 in Miami, Florida. She hails from a family of four. Her father's name is Stephen Myron Kravitz while her mother's name is Heather S. Sokuvitz. She also has a beloved sister named Jan.
There is a paucity of information with regards to Kravitz's early life or educational history. It is however known that she completed her college degree before delving into the records promotion arm of the music industry.
Kravitz commenced her career as an intern at Atco Records, New York, in 1990. She subsequently worked at other record labels including Geffen records. In the year 2000, Kravitz joined MCA records. She spent several fruitful years there and rose to become their national director of promotion.
How She Met and Got Married to Gilbert Gottfried
Kravitz is married to none other than the popular comedian, Gilbert Gottfried. Gottfried is a native of New York and was born on the 28th of February 1955. He started doing stand-up comedy at the age of 15 and by the age of 25, became a cast member of Saturday Night Live.
Since then, Gottfried has gone on to become a prolific stand-up comic, actor, and voice actor. Renowned for his trademark shrill voice, he has endeared himself to fans with his brand of wilfully offensive, but quaintly old-fashioned, humor.
So, how did the couple meet? Legend has it that Kravitz first met her future husband at a Grammy Awards party in 1997. She had dropped some food and he helped her to retrieve it. They got talking and eventually hit it off.
The two subsequently commenced a relationship, and were together for a decade, before tying the knot on the 3rd of February 2007. Kravitz and her husband have since established a blissful union and family life. They have also welcomed two children: a daughter named Lily Aster, who was born on the 12th of June 2007 and a son, Max Aaron, who was born on the 18th of May 2009.
Their Appearance on Celebrity Wife Swap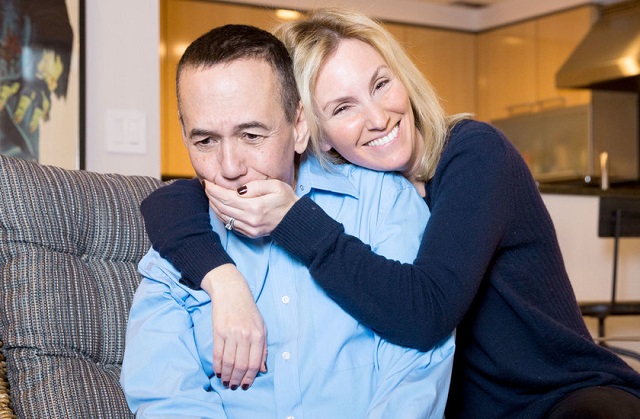 Dara Kravitz and her husband were featured on an episode of Celebrity Wife Swap in 2013. She and her husband (who reside in a Manhattan apartment and survive on a microscopic budget), swapped spouses with legendary Canadian TV personality, Alan Thicke and his wife, Tanya Callau (Both of whom live a luxurious lifestyle on their own California Ranch).
The episode lived up to the hype as the couple and their kids traded several jokes. Tanya compared the size of the Gottfried's household to her bedroom. She was also dismayed when the comic treated her to dinner at a free kitchen.
On the other hand, Kravitz dismissed the Thicke's household staff and put the legendary celebrity and his son, Carter, to work. The episode attracted several twitter comments after it aired.
How Much Is Dara Kravitz's Net Worth?
Dara Kravitz has a net worth of $1 million, and this stems from her decades-long career in the music industry. Another veritable source of income for the Miami native is her budding career as a film producer. Kravitz and her husband are not afraid of mixing their personal and professional lives.
She has thus far produced several of his works including his award-winning podcast, Gilbert Gottfried's Amazing Colossal Podcast. The podcast features the comic and co-host, Frank Santopadre, discussing classic movies. They also hold interviews with veteran actors, comedians, musicians, and comedy writers. The Amazing Colossal Podcast debuted in 2013 and gets about one million downloads per month. It has thus far won the 2015 Emmy for best podcast.
How Tall Is She?
Dara Kravitz is 5 feet 6 inches tall which translates into 1.67m. Her eye color is dark brown while her hair color is naturally blonde. Kravitz's weight, as well as other body measurements, are not yet available. It is however not difficult to see that the Miami native boasts of a svelte figure. This impressive physique is a result of an active lifestyle as well as a healthy diet.
FAQs 
Is Dara Kravitz Related to Lenny Kravitz?
Dara Kravitz and Lenny Kravitz might have the same last names, which has led to speculations about them having family ties, but that's not true. Apart from their shared surname, they share nothing else in common. They have no biological relationship.
How Old is Lenny Kravitz?
Lenny Kravitz is 59 years old. He was born in New York City, U.S, on the 26th of May, 1964, and he is the only child of his parents, NBC television news producer Sy Kravitz (1924–2005) and actress Roxie Roker (1929–1995).
What is Lenny Kravitz's Net Worth?
Lenny Kravitz's net worth is estimated at $1 million, and she garnered this from her over ten years career in the music industry. Additionally, the Miami native also makes her money through her budding career as a film producer.
What is Lenny Kravitz's Nationality?
The singer-songwriter and actor is an American citizen by birth. He was born in New York City in the United States of America on the 26th of May, 1964, and he is of African American ethnicity.
How Many Kids Does Lenny Kravitz Have?
Lenny has only one child, a daughter named Zoë Isabella Kravitz who was born on December 1, 1988. He had her with actress Lisa Bonet, his first wife, now ex. Just like her parents, Zoe works in the entertainment industry. She is an actress, singer and model.