Some people become popular as a result of their own achievements while some others find themselves under the spotlight due to their ties to famous people. One person who falls into the latter category is Darah Trang. The gorgeous Trang is a Canadian national as well as an accomplished photographer. She is however better known as the wife of popular Hollywood actor, and Inhumans star, Anson Mount. The pair tied the knot in 2018 and a cursory glance at the actor's social media accounts will show that he is crazy about his wife.
Darah Trang's Biography
Darah Trang was born in the town of St Paul in Alberta province, Canada. There is a paucity of details with regard to her date of birth or her early childhood. It is however known that she spent her formative years in Canada before moving to the States in search of better opportunities.
With regards to her education, Trang studied art at the Alberta College of Art and Design. She thereafter obtained a BFA from the School of Visual Arts in New York City. Trang is now a professional photographer who has worked for several studios and has covered many ceremonies in the course of her career.
Prior to exploring her passion for photography, Trang worked as a finance officer for various Canadian companies. She started out at a pipe fabrication company, Academy Group of Companies, where she spent five years, from 2008 to 2013. She, thereafter, worked in finance for another Canadian company, LaPraire Crane and Northland Fleet, before making the courageous decision to pursue her passion for photography.
Family: Husband
Darah Trang is married to Hollywood actor, Anson Mount who was born on the 25th of February 1973 in Mount Prospect, Illinois. He grew up in Tennessee and completed his diploma at Dickson County High School. He thereafter obtained a bachelors degree from the Sewanee: the University of the South, as well as an MFA from Columbia University.
Anson Mount commenced his acting career in 1999 appearing in an episode of the popular TV series, Ally McBeal. Since then, he has gone on to appear in several other TV shows including Star Trek: Discovery, The Mountain, Line of Fire, Third Watch, Smallville, CSI: Miami and Hell on Wheels.
Darah Trang and her husband commenced their relationship back in September 2011. They dated for almost six years before getting engaged on the 8th of June 2017. The couple later tied the knot in a sweet and private ceremony held on the 20th of February 2018. Since then, the two have remained crazy about each other and their love shows no signs of waning. Trang often gushes about her husband on social media and he also reciprocates the gesture. For instance, on the 3rd of June 2017, the actor shared a picture of an exquisite sunrise that had been shot by his wife and stated that he was missing home. Also, on the 21st of June 2019, Mount shared a photo of a bunch of turtle eggs which his wife had rescued and was incubating.
Before their relationship, Darah Trang's husband was involved in some noteworthy relationships. He was rumored to have dated Chinese actress, Wen Yi but that was never confirmed. The actor was also said to have dated Irish actress, and his Hell on Wheels co-star, Dominique McElligott. Additionally, Mount was in a confirmed relationship with Dutch actress, Famke Janssen. Their romance was quite serious and there were even rumors that they had wed secretly. The couple later broke up due to their demanding schedule.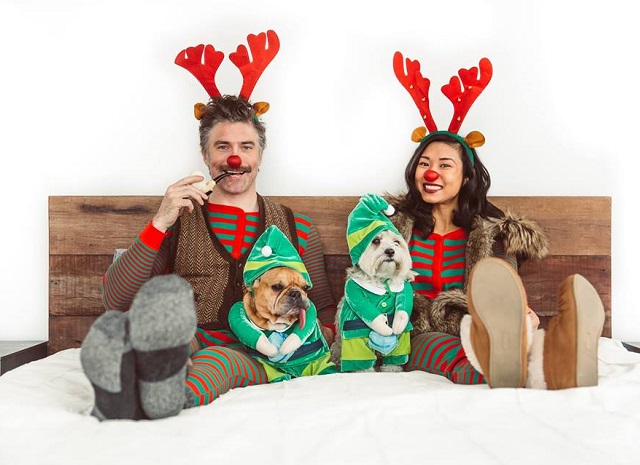 Darah Tran's Parents
Darah Trang has not revealed much information about her family background. As such, details such as her parents' names or the number of siblings that she may have is almost non-existent. However, a perusal of her Facebook page will reveal that the media personality has some sisters that she is very close to. Trang also has several nieces and nephews that she loves very much.
Read Also: Jacqueline Ray – Biography, Facts About Tom Selleck's First Wife
Other Facts About Anson Mount's Wife
•  She is an animal lover and has three beloved pups namely Jax, Lou, and Mac.
•  She surprised her husband with a trip to the underground SmallsJazzClub in June 2018.
•  Trang is passionate about helping others. In August 2017, she used her Facebook page to appeal to the public to donate to fundraisers for victims of Hurricane Harvey.
•  Her husband's full name is actually Anson Adams Mount IV.
•  She is 5 feet 4 inches tall.
•  Her husband co-hosts The Well Podcast with his good friend, Branan Edgens.