Talk about the biggest comedians in the USA and you won't have to go far before Dave Chappelle's name comes up. Very popular for his satirical comedy sketch series, Chappelle's Show, Dave Chappelle has won awards and received numerous accolades for his work over the years.
Having become such a high profile person in the US, Dave Chappelle's private life including details about his family members and relationships have become heavily dug into by fans and critics. Searches about who the comedian's wife is is actually one of the most searched topics about him online as curious enthusiasts continue to ask their questions. But, really, who is the woman in his life and who are their kids?
Who Is Dave Chappelle's Beautiful Wife?
Dave Chappelle is a happily married man at the moment and this fact is a glaring one considering how close he is to his wife and how far they both have come. However, even though very much is known about Dave Chappelle and his awesome career, very little is know about the woman.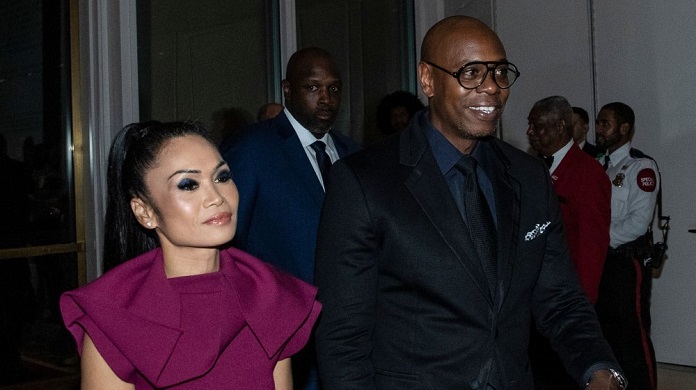 Dave Chappelle's wife is a woman called Elaine Chappelle and she has often been described as the strongest pillar of support for Dave. Not much is known about Elaine Chappelle's background. However, we do know that she was born on the 31st day of August 1974. Apparently, the celebrity wife is an American woman however, reports have revealed that she is also of Filipino descent as she has Filipino parents.
Elaine Chappelle grew up in Brooklyn, New York where she was raised by her Filipino parents who happen to be very devout Christians. She was raised to have strong Christian faith is still lives by the principles of the religion.
How Did She Meet Dave Chappelle?
The exact manner in which Elaine and Dave Chappelle met and fell in love with each other is not readily available. However, our investigation has shown that the couple met themselves in Brooklyn, New York where Elaine was raised. Dave himself made this revelation in an interview with radio heavyweight Howard Stern.
Unlike Elaine, Dave Chappelle was not born in New York; he was born in Washington, D.C., but he moved to New York after his education to pursue a career as a comedian. It was while doing this that he met Elaine.
Elaine Did Not Want To Date Dave At First
Today, Elaine and Dave Chappelle are very fond of each other and have been described as the 'ideal celebrity couple' several times by fans, however, in the beginning, Elaine was reportedly not sure it was a completely good idea to date the comedian.
Elaine was quite skeptical about dating Dave because she didn't quite like the spotlight and Dave was already gaining some steam in his career at the time. Also, Dave Chappelle's decision to convert to Islam may have given Elaine her doubts. For the record, Chappelle converted to Islam in 1998 and has been a Muslim ever since.
Being a devout Christian, Elaine reportedly thought twice about being with a Muslim man. However, love prevailed at the end and they began dating each other. Eventually, the couple tied the knot as husband and wife in 2001, after dating for a while.
Is Elaine Chappelle A Career Woman?
When she was a much younger woman, Elaine Chappelle nurtured the idea of becoming a professional chef especially because she loved cooking. However, she never got to showcase her culinary skills as she failed to get the opportunity.
Elaine is now a housewife and is very dedicated to caring for her kids and her husband. Her decision to become a housewife was made after she began having kids and it became glaring that they would need her presence as they grew into young adults.
See Also: Jennifer Ashley Harper – Bio, Family, Facts About Dave Matthew's Wife
All About Elaine And Dave Chappelle's Children
Like we have hinted already, the between Elaine and Dave Chappelle has been blessed with children. The couple now has two sons, Sulayman and Ibrahim, and a daughter named Sonal.
Sulayman Chappelle
Sulayman Chappelle is the first child of Elaine and Dave Chappelle. Sulayman's real age was kept secret for a long time because his parents took care to ensure that his private life is kept off the media. However, in 2017, Dave Chappelle appeared on the Jimmy Kimmel show where he revealed that Sulayman was 16 years old. We, therefore, assume he was born in 2001.
Sulayman is an Arabic name that translates to Solomon; it is the Arabic version of the biblical King Solomon. Dave Chappelle's decision to call his first son Sulayman was apparently influenced by his conversion to Islam which he takes very seriously.
The kid is not towing his father's career path at all. Unlike his father, he is a boxing enthusiast at the moment. In 2015, news emerged that the young man was actually training at the legendary boxer, Manny Pacquiao's camp. He is also said to be quite good as he has fast hands. It has even been speculated that he could go pro in the future. Time will tell.
Ibrahim Chappelle
Ibrahim Chappelle is the second child of the Chappelles. Just like his brother before him, Ibrahim's date of birth was kept secret for a while as well. However, on the Jimmy Kimmel show in 2017, his father revealed that he was 14 years old at the time. We, therefore, assume he was born in 2003. It has been reported that he was born in Yellow Springs, Ohio.
Ibrahim is also an Arabic name. It is actually the Arabic version of the biblical Abraham. It is known that Ibrahim is a huge fan of comedy and actually loves Kevin Hart very much. Perhaps he will become a comedian like his father.
Sonal Chappelle
Sonal Chappelle is the last child of the Chappelles and, apparently, their only daughter. Sonal was born in 2009 in Yellow Springs, Ohio. Sonal is a Hindi name that translates to 'golden'. Apparently, this speaks volumes about how much her parents love her.
She has already begun to star in movies and is on course to carve a beautiful career as an actress. She played Noodles' daughter in A Star Is Born, the highly acclaimed 2018 Romance/Musical movie.