A wise man makes a career out of his hobby and David Chang is one of them as he works where his heart lies. The former amateur golfer made a U-turn in his career from being an athlete to a chef, restaurateur, and equally a cookbook writer. He is a top chef renowned for his outstanding culinary skills and trademark pork buns coupled with Korean cuisine. He is the proud owner of the multi-award-winning Momofuku restaurant group that incorporated Momofuku Ko, Momofuku Ssäm Bar, Momofuku Noodle Bar, Milk Bar, and many others. Read on to know a whole lot more about the fabled American restaurateur.
Who Is David Chang?
David Chang is a connoisseur of food and wine born to a Korean parents Joe and Sherri Chang on 5th August 1977 in Vienna, Virginia, United States. His father who is a North Korean native with his wife, emigrated to the United States in the 1960s and set up two restaurants and golf hardware warehouse. Chang was brought up along with his two elder brothers and a sister in Arlington, Virginia. Regarding his ethnicity and nationality, David Chang is of Asian ethnicity and an American national. The prominent chef is an alumnus of Georgetown Prep. He later enrolled at Trinity College, Hartford, Connecticut, where he graduated with a degree in religious studies. Following his completion of college, Chang tried his hands in many career fields in education, business, and finance sectors in order to earn a living.
During his stay in Japan as an English language instructor, he often relishes his time in London where he always enjoys ramen and noodle at Wagamama noodle chain which rekindled his desire to be a chef. He couldn't hold back the urge to enroll in a culinary school while in Japan, so he headed back to New York City and enrolled at French Culinary Institute that is currently International Culinary Centre, New York City in 2000. While in the institute, Chang carried out some part-time jobs at Mercer Kitchen, Manhattan and Tom Colicchio's Craft restaurant as a chef and receptionist respectively.
Prior to opening his first restaurant, Momofuku Noodle Bar in East Village, NYC in 2004, David Chang garnered experiences from many beaneries including working in soba shop (Japan) restaurant in Tokyo's Park Hyatt Hotel, and Café Boulud (United States). Following the overwhelming success of his first restaurant, he went on to open many other restaurants and cafés of 2 Michelin star standard in America as well as in Australia and Canada. His popularity grew in New York as he was made a fellow of the board of trustees of the Museum of Food and Drink (MOFAD) in New York City. He currently serves in two hunger-relief organizations; The Culinary Council at Food Bank for New York City, and Food Council at City Harvest.
6 Things You Should Know About The American Restaurateur
1. David Chang's TV Career
In addition to being a chef, David Chang made his first on-screen appearance by featuring alongside other renowned chefs like Eric Ripert, Wylie Dufresne and Tom Colicchio in the TV show, Treme in 2010. As a person of epicurean tastes, he has also served as a guest judge in many reality shows including Top Chef: All-Stars and Australia's MasterChef. He also appeared as a host of the 2012 PBS food series, The Mind of a Chef. Apart from being the creator, producer, and star of the Netflix original series, Ugly Delicious, David has also appeared on the sketch of the Deltron 3030 album, Event 2.
2. His Cookbooks
The adept chef has also penned down many bestseller cookbooks in collaboration with Peter Meehan with his first publication entitled, Ramen. Many celebrated chefs that contributed in the first edition include Anthony Bourdain, Ruth Reichl, and Wylie Dufresne. Its second and third editions entitled, The Sweet Spot, and Chefs and Cooks were New York Times bestsellers. His other publications are; Momofuku (written with Peter Meehan), and Lucky Peach (co-written with Chris Ying and Peter Meehan).
3. David Chang's Marriage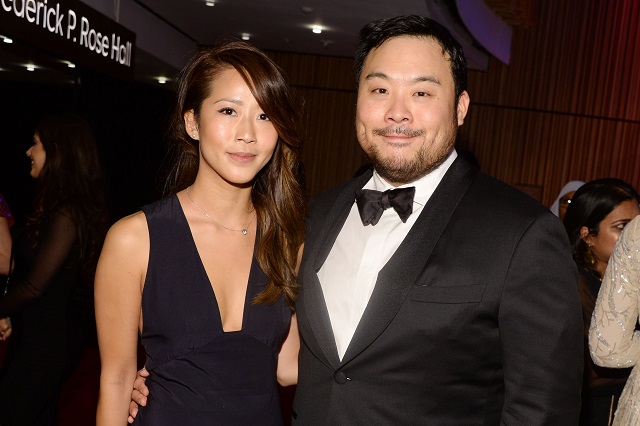 Chang solemnized the union with his wife, Grace Seo Chang in a secret wedding held in 2017 after courting for a few years. The couple expanded their small circle with the arrival of their son, Hugo in 2019. Prior to his marriage to Grace, he was engaged to the United States Gucci public relations executive, Gloria Lee whom he proposed to on 9th February 2013 but they went their separate ways in September 2013.
4. Career Achievements
David Chang has won many prestigious awards for his outstanding culinary skills which include winning over six James Beard Foundation Awards, White Guide Award, Global Gastronomy Award, Food & Wine 2006 Best New Chef, Bon Appetit's 2007 Chef of the Year, GQ's 2007 Chef of the Year and many others.
See Also: Who Is Andrew Zimmern, The American Chef? Meet His Wife And Family
5. David Chang's Net Worth
David Chang has amassed a tremendous fortune through his numerous endeavors, ranging from food chain restaurants to cookbook publications as well as his TV career. No doubt, he has really made the bank as his net worth is estimated at $60 million.
6. His Body Measurements
The multi-talented chef may not be the tallest chef one can easily find around as he is only 5 feet 9 inches (1.79 m) tall. He weighs about 90 kg (198 lb) but his other body measurements are not available.