True fans of Electronic Dance Music (EDM) know that the popularization of this genre of music was the work of no other person than the DJ, music producer and songwriter; David Guetta, who has come to be referred to as the grandfather of EDM. Guetta is not only known for EDM but for his contribution to the growth of House music.
He is a multiple award winning artiste and can be credited with influencing the landscape and sound of mainstream music in the 21st century. He has managed to help a lot of other artistes in various genres to tap into the beauty of EDM and the crowd that religiously follows the sound, as well as get some other people who are more attuned to other genres to sit up and listen to what EDM has in store for them. To learn more about David Guetta, keep reading.
David Guetta Biography (Age)
David Guetta was born and given the full name of Pierre David Guetta on the 7th of November 1967. Guetta seemed to know the path he wanted to chart early in life and so started his career in the mid-'90s. He began by working in clubs in Paris as a DJ – in this capacity, he hosted and organized numerous parties, particularly the Broad Club, the Rex, Folies Pigalle. His first song; Nation Rap was released in 1990 and it was a collaboration with Sidney Duteil; a French rapper. The next song he released; Up & Away was dropped in 1994 and just like the last song, was in collaboration with American musician Robert Owens.
His first major hit was the song titled Just a Little More Love and was released in the same year he created his production house; Gum Productions which was in 2001. Guetta continued to put out songs that became hits in his home country of France even if they encountered only modest success in other corners of the world.
His album Pop Life was released in 2007 and this album actually yielded better results gaining him some needed acclaim in the United Kingdom. It, however, stayed up till 2009 before he was able to receive global and international acclaim with the release of the lead single on his fourth album; One Love. On the lead single; When Love Takes Over; he featured Kelly Rowland on vocals which definitely influenced the global reach of the song.
With Kelly Rowland's golden vocals on When Love Takes Over, David Guetta finally gained a deserved spot atop the global charts and peaked at number one on the music charts of numerous countries including; the United Kingdom and the United States. Other songs on the album also maintained high positions on the global charts. One Love became the album that earned him his first Grammy nomination.
The nature of his work and the type of music that he makes seems to require him to work with other top artists, some of which have been Rihanna, The Black Eyed Peas, Sia, Nicki Minaj, Jennifer Hudson, Jess Glynne, Zara Larsson among many more others. For his work with The Black Eyed Peas on the song, I Gotta Feeling, the record for the most downloaded song of all time in the United States was set, with 7.5 million downloads.
He was the music ambassador for UEFA in 2016 and wrote the official song for the tournament that year; This One's for You on this song he featured Zara Larsson on vocals. In a career spanning over a period of thirty years, Guetta has released a total of seven albums.
Family Life
David Guetta's father could not be more different from his musician son. For a long time, he worked as a sociologist, a career that is vastly different from the high flying one of music and showbiz. He, however, shares his son's name, Pierre Guetta. He is of Italian and Moroccan-Jewish ancestry. Not much is known about Guetta's mother except that she is of Belgian heritage. Guetta has a step-sister, an actress; Nathalie Guetta who is Franco-Italian.
See Also: Childish Gambino (Donald Glover) Bio, Wife, Girlfriend, Parents, Son, Brother, Family
Wife or Girlfriend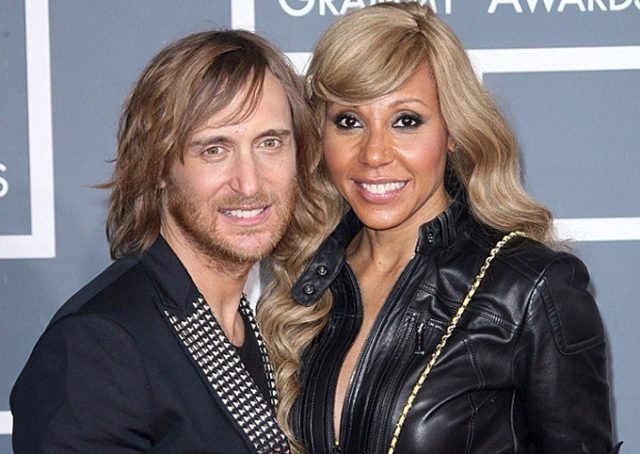 Guetta was once married to French socialite; Cathy Lobe. She previously worked as the manager of a night club. The former couple got married in 1992 and divorced in 2014. They were married for a total of twenty-two years; none of them gave any reasons for the split and in a strange turn of events neither attended the court hearing of their divorce.
With his first wife Cathy, he has two children a boy; Elvis Eric who was born on the 9th of February 2004 and a girl; Angie born on the 23rd of September 2007. The children lead very private lives, hence there is not a lot of information regarding them available to the public.
Guetta, as at the time of this writing is dating Cuban actress and model Jessica Ledon, the two have been dating since 2015.
Net Worth
In 2015, Forbes estimated David Guetta's annual income at $37 million. For a career that has been largely successful and has lasted as long as thirty years, it is not uncommon that his net worth runs into the million. Guetta's net worth is estimated to be $75 million making him one of the top ten richest DJs in the world.