In all of American, one man whose face has been seen frequently by late night TV  talk show lovers is none but David Letterman. The comedian and TV show veteran has been hosting late night talk shows for more than three decades. His Late Night with David Letterman show began on February 1st, 1982 aired by NBC ended in 2015.
His self-disrespecting style of humor has remained the trademark that has endeared him to millions of viewers all over the country and beyond. After retiring from the show, he began working with a weather company in its climate change documentary Years of Living Dangerously in 2016, Letterman made a comeback on TV in January 2018 with Netflix on My Next Guest Needs no Introduction with David Letterman. The show has featured the likes of former US President, Barack Obama. Find out more about him blow.
David Letterman's Bio
Dave, as he is fondly called was born and named David Michael Letterman on April 12, 1947, in Indianapolis, Indiana. His father Harry Joseph Letterman, was a florist and his mother Dorothy Marie Letterman Mengering, a church secretary. He attended Broad Ripple High School and worked at a supermarket as a teenager. Dave got his comedic acumen from his dad whose sense of humor lightened every party he attended or hosted and kept everyone entertained. However, his father, Mr. Harry Joseph Letterman died at the age 57 after two heart attacks.
Upon graduating from high school, Letterman went ahead to study Radio and TV presenting in Ball State University where he graduated from in 1969. He also had a double major in Journalism. Before living college, David had a brief stint in radio presentation when he worked as an announcer and newscaster with WBST (his college radio station). He was however dismissed from the job after a short time of starting for displaying contempt for classical music.
David began his career as a host on WNTS AM radio station and also an anchor and weather reporter on WLWI an Indianapolis television station. He worked as a reporter in 1971 for ABC Sports' Indianapolis 500. Letterman became a comedy writer when he moved to Los Angeles in 1975. He collaborated with comedian Jimmie Walker to pen down jokes for his stand-up performance. His contribution includes providing materials for popular comedy shows like Good Times.
He was a writer on CBS's The Starland Vocal Band Show in 1977, in 1978 he was among the cast of Mary a Mary Tyler Moore variety show. Letterman became a regular guest on the Tonight Show Starring Johnny Carson. NBC granted Letterman his own comedy morning show in 1980 which was called David Letterman Show. The show was however canceled in October the same year what with its terrible rating. They, however, still kept him on their payroll as he began hosting Late Night with David Letterman in 1982.
In 1992, David Letterman quit the NBC because he was not picked to succeed Johnny Carson on The Tonight Show, Jay Leno was given the job instead. He joined up with CBS to produce his own flavor of The NBC show which hit the airwaves in August 1993. Letterman's show was in direct competition with Jay Leno's and was even ranked higher on TV Polls until 2008. David Letterman's stay with CBS continued till May 20, 2015, when the final episode of the show was aired.
The veteran comedian's recent signing was with Netflix on January 12, 2018, where he hosts a comedy show series called My Next Guest Need no introduction with David Letterman.
His Net Worth
The veteran American comedian and TV host has a net worth of $400 million and he rakes in $20 million annually as salary. He owns an estate in Westchester Country an 88-acre ranch in Montana.
David also runs a private charity foundation called 'The American Courtesy and Grooming foundation' which makes huge donations to non-profit organizations and also to his alma mater Ball State University.
Mom, Wife Regina Lasko and Son
Dorothy Mengering, Letterman's mother fondly referred to as Dave's Mom by fan's died in April 2017 at the ripe age of 95. Dave's mom who was a church secretary featured on many of the comedian's late-night shows from the 90s. She took part in segments like Cooking with Dave's Mum, Guess the Pie; the latter was filmed in the comedian's late mother's own kitchen via satellite. She was rated 4th on List of the Host's best sidekicks by Rolling Stone.
David Letterman was married on the 12th of July 1968 to Michelle Cook, his college heartthrob. The marriage lasted nine years and the couple divorced in October 1977. He dated and cohabited with Merrill Markoe who was then a writer and producer of The Late Night.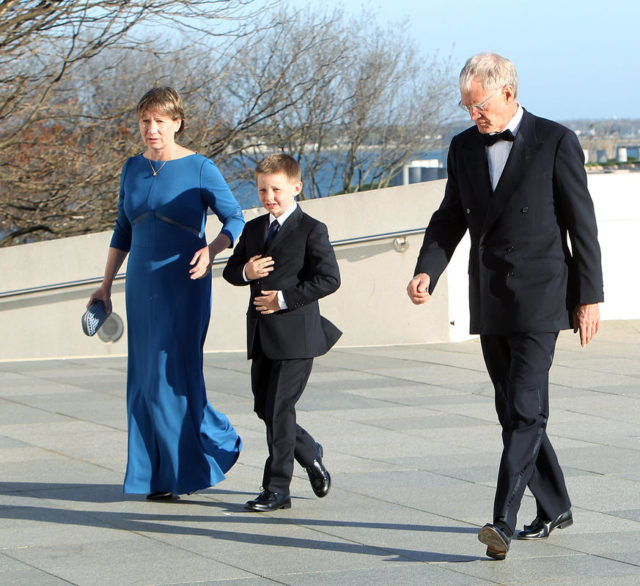 He met his present wife, Regina Lasko in 1986 who he dated for years before taking her to the altar on March 18, 2009.  Regina was a product manager for shows like Another World, Saturday Night Live and Late Night with David Letterman. The comedian had a son with Regina before they officially married. His son Harry Letterman was born on November 3rd, 2003.
See Also: 5 Interesting Facts You Need To Know About Steven Wright – The Comedian
David Letterman's Scandal, Did He Get Fired?
Letterman admitted one of the episodes of his shows in 2009 of having a sexual relationship with some of his female co-workers while he was married to his second wife Regina Lasko. It was again revealed that the comedian had issued $2 million cheques to pay a blackmailer who threatened to expose his escapades in form of a book and a movie. The blackmailer, Robert J. Halderman who was a producer of CBS crime series 48hrs was discovered and jailed for six-months for extortion before he was released.
The revelation of Letterman's misconduct is clearly reason enough for him to be fired but, no, he was not fired. Despite glaring pieces of evidence of this which includes women coming forward to testify against him for these misconducts, Letterman was given a pass and was retained. His show My Next Guest Needs No Introduction premiered in January 2018 and has seen six episodes so far which is trending already with large views.