Nicknamed the Toy Box Killer, David Parker Ray was meticulously a suspected serial killer, it is said that his sadistic power fantasies got the best of him. From his teenage years and through the most part of his life, Ray is alleged to have abducted, raped, mutilated and killed about 40 unsuspecting victims.
Not only did he inflict unimaginable and traumatizing torture on his victims, he became an intriguing subject because he was thorough in hiding any evidence and was able to get away with his crimes for many years. Discover more about the mind and life of a criminal who is believed to have possibly outsmarted the authorities.
David Parker Ray's Bio and Childhood
A Belen native, David Parker Ray was born in 1939 in New Mexico. The older of two siblings, David, and his sister were raised by their grandparents (mainly grandfather) because they had an alcoholic and abusive dad.
He was a shy teenager who abused alcohol and drugs. More so, it was during this time that he began feeding his mind with perverted fascinations from sadomasochistic porn magazines supplied by his father. He later made a career for himself as a mechanic but that was after a stint in the US Army.
Family Life
Given his depraved sexual records, it wouldn't be a surprise to know that David Parker Ray failed in his marital life. He was married to four women at different times but each of his marriage was shortlived and ended in a divorce. He had two daughters, one of whom later became his accomplice in executing his crimes.
David's Crimes and Victims
Though the exact number of his victims remains unknown to date, it is believed that beginning from his teenage days, David abducted, raped, tortured, and killed several women. Considering himself to be a dungeon master for a chapter of the Church of Satan, David carried out his carefully thought out fantasies in his trailer nicknamed 'The Toy Box' filled with sex toys and torture tools. He devised unassuming ways to carry out his acts including posing as a policeman and forcing his victim into his car at gunpoint to tampering with women's drinks.
But Ray didn't work alone, he had a good number of accomplices including his daughter Glenda and girlfriend Cindy Hendy, all of whom were allegedly members of the Church of Satan. In the Toy Box, his victims are then drugged, strapped into a chair, and brutally raped. It is also believed that those who resisted or got too feisty were sometimes mutilated and even murdered.
But the serial killer's deeds were exposed in March 1999 after a Colorado lady, Cynthia Vigil Jaramillo who would eventually become David Parker Ray's last known victim, fled his trailer at Elephant Butte naked, wearing only a dog collar and chain.
Consequently, Ray and Hendy were arrested after Jaramillo who had been the serial killer's prisoner for three days, alerted neighbors and the authorities. Following Jaramillo's escape, the police began investigating Ray in 1999.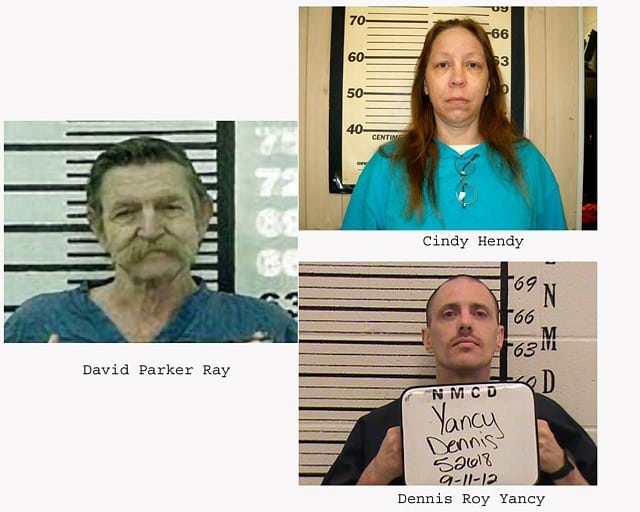 Under pressure from investigators, Hendy cracked and was quick to spill the beans after accepting a plea bargain. Not only did she help with the names of other accomplices including Ray's daughter Glenda and his co-worker Dennis Roy Yancy, she also gave testimonies against him during the trial. Some of Hendy's claims suggests that Ray may have murdered no less than 40 women and also alleges that she was a witness when he disposed of his victims' bodies at several sites.
Initially charged with 37 counts involving three women including Jaramillo, Ray was found guilty of his kidnapping and rape charges and was sentenced to 224 years. As part of a plea deal, the third case leveled against him was dropped. For her active participation in Ray's heinous crimes, Hendy was charged for kidnapping and rape and was sentenced to 36 years in agreement with the plea bargain.
Ray's daughter Glenda was not left out from the wrath of the law as she was also sentenced to nine years in prison for helping her dad to pick up and torture sex slaves. However, she had the option of serving six of those years on parole. Dennis Roy Yancy who confessed to torturing and killing his ex-girlfriend with Ray's help was eventually found guilty of two killings; second-degree murder and conspiracy to commit first-degree murder. He was sentenced to 15 years for each charge.
On May 28, 2002, within 12 months of serving his 224-year prison sentence, Ray died of natural causes – a heart attack while being transported for interrogation by the police at a correctional facility. After Ray's death, investigators searched his property and the area for possibly more evidence and remains of his victims. Though they discovered several torture devices in his The Toy Box, such as whips, chains, and handcuffs as well as other female items including jewelry and clothes, no bodies were found.
For over a decade, agents have continued to search the area based on suspicions and Ray's claims that he may have abducted and killed several unidentified victims but nothing has so far been found.
If Ray's diaries and testimonies from his trial which suggests dehumanizing abuse on his victims are anything to go by, then David Parker Ray may likely have gotten away with murder. Given that Ray has been regarded by psychologists as a sadist with brain abnormalities, it remains uncertain if his notes were mere fantasies or actual crimes.