David Walliams is a British-born actor, author, comedian and presenter whose partnership with his best friend, Matt Lucas brought a whole lot of fame and fortune to the pair in the entertainment industry. His first major success came through after the creation of his show, Little Britain. He also went on to become part of the judges on the talent show Britain's Got Talent. He also gained massive success as a children's author whose books have sold over 25 million copies and have been translated into 53 languages. David Walliams is a man with an intriguing personality. Here are more details about his career and personal life.
David Walliams' Bio
David Edwards Williams (popularly known as David Walliams) was born to Peter Williams, a London transport engineer, and Kathleen Williams, a lab technician, on the 20th of August 1971, in Merton, London. He was practically raised in Banstead, Surrey. For his education, Walliams attended Collingwood Boys' School located in Wallington, after which he moved to Reigate Grammar School located in Surrey. Upon graduation from high school, David gained admission into the University of Bristol in 1989 to study Arts (Drama). Whilst in school, David performed with the National Youth Theatre during holiday breaks and it was also where he met his future comedy partner and good friend, Matt Lucas. He resided at the Manor Hall and graduated successfully with a Bachelor of Arts (Drama) degree in 1992.
Career – Talent Shows, Movies, Books
In pursuing his dreams head on, he decided to join the actor's union equity but since the union already had another David William there, this made him change his surname from Williams To Walliams, hence, David Walliams. In 1999, he was part of the cast who performed in the audio play of the Big Finish Productions, Doctor Who, and Phantasmagoria, which written by Mark Gatiss.
Between 2003 and 2005, himself alongside his best friend, Matt Lucas co-wrote as well as co-stared in the three seasons of the BBC sketch show Little Britain. Though the show was first aired on BBC Three and later BBC One, it's success led to the production of a live stage show series named, Little Britain Live, in 2006. By 2008, a spin-off series was produced for the United States, is was named, Little Britain USA.
After the establishment of the live show, a good number of charities and seasonal specials followed through in 2009. In 2010, he was cast in the comedy movie, Dinner for Schmucks, starring alongside, Steve Carell and Paul Rudd. Since 2012, David Walliams has been a regular judge alongside; Simon Cowell, Alesha Dixon, and Amanda Holden on ITV talent show, Britain's Got Talent. For his impressive critiquing, he won the best Judge at the "National Television Awards," both in 2015 and 2018. David Walliams starred in the BBC One series, Big School, a series which he also wrote. He also acted as Tommy Beresford in the BBC series, Partners in Crime, in 2015.
As a children's book writer, he has sold more than 25 million copies of his books which have also been translated into 53 languages. His literary style has been compared to the works of Roald Dahl and he has been said to be the fastest growing children's book author in the UK.
Personal Life – Is He Gay, Who Is He Dating?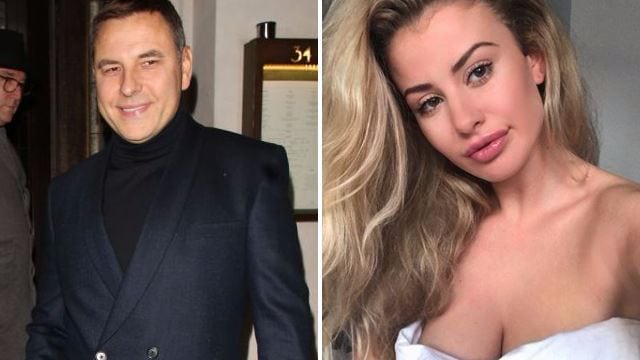 David Walliams is quite a peculiar one especially when it comes to the dating scene. His first marriage was to famous Dutch model, Lara Stone, and their engagement was announced on the 20th of January 2010. The pair had their wedding at Central London's Claridge's Hotel in May 2010. The news of their first child together was announced in December 2012. Their child, a son named, Alfred, was born on the 6th of May 2013.
After five years of marriage, the pair announced that they were going to try living apart for a while because they had some marital issues. Unfortunately, their union was later dissolved in September 2015. Since he got divorced, David has stated that he now identifies as pansexual, according to him, he falls in love with a person's soul and not necessarily the body one comes in.
See Also: Caitlyn Jenner Net Worth, Kids, Is She Dating Any One, Who Is The Boyfriend
On that note, this means that he is willing to date men a well as women as long as there is chemistry. Nonetheless, David has only dated women and he is currently rumored to be in a relationship with the British model, Chloe Ayling, who first gained attention after she was kidnapped in Italy but released after 6 days in 2017.
They both met via social media after David had liked some of her scantily clad pictures on Instagram. He then arranged for them to meet at his London residence. As to the exact state of their relationship, neither celebrities have confirmed if it is a serious one or not.