Davido previously had three children from three different baby mamas. He welcomed his first daughter Aurora Imade Adeleke with Sophia Ajibola Momodu, his second daughter Hailey Veronica Adeleke with Amanda, and his son David Adeleke Jnr with Chioma Rowland.
The "Assurance" singer, however, now has only two surviving kids, as his son passed away in 2022. He has also gone ahead to marry the boy's mother, Chioma.
Meet Davido's Children
The American-born Nigerian music star is a prominent baby daddy with 3 children known to the public. The kids are products of his relationship with three different women – Sophia Momodu, Amanda and Chioma Avril Rowland. His children are Imade Adeleke, Hailey Veronica Adeleke and David Adeleke Jnr. These are the three known children of the celebrity singer. However, news has been circulating about Davido having his fourth child and second son with a woman based in the UK. While the artist is yet to clear the air on this, let's take a quick look at his officially-accepted children.
Imade Adeleke
Aurora Imade Adeleke is the first child and daughter the Nigerian singer welcomed. She was born on May 14, 2015, and has Yoruba roots as both of her parents are from the south-western part of Nigeria. Imade got her name after her paternal grandmother Veronica Imade who hails from Edo State and passed away in 2003.
Imade attends one of the best foreign schools in Lagos Nigeria and although details of her current level in education are not known, it is public knowledge that the celebrity kid graduated from kindergarten in July 2018. The name of her school is also not known but we know she attends the same school and is in the same class as Tiwa Savage's son Jamil.
Davido and his daughter share a very special bond. He often posts pictures of her on his various social media platforms. From the cradle, Davido started posting videos of himself playing his fatherly role to his daughter. He would play with her and even change her diapers. When it was her first time in school the artist himself registered his daughter in school. Despite his very busy schedule, the young artist still finds time for his little one.  When Imade turned five, she was lavished with gifts and love from her parents. Her father took time to go shopping with her. He celebrated her both physically and on various social media platforms.
Hailey Veronica Adeleke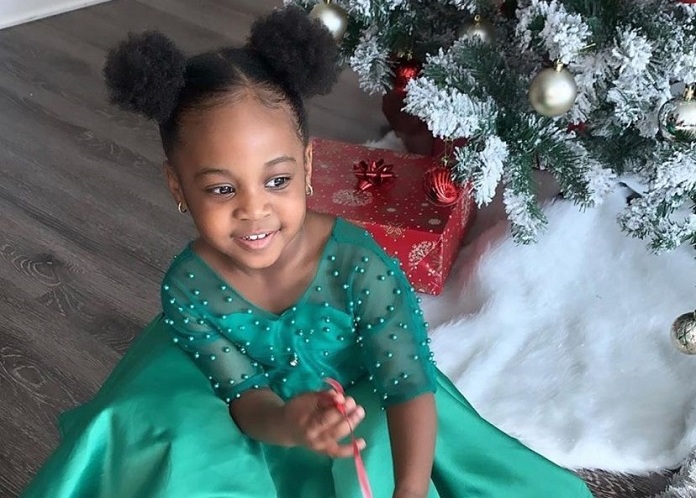 Hailey is Davido's second child and daughter born on the 9th of May 2017 which means she is two years younger than her sister Imade. Hailey's birth brought Davido so much joy that he never failed to talk about it on every occasion. He was, in fact physically present during her birth and named her Hailey Veronica Adeleke with the second name being a tribute to his mother. Hailey has Yoruba roots but was born in the US.
We could not find details on Hailey's education and other private lifestyle mostly because her parents rarely talk much about her, plus, she is not very open to social media like her other sister does, however, we are quite sure she shares an equally strong father-daughter bond with her father.
David Adeleke Jnr.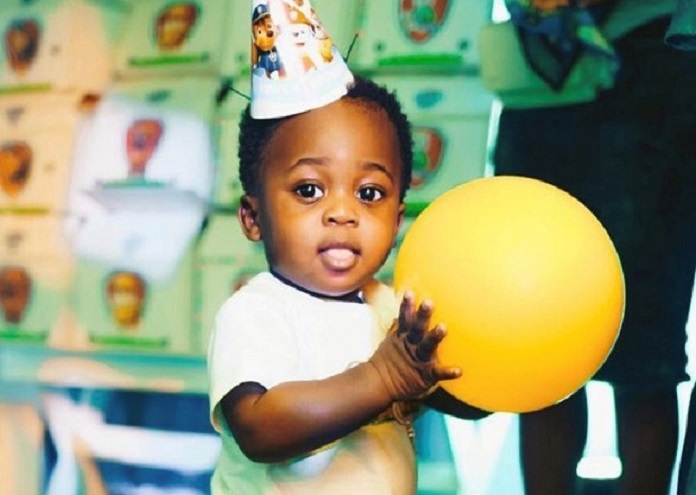 David Adeleke Jnr. was Davido's third child and first son. His full name is David Ifeanyi Adedeji Adeleke Jnr. He was born on Sunday, October 20, 2019, in the United Kingdom.
Like in the case of Hailey, David was present at the hospital when Chioma, his then-fiancee, gave birth to their son. The young lad's naming ceremony was held in the United Kingdom on Saturday, November 9, 2019, and it was graced by top entertainment stars like the renowned Entertainment Consultant and Artiste Manager Abisagboola Oluseun, popularly known as Bankulli.
When the little kid turned one in October 2020, his doting father expressed his joy on social media.
Happy birthday to my beloved son DAVID IFEANYI ADEDEJI ADELEKE Jr !!! Today a king was born!! 🤴!! May you become more than me in Jesus name! LOVE YOU SON ❤️

— Davido (@davido) October 19, 2020
David's son was later named a brand ambassador of Mario & Juliet Baby Diaper & Wipes. Things were going great in his life until he tragically drowned in the swimming pool at his father's residence. He was three years old at the time of his death.
Davido is an Ever-present Father
While Davido continues to make good music for his fans all over the world, he has not shied away from his responsibilities to his family, especially to his children – Imade, Hailey, and David Jnr.  The singer is always present in their lives and apparently provides for all their needs and ensures they are well taken care of.
As a known lover of tattoos, the "Fem" crooner engraved the faces of his three children on his body. He has Imade and Hailey on his stomach while Ifeanyi's face is on his left arm.
What We Know About Davido's Alleged Fourth Child
Not too long after Davido welcomed his first daughter Imade, a woman came forward claiming to have a son with the singer. The name of this woman is Ayotomide Labinjo from Ibadan, South-Western Nigeria.
Ayotomide allegedly met Davido in 2013 and they had an affair twice on different occasions. She then realized she was pregnant and told Davido about it, but he wanted nothing to do with it. At the end of 2013, she gave birth to a baby girl named Michelle Anuoluwapo. Shortly after the birth of her baby, Ayotomide called for the services of a lawyer through which after much consideration, brought them to agree to perform a DNA test.
On September 2, 2014, the DNA test results showed that Davido was not the father. However, Ayotomide was not satisfied with the test results. She argued that she saw Davido paying the doctor who performed the test after his father had already paid for the procedure. Both Davido and the doctor disproved these accusations, and the story went away for a few years only to resurface again with the lady seeking further legal actions. The singer, however, claimed to have compensated her out of pity.
Who Are Davido's Baby Mamas
David is not just endowed with good looks and talent but has good taste in many things as well. A quick look at his baby mamas would make you think he carefully selected them so he would have beautiful children. in one way or the other, these beautiful women have at some point played a role in the singer's life. However, not willing to live a polygamous life, he chose to settle for one of them – Chioma. Although their plans to walk down the aisle in 2020 failed following the Covid-19 pandemic, the artist still considers her his wife. That being said, let's take a closer look at how the A-list entertainer met his baby mamas.
Sophia Momodu
Sophia Ajibola Momodu is Imade's mother and cousin to Dele Momodu, a famous Nigerian journalist and CEO of Ovation International. Nothing much is known about her early life and career but from Davido's post about her, it is apparent she only came to public knowledge following the feuds between her and the Risky hitmaker before and after the birth of their daughter.
Sophia and the Dami Duro singer met in 2013, and at first, their romance was steamy. But the relationship became rocky shortly afterward and in 2014, they separated. Davido later claimed that their relationship could have never worked out because Sophia took advantage of his naivety as he was only 21 when they met, while she was 26.
Sophia has a clothing brand "Belladonelleux" which she launched on December 24th, 2018. The fashionista is quite popular on social media where she flaunts her luxurious lifestyle. She recently created a YouTube channel, The Sophia Momodu Channel, which gained close to 400 subscribers in less than a day of its existence. The description of the channel says it's a lifestyle vlog channel with elements of fashion, beauty, and adventure. The 46-second trailer video for the vlog has been seen by 4,142 people in 17 hours, which is quite impressive.
Amanda
Popularly known as Mandy by her friends and fans, Amanda is one of Davido's ex-girlfriends and the mother of Veronica Hailey, whose details are scarce probably because the beautiful lady chose not to be too open about her personal life. The A-list entertainer met Mandy while on a business trip to the United States. Details about their relationship are not known but from what we could gather, Mandy was a student at Georgia State University at the time and she lives in Atlanta, Georgia.
While Davido is yet to say much about his relationship with Amanda, it appears the two share a cordial relationship, one he hardly found with Sophia. On May 8, 2019, Mandy graduated from Georgia State University with a degree in Political Science. In one of her posts on social media, Davido's US-based baby mama described herself as a beautiful woman "with no baby daddy problem".
David and Chioma's Love Story
Best known as just Chioma, Chioma Aril Rowland is a Nigerian socialite, entertainer, and caterer from Imo State, South-Eastern Nigeria. Chioma is three years younger than her would-be husband, Davido, as she was born on May 1, 1995, to her Igbo parents in Owerri, Imo state.
Upon completing her primary and secondary education, Chioma gained admission into Babcock University to study Economics. It was during this period that she met Davido who was a student in the school as well. The two started as friends until they got so used to each other. Apart from loving her skills as a good cook, the singer chose to be close to Chioma because according to him, he sees his mother in her.
Davido's relationship with Chioma became public knowledge after she celebrated her 23rd birthday in 2018. The music star went on to release a song titled Assurance and gave her a Porsche car valued at N35 million.
SHE SAID YES!! ❤️❤️❤️ @iam_Davido !!! CONGRATS MY BROTHER ❤️ pic.twitter.com/rv3ltvOXQg

— EL HUNCHO (@Peruzzi) September 12, 2019
Six years down the line, Davido saw the need to take his relationship with Chioma to another level. To do that, he took her on a dinner date in an expensive restaurant in London, where he proposed to her. The pair have since become an item on the entertainment scene, with Davido putting her on a track in his album titled A Good Time.
On Sunday, October 20, 2019, the singer and his fiancee welcomed their first child and son together and named him David Ifeanyi Adedeji Adeleke Jr. The singer had planned to wed his fiancee in 2020, but for the coronavirus, which she tested positive for but survived. They would later get married on November 6, 2022, following the death of their child.
Who Is Yasmine Larissa, Davido's Alleged 4th Baby Mama?
The news about Davido having a fourth baby mama began to circulate on the internet in 2020. UK-based Larissa Yasmin Lorenco a.k.a Larissa London, an Angolan-born makeup artist shared the story of how she birthed her son whom she named Dawson meaning son of David.
According to reports, Yasmin has been in Davido's life since 2017, and she got pregnant for the singer in the mid-2020s. Although the Fem singer has denied the pregnancy, the beautiful makeup artist has gone on to show her son's face and according to fans, he looks much like baby Adeleke Jnr.
Recall that rumors have it that one of the main reasons Davido flew to the United Kingdom was to have a DNA test done on the said 4th baby so he would be sure if he's the birth father.
Is Davido in Good Terms With his Baby Mamas?
The music artist is one man who loves his music but definitely not as much as he cherishes family and to keep his' together, he tries to maintain peace with his baby mamas. So far, he is cool with all the mothers of his children except for a few fights. One of these fights is between him and Sophia Momodu. A few years back, the two fought dirty to gain custody of their daughter, Imade.
Davido had accused Sophia of being an irresponsible mother to their daughter. This happened when the little kid fell ill and Indian hemp was found in her blood after her blood sample was taken. The family of the singer then tried taking Imade to Dubai, away from her but their effort failed as Sophia involved her uncle Dele Momodu who alerted airport authorities on a planned kidnap.
This is not the first fight between the A-list singer and his ex. Prior to their daughter's birth, the singer accused Sophia of being unfaithful. The lack of trust between them even led to David's denial of fathering her child until a DNA test was done to confirm that he is the father.
While the two are currently on good terms and have been seen together on some occasions, their reunion seems not to go down well with Davido's fiancee, Chioma, who now accuses him of being unfaithful to her a few months after the birth of their son. This came after the singer traveled to Ghana together with Sophia and her daughter. There are also claims about Chioma threatening to end her relationship with the singer as she cannot handle her man's rekindled love with his ex.
Meanwhile, Davido cleared the air on the said trip to Ghana with Sophia. He said the trip was coincidental and that he allowed her to travel with him only because of his daughter. Sophia, however, reacted to his claims, saying she never requested a lift from the singer.