Eugene Levy is an ace Canadian actor, producer, director, and screenwriter who is famed for being the only actor to appear in all eight of the American Pie films as Noah Levenstein. As a comedic actor, Levy's stroke of humor often comes from his propensity to over-analyze and explain issues and how he deals with crisis. In 2008, Levy was a recipient of the Governor General's Performing Arts Award; which happens to be Canada's highest honour in the realm of performing arts. Three years later, he was appointed to the Order of Canada. In 2019, Eugene Levy was nominated for the Primetime Emmy Award for Outstanding Lead Actor in a Comedy Series. His accolades do not interest fans as much as his ability to have raised two grown-up children who are both actors and entertainers in their rights. Forcing many to believe the old man must've been married for quite a while. Well, if you're on that search, here's your answer. We not only tell you about Deborah Divine, but we also tell you for how long they have been married. And let's give you a hint; it's a pretty long time. Let's see.
How Long Have They Been Married?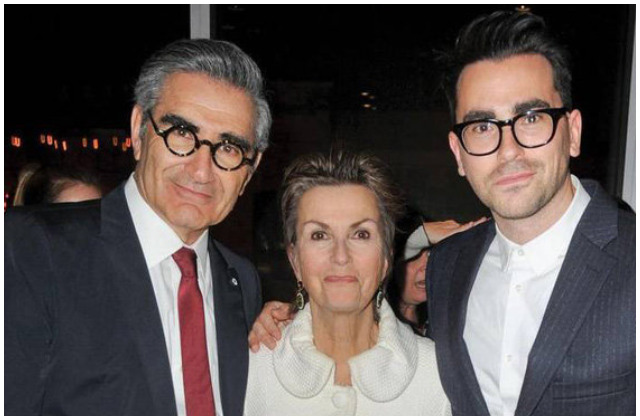 As far as specifics go, Eugene Levy and Deborah Divine have been married since 1977. As of 2019, that makes their marriage forty-two years strong. In that time, there have not been any publicized case of one partner filing for divorce or cases of scandal between them. Theirs have been a happy marriage, faced with some of the normal circumstances that bedevil every other marriage. They've remained together, regardless. 
Together, their union produced two children, Dan Levy and his younger sister, Sarah Levy. Dan is an actor, producer and TV personality. His work has earned him several nominations and awards. Some of which include; the Canadian Screen Awards, 2016, for Best Comedy Series and Best Writing in a Comedy Program or Series, in Schitt's Creek. Sarah, on the other hand, is also an actress and comedienne. She has also appeared in several films and TV series including, Cheaper By The Dozen 2 (2005), Larry Crowne (2011), Roomies (2013) and Working the Engels (2014).
Together, with their father, both siblings are co-star in the comedy series; Schitt's Creek. A series Dan Levy co-created with his father, Eugene. As of this writing, Deborah Divine shares her time between Toronto, Canada, and Pacific Palisades, California. 
Other Facts About

Deborah Divine
1. Current Career
Deborah Divine currently works as a production manager and producer and has worked on films such as; Higgin Boys and Gruber (1990), The Edge of Night (1996), and Another World. She screen-wrote the 1990 film, Maniac Mansion.
2. Religious Affiliation
Deborah Divine had a Protestant Christian background and celebrates Christmas like most other Christian sects. Her husband, however, is Jewish and she joins him to observe the Hanukah celebrations.

3. Her Mother Was a Singer
Deborah's mother, Patricia Divine, was a singer who loved everything music. She sang in The Royal Conservatory. This only surfaced during the eightieth birthday celebration in honor of the matriarch. For her mother's 80th birthday, Deborah Divine didn't only offer her gifts, she went further to immortalize the woman by naming a seat in Koerner Hallin in her honor. 
4. Her Mother Wanted to be a Professional Singer
Patricia Divine's stint at The Royal Conservatory goes way back to the 1940s when she first stepped foot there. It was shortly after her relocation to Toronto, Providence, Rhode Island. Then, she enrolled in Ernesto Vinci's opera program. As she recounts, learning under one of The Conservatory's most legendary voice coaches set her on a path many ladies her time could only dream of. 
See also: Danielle Wright – Everything To Know About Nick Wright's Wife
However, her prospects of being a stunning performer were dashed on the cold grounds of finance or the lack of it; as her husband, could no longer afford the lesson fees. Though her singing career got botched, she didn't fail to transfer that flare for music to her children and grandchildren. Thanks to her mother, Deborah Divine, alongside her husband and two adult children are not only entertainers abut voice geniuses who could give you a stroll into the realm of music with their stunning voices.