Deborah Roberts is a television personality and broadcast journalist who first became famous as the correspondent of NBC News newsmagazine program, Dateline. She is also globally known as the correspondent of American News Corporation News newsmagazine program, 20/20. Roberts was also shot to fame as the wife of the actor, author, and weather anchor of NBC News, Albert Lincoln Roker Jr. is widely known as Al Roker. Unlike some media personalities, Roberts doesn't shy away from sharing facts about her personal life with the world, read on to learn more.
Deborah Roberts' Biography (Age)
The famed media personality was born, Deborah Ann Roberts on 20th September 1960 in Perry, Georgia, the United States to her parents, Benjamin Roberts and Ruth Roberts. Her father was a businessman who was into the installation of carpets while her mother was a homemaker. She was brought up along with her eight siblings in Perry, Georgia. Roberts is obviously of African roots and with her birth in America, she is a national of the country.
Following her graduation from high school, Deborah Roberts enrolled at Henry W. Grady College of Journalism and Mass Communication at University of Georgia, Athens and graduated in 1982 with a bachelor's degree in journalism. Soon after her graduation from the university, the adroit journalist kick-started her career at a local TV station, WTVM situated in Columbus, Georgia before joining another TV station, WBIR in Knoxville, Tennessee.
Deborah Roberts landed her first major gig in Orlando-based ABC-TV affiliate, WFTV as the divisional chief. She also worked as a field reporter at NASA as well as a co-anchor of weekend news during her three years stint at the News Agency. Deborah Roberts was recruited by the NBC News network in 1990 as Miami and Atlanta division's general assignment reporter. She assumed many responsibilities including covering the 1992 Summer Olympics in Barcelona, and the aftereffects of the Gulf War in Kuwait. She later served as the correspondent of NBC's famous news magazine program, Dateline.
Furthermore, the highly acclaimed reporter rejoined ABC News agency in 1995 as a correspondent of the show, 20/20. As of this writing, she is the fill-in host of many ABC programs which includes World News Weekend and Good Morning America. The notable highlights of her brilliant coverage include the precarious situations of Rwandan's refugees, sexual assaults in the Amish community and her in-depth interview with Darryl Strawberry.
Deborah Roberts' Net Worth
Deborah Roberts has accumulated an impressive net worth from her journalism career that has spanned for over three decades. She has an evaluated financial value of $10 million as of 2019.
Facts About Al Roker's Wife
1. Deborah Roberts' Marriage
Deborah Roberts got engaged to Al Roker on the rim of the Grand Canyon on 1st January 1994. The duo later sealed their love with a nuptial bond at St. Thomas Episcopal Church, New York on 16th September 1995 in front of their friends and families. The reception which was held at Essex House was graced by many prominent dignitaries and media personalities like Barbara Walters, Katie Couric, and Rudy Guiliani.
2. Her Family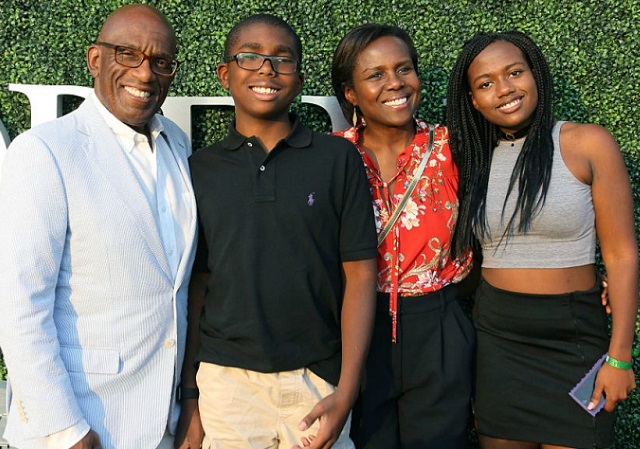 Her husband AL Roker before their marriage already had a daughter, Courtney from his first marriage to Alice Bell which was annulled in 1994. Deborah Roberts welcomed her first child with Al, Leila Ruth, on 17th November 1998. Four years later, she welcomed her second child, Nicholas Albert Roker when she was 41 years old on 18th July 2002. So far, the couple shares three children, two daughters, and a son and their union is very blissful.
3. Fertility Problem
Due to some fertility issues encountered by Deborah Roberts, she had her children through In Vitro Fertilization (IVF).
4. She is an Author
Deborah Roberts co-authored the book entitled, Been There, Done That Family Wisdom For Modern Times with her husband.
See Also: Wendy Fiore – Bio, Age, Height And Body Measurements Of The Model
5. Deborah Roberts' Career Accomplishments
Her noteworthy contribution in the field of journalism has been highly acclaimed as she has clinched many awards and nominations including 4 Emmy Awards, 1 Clarion Award, University of Georgia Distinguished Alumnus Award and many nominations.
6. Film Appearances
As has become common among reporters, Deborah Roberts has made cameo appearances in a couple of films. She featured in one episode of 1967 comedy TV series, The Wayne & Schuster Comedy Special as herself and in one episode of the 2016 music TV series, Nashville.