Deborah Roberts is one lady who has several claims to fame. As a broadcast journalist, she has enjoyed a highly successful career spanning four decades and counting. During this time, she has worked for big networks such as NBC and ABC. She has also covered notable assignments such as the Gulf War and has received several accolades, including four Emmy awards for her excellent reportage.
Asides her career strides, Roberts is also known as the wife of America's favorite meteorologist, Al Roker. She and the renowned weather anchor have been together for about three decades now and have been able to sustain their union despite differing personalities and views. They have also been able to build a loving family despite their demanding careers and now have three kids to show for their efforts.
Roberts and Al Roker Met While He Was Still Married to His First Wife
Deborah Roberts first met Al Roker when she joined the NBC network in 1990. At that time, he had already worked for the network for some years and thus knew his way around. He, therefore, helped her get acclimated with her new working environment and they soon became good friends.
They however made sure to stay within boundaries as Roker was already married to a lady named Alice. The pair's friendship lasted for several months and they still kept in touch even when Deborah was transferred to places such as Miami and Atlanta. She later made it back to New York to work for ABC in 1992 and they continued from where they left off.
By this time, Roker was divorced from his wife and he showed Deborah that he really liked her. She reciprocated his feelings and they commenced a relationship without much ado. The two got engaged on the rim of the Grand Canyon on the 1st day of January 1994.
They later sealed their love with a nuptial bond at St. Thomas Episcopal Church, New York on 16th September 1995 in front of their friends and families. A reception was held at Essex House and it was graced by many prominent dignitaries like Barbara Walters, Katie Couric, and Rudy Giuliani.
Roker's Weight Issues Nearly Drove a Wedge between the Couple
Roberts and her husband remain together to date and have been able to make their union work. This does not mean it has been all rosy between them. According to the ABC correspondent, she and her husband have differing tastes in music, theater, and even food, but they get through it because of their love as well as a deep and abiding respect for each other.
Another issue that has almost come between the couple is Al Roker's weight gain. The meteorologist ate a lot of junk food as a child and thus grew to be quite overweight. He continued to indulge in an unhealthy lifestyle and this annoyed his wife who is quite an athletic fellow. She would often beg him to join her and exercise but he found it difficult to do so.
This situation left Roberts quite frustrated and annoyed but she preserved until her husband realized the need to lose weight. He underwent gastric bypass surgery in 2000. He then followed it up with a healthy diet as well as joining her in marathons.
Deborah Roberts Has Three Children, Including a Special Needs Son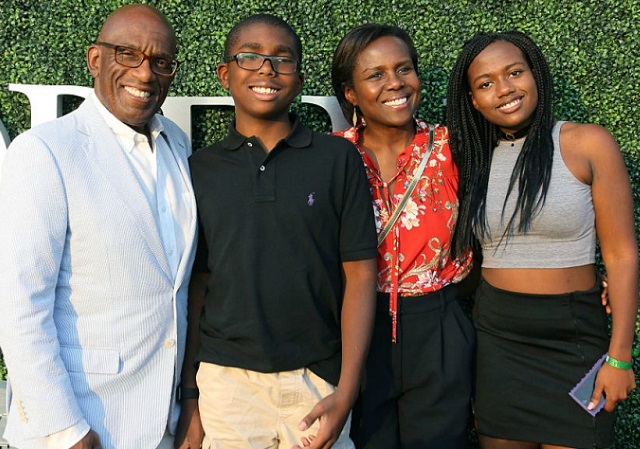 Roberts and her husband initially experienced fertility issues in their marriage and had to resort to IVF. Thankfully, this method worked and they now have two children together, a daughter named Leila Ruth, who was born on the 17th of November 1998; and a son named Nicholas Albert Roker, who was born on the 18th of July 2002. Roberts' husband also has a daughter named Courtney from his first marriage to Alice Bell.
As usual with kids, Courtney felt threatened when her father started going out with Deborah and this led to some frosty relations. Thankfully, she realized that the new addition to their lives meant no harm and they became good friends with time. That good friendship subsists to date and part of the reason may be the efforts that Deborah made to be there for all three children. Even though the journalist did not abandon her career, she turned down some juicy promotions that came her way so that she would have time for her kids.
The ABC personality also learned to expertly juggle her present job with the demands of motherhood. All these efforts have paid off and the kids are thriving. Courtney is now a professional chef while Leila is a budding journalist as well as a social activist. Nick is also not lagging. Even though he has special needs as a result of autism, he is still leading a full life. The young man participated in the New York Special Olympics and won two gold medals in swimming. He also ran in the annual Achilles Hope and Possibility Race in New York in 2019.
Her Career Journey Began With Local Stations in Tennessee and Florida
After graduating from college in 1982, Deborah Roberts kick-started her career at a local TV station, WTVM, situated in Columbus, Georgia before joining another TV station, WBIR, in Knoxville, Tennessee.
At WBIR, she particularly stood out with her unrivaled coverage of the state legislature and received praise for her work. She also received lucrative job offers and so joined Florida-based ABC- affiliate, WFTV, as bureau chief in 1987.
Deborah would spend about three years in Florida during which she also worked as a field reporter at NASA, as well as a co-anchor of weekend news.
Joining NBC News Network
In 1990, the lady was recruited by the NBC News network as their Miami and Atlanta division's general assignment reporter. She assumed many responsibilities including covering the 1992 Summer Olympics in Barcelona, and the aftereffects of the Gulf War in Kuwait. She later served as a correspondent for NBC's famous news magazine program, Dateline.
Whilst working for NBC, Deborah Roberts endeared herself to many with her warm and gracious personality. Amongst those she impressed was a legendary TV personality, Barbara Walters, who convinced her to come work for ABC News agency in 1995.
Deborah Roberts Has Spent Over 15 Years at ABC and Has Won Multiple Emmy Awards
Roberts started as a correspondent for the ABC newsmagazine show, 20/20, before going on to report on other shows such as Good Morning America and World News Tonight. She has since been elevated to an anchor and co-host on some of the programs.
In the course of her 15 years run at ABC, Deborah Roberts has received several accolades including four Emmy Awards. These Emmys were for her coverage of the presidential inauguration of Barack Obama, the touching story of an Ethiopian-American woman who went back to Africa to discover her true origins, amongst others.
Roberts has also received the Clarion Award for highlighting cases of abuse in Amish communities. Her alma mater, University of Georgia, also honored her with the Distinguished Alumnus Award in recognition of her meteoric rise in 1992.