Dee Devlin may not be a household name yet, but fans of her long-term Irish partner Conor McGregor would want to know who she is. She is his mystic driving force, charming girlfriend, mother of his kids, finance manager, and of course, his number one supporter. So strong is her devotion to him that she quit her job to be by his side.
She is quite popular on social media, with over 1.6 million followers on her Instagram page, which pales in comparison to her partner's over 30.7 million followers. Notably, theirs is not a union defined by their mutual success but a love story that has spanned more than a decade as they committed wholeheartedly to the other.
What We Know About Dee Devlin's Background And Early Life
Dee Devlin was born on the 9th of August 1987 in Walkinstown, Dublin, Ireland. There is little publicly available information about her childhood and parents. We do know, however, that she grew up with two sisters, Sarah and Cathy Devlin.
Her sister, Sarah, who was born in 1994, is a model signed to Assets Models. She joined the modelling agency in November 2017. Unlike her two siblings, however, Cathy lives a reserved life from the spotlight. As earlier said, we do not know much about the Devlin parents, but Dee's early life suggests they were of modest background.
At the age of 15, Dee Devlin quit high school. She supposedly did so because she saw no future in education, a fact that undoubtedly came as a huge disappointment to her parents. Dee began working odd jobs to fend for herself, and she did so with little direction and a grand plan for five years until she met Conor McGregor at the age of 20.
At the time, the UFC superstar was an aspiring MMA fighter, but she shared in his dream to become successful and so, Dee's life took direction. While Conor abandoned his plumbing job and trained to compete at the highest level, she worked to provide the material needed to keep his dream alive.
Dee And Conor's Dream Has Come Alive
After years of toiling and facing adversity, Conor McGregor signed with the UFC in 2013. It has been history ever since, and Dee Devlin's life has transformed. As Conor's loyal partner and biggest supporter, she has taken up a role in his businesses and organizations, working as his financial adviser.
She has also developed a reputation as a style icon, with recognition from fashion organizations in her home country. She has received the Peter Mark Style Award for Most Stylish Newcomer. Devlin has accrued more than 1.7 million followers from fans who want a glimpse of her life and her husband's.
This, of course, has provided another opportunity for Dee Devlin to explore a career as a social media influencer. Primarily promoting her husband's businesses, she has also pushed other brands like Caris Closet and Alexander McQueen.
But most notably, Dee Devlin spends her adult life being the anchor of Conor McGregor's personal life. She is raising the two children born from their decade-plus relationship.
Dissecting Her Relationship With Conor McGregor
Dee Devlin and Conor McGregor met for the first time in 2008 in a nightclub. At the time, Conor was only 19, with nothing to his name but a dream to become the best MMA fighter in the world. They met shortly after he quit his plumbing job to focus on his MMA career.
Together, the couple began to nature their dream, with Conor spending time in training while Dee worked different jobs. She supported him with an annual wage of $1800. Eventually, years of commitment to each other yielded good fruits. In April 2013, Conor's MMA career exploded, with victory at UFC Sweden 2, in a match against Marcus Brimage.
Contrary to the story of similar couples, Dee Devlin and Conor McGregor have remained together since he found global success. The UFC star regularly praises the impact of his girlfriend on his life and career. Not only does Conor appreciate Devlin's support, but he also trusts her. He has put her in a prominent position in his business, 'collecting the cheques'.
The two never shy away from public display of affection, from post-fight hugs and kisses to Instagram photos and videos. They also have two children together, a son, Conor McGregor Jr., born in May 2017 and a daughter, Croia McGregor, born two years after in January 2019. Their son, Conor Jr., has an Instagram page with more than 231 thousand followers.
Dee And McGregor Will Get Married When They Are Ready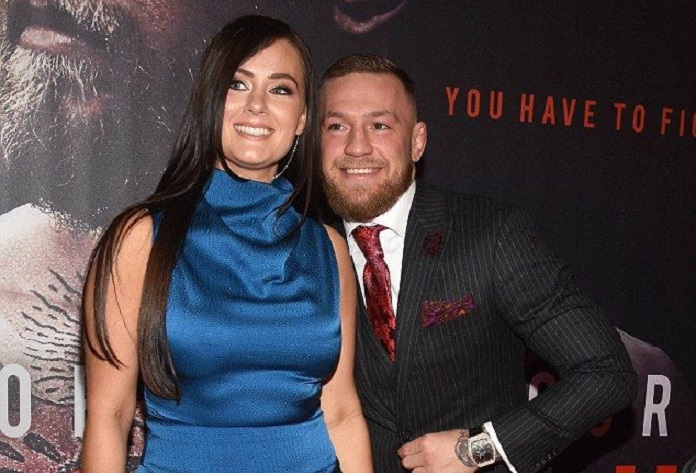 Even though they have been together for more than a decade, Dee Devlin and Conor McGregor have yet to walk the aisle. There have been speculations about why, but a lack of commitment to each other is not one of them.
Shortly after they gave birth to their first child in 2017, rumours began to swirl that the couple were about to get married. However, during an interview on the RTE show, Late Late Show in November 2017, he revealed the couple was not close to getting married and plan on taking their time.
Because of his ostentatious personality, he admitted a wedding would cost a lot of money, and the couple had recently spent a ton on Conor Jr.'s christening. They hired the Luttrellstown Castle in Dublin and transformed the grounds into a funfair for family and friends. Conor and Dee have had another child afterwards, who enjoyed the same display of resources.
So, does that mean there will never be a McGregor-Devlin wedding? Certainly not. The couple got engaged on August 8, 2020, as part of the celebration of his 32nd birthday. Conor and Devlin are yet to set a wedding date.
Dee Devlin Has A Great Share In Her Husband's Outsized Wealth
Dee Devlin has been earning her living working for her man Conor McGregor. As of now, there has not been any public information regarding her net worth. However, we know that her famous partner has an estimated net worth  $120 million. Considering Conor portrays their relationship as a joint enterprise, a lot of that wealth is hers too.
The couple's huge net worth comes primarily from Conor's UFC fights, his lucrative one-time boxing bout, as well as his businesses. The couple owns August McGregor fashion line and Proper No. Twelve Irish Whiskey. She is also considered an influential figure in helping the MMA fighter secure endorsement deals with brands like Bud Light, Beats by Dre, Monster Energy and Reebok.