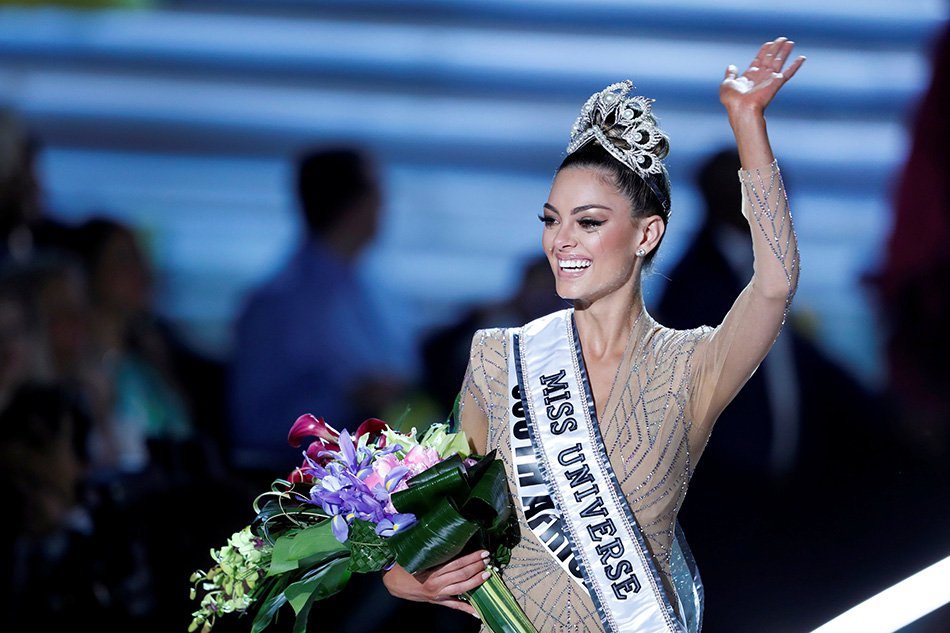 Winning the Miss Universe 2017 is South Africa's Demi-Leigh Nel-Peters.
She was crowned the most beautiful girl in the Universe not just for her physical beauty but her effortless elegance and intelligence.
The show was held on Sunday night at The AXIS, Planet Hollywood, in Las Vegas, Nevada, USA. It was hosted by Steve Harvey and thankfully the 2015 mistake was not repeated. The winner was correctly announced this time in the early hours of Monday morning.
Grammy Award winning Fergie and Rachel Platten performed during the ceremony.
Out of over 90 contestants, she emerged the winner, returning the crown to South Africa since 1978.
Coming as the first and second runner up were Colombia's Laura Gonzalez and Jamaica's Davina Bennett respectively.
Demi expressed her gratitude and dedicated the award to her home country, South Africa.
Here are quick facts about the South African damsel:
1. South African
Demi-Leigh Nel-Peters was born on June, 28 1995, in Sedgefield, Western Cape. Her parents are Bennie Peters and Anne-Mari Steenkamp.
2. Education
Not much is known about her early education days but Demi bagged a degree in business management from North-West University.
See Also: Meet The Black American Beauty Queen Who Is Bullet-Friendly
3. 2nd Miss Universe From SA
Demi-Leigh Nel-Peters will be the second South African to win the Miss Universe crown. The first was nearly 4 decades ago when Margaret Gardiner clinched the title in 1978.
As expected the rare brain and beauty was recently crowned Miss South Africa 2017.
During the competition she represented Western Cape. Emerging the winner of the competition, Demi qualified to represent SA at both the Miss World and the Miss Universe pageantry.
Due to a clash in the dates of both competitions, the organizers opted to send her to the Miss Universe competition. A choice which seems to have been the best at the moment.
As the Miss Universe, Demi will relocate to New York where she would be carrying out her duties. Aside her luxury apartment, she would be paid an awesome salary package for a year.
4. Motivation
Demi's internal and mental strength is not hard to detect as with her charming beauty.
The strong personality says her sibling is her highest form of motivation in life. Her half-sister, Franje, lives with a physical disability. Being part and parcel of that journey rubbed off quite well on the beauty queen.
After her victory as Miss South Africa 2017, Demi was carjacked at Hyde Park and was she was forced into the car. The tactful lady co-operated with the hoodlums by handing over her car keys but grabbed an opportunity of punching one of the attackers in the throat and escaping the scene to get help.
Inspired by the incident, Demi organized workshops where she tutored women on self-defense.
See Also: Agbani Darego: Everything You Must Know About The World Famous Nigerian Model
5. The Winning Answer
During the question and answer segment, Demi did not disappoint her home country and her international fans.
The SA queen who is fluent in both English and Afrikaans displayed her internal strength and confident personality while answering her questions during the pageantry in Nevada.
Steve Harvey, the TV host asked Demi this question:
 "What quality in yourself are you most proud of and how will you apply that quality to your time as Miss Universe?"
Demi confidently answered thus:
"As Miss Universe you have to be confident in who you are as an individual. And Miss Universe is a woman that has overcome many fears and by that she is able to help other women to overcome their fears. She is a woman that nothing is ever too much to ask for and I think that is exactly who I am."
This appeared to be a somewhat repeat of the brilliance displayed during her crowning as Miss South Africa.  All through the competition the judges spotted and repeatedly pointed out her "poise and intelligence".
When asked her point of view as to what would be most important issue regarding women at the workplace
Demi also said:
In some places, women get paid 75% of what men earn for doing the same job, working the same hours – and I do not believe that this is right. I think we should have equal work for equal pay for women all over the world.