Denzel Washington is a household name in Hollywood. He is a multiple award-winning actor, producer, and director, who has appeared and worked on a lot of movies and TV shows in a career that has lasted close to 4 decades. It is no doubt that the legendary actor has created a legacy that will stand the test of time thanks to his outstanding performances in exceptional projects over the years. Here are some of his best works ranked from best to worst.
Denzel Washington Movies And TV Shows
1. Fences (2016)
Fences is a movie about a garbage collector named Troy Maxson (Denzel Washington), who was displeased that he was not allowed to flourish as a baseball player in his heyday back in the Negro league. The film includes other notable cast members like Viola Davis, Stephen Henderson, Mykelti Williamson, etc.
Movie critic aggregator site, Rotten Tomatoes gave Fences a 92% rating, with critics generally giving it very positive reviews. The movie made $65 million at the Box Office from a budget of $24 million and earned Denzel a Tony award for his part in it.
2. Glory (1989)
This war-themed movie is another one that Denzel starred in and had his performance shone through by the quality of the whole cast. It received more positive reviews from seasoned critics, with Rotten Tomatoes giving it a 93% rating. The movie won 3 Academy Awards, with Denzel taking home the Best Actor award for his performance. The movie further turned in about $27 million at the Box Office and was reportedly made from a budget of $18 million.
3. Malcolm X (1992)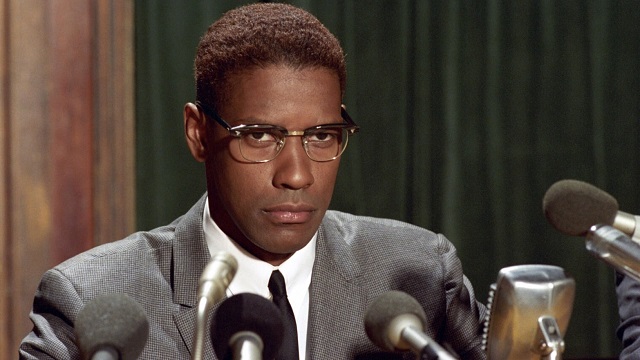 This movie chronicles the life and times of iconic black American civil rights leader – Malcolm X (played by Denzel Washington). Malcolm X is an inspirational leader for so many, and his role needed an almost larger than life artist to play his part, hence the reason why Denzel got the nod for the role.
The movie received several nominations for awards and earned $48 million at the Box Office from a budget of $33 million. It got an 88% rating on Rotten Tomatoes.
4. Crimson Tide (1995)
The United States is under nuclear threat by Russian ultranationalists and the crew of the nuclear submarine, USS Alabama, is dispatched to neutralize the threat. The veteran Commanding Officer of the sub and his new Executive Officer are, however, at odds about executing an interpreted order from HQ and battle for control of the ship.
This Denzel Washington Movie was nominated for 3 Academy Awards, and it made $164 million at the Box Office from a budget of $53 million.
5. The Mighty Quinn (1989)
In this movie, Denzel Washington plays the role of a police chief named Xavier Quinn, who is investigating a murder in which all fingers are pointing to his childhood friend as the killer. Critics praised Denzel's performance in the movie, with Rotten Tomatoes giving it an 88% rating. Denzel was further nominated for an Oscar Award for his performance in the movie.
6. Training Day (2001)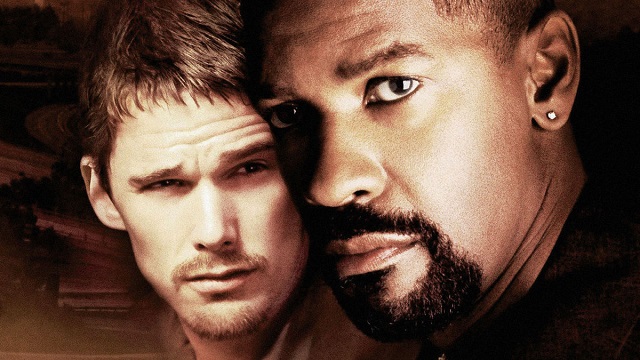 An LAPD veteran narcotics team leader decides to take a rookie officer on a 1-day training, little did the rookie realize he was being set up as a fall guy. Rotten Tomatoes rated this movie at 72% while other critics gave it mixed reviews. The movie realized $105 million from the Box Office from a budget of $45 million. Denzel went on to win the Best Actor award at the Oscars for his performance in the movie.
7. The Magnificent Seven (2016)
Sam Chisholm (Denzel Washington), a US Marshall and bounty hunter, is approached by a widow and her friend who are representing the interests of their town – Rose Creek. They come to Sam to ask for his help to rid their town of an oppressive mine tycoon – Bartholomew Bogue, who wants to take over their lands forcefully and has even gone as far as killing some locals who oppose his take over.
Rotten Tomatoes gave the movie a 64% rating, with other critics giving it more negative reviews. The movie grossed $162 million from the Box Office from a budget of $90 million and earned Denzel the Best International Actor award at the Jupiter Awards.
8. The Book Of Eli (2010)
The movie focuses on Eli (Denzel Washington) who is tasked with carrying a book (the last of its kind) in a post-apocalyptic world to a location on the west coast that he is being directed to by a voice. The movie received more negative reviews from critics, with Rotten Tomatoes giving it a 47% approval rating. It, however, was quite successful commercially, grossing $157 million at the Box Office from a budget of $80 million.
Read Also: Clint Eastwood Movies and TV Shows Ranked From Best To Worst
9. The George McKenna Story (1986)
The movie centers around the events at George Washington Preparatory High School, Los Angeles. A Google survey conducted shows that about 90% of respondents liked the movie as Rotten Tomatoes have not yet rated it. The television film won the Best Television series award from the Christopher Awards.
10. License To Kill (1984)
This is one of Denzel's first appearances that announced him as an actor worth his salt. He starred as Martin Sawyer in this television film where he was working on a murder case to convict a killer.