Deshawn Crawford is an African-American woman who gained fame as the celebrity wife of the brilliant Afro-American comedian and actor Lavell Crawford. The mother of three has her own thing going apart from being a celebrated wife of a famous television personality. She runs an online fashion outfit. Read on as we explore many interesting facts about this beautiful woman.
DeShawn Crawford's Background
The dazzling celebrity wife of comedian Lavell Crawford was born on the 12th day of May. However, her actual birth year is not yet known. But in a video posted on May 12, 2019, by her husband, he stated that she had clocked 30 years as of 2019. Interestingly, there is a massive age difference between Jones and her comic husband who was birth on 11th November 1968.
Like every other detail about the amiable young wife of St Louis born television personality her place of birth, family background, educational progression are all not public knowledge. She prefers to live a quiet and discrete life away from the media. Her famous husband, on the other hand, has made name for himself as an African-American actor well known for portraying Huell Babineaux in 2008 crime drama titled Breaking Bad and its sequel Better Call Saul. 
Interesting Facts About Lavell Crawford's Wife
Deshawn Jones Crawford Owns and Runs a Boutique
Apart from being the homemaker of the humor merchant, Deshawn Jones widely known as Deshawn Jones Crawford owns and runs a boutique. The boutique is an online store called Donita Marie, it caters to the fashion needs of women of various sizes. Some of their stocks range from dresses, Jumpers, tops, bottoms, jackets among others. Her husband through an Instagram video post made on 11th of March 2018 encouraged many to patronize his wife's business.
What is Her Net Worth?
Deshawn Crawford's net worth is not publicly known. However, there is no doubt that Deshawn is equally entitled to her husband's wealth. According to reliable sources, the net worth of her actor husband is estimated to be about $500,000. Most of this money accrued to him from his career as an actor, screenwriter, and other gigs he picks up apart from his regular shows.
DeShawn Crawford's Marriage with Lavell Maurice Crawford 
The actual year Deshawn Jones and Maurice Crawford got married is yet to be disclosed by the couple. Though, some sources believe the pair were married on the 14th of February 2009. One thing that is obvious is that they are deeply in love, as Lavell Crawford does not cease to drop loving messages for his queen on his social media handles especially during her birthdays.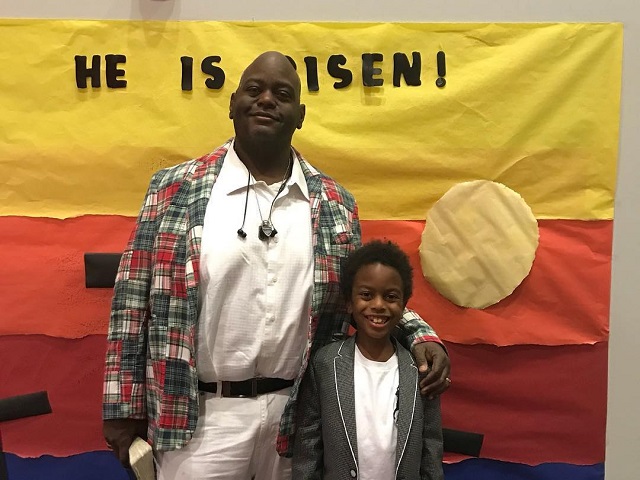 DeShawn Crawford is a Mother of Three
Although we can not clearly say when Deshawn and Lavell got together as lovers, it was revealed by Lavell during an interview in 2017 with DjVlad that he has three wonderful children already. Two of which are in their twenties while his last child Lavell Jones Crawford aka LJ, the famous of all his children was six years old as of 2017. The young chap is growing up nicely surrounded by the love of his family.
Read Also: Megan Wollover – Biography, Age, Family of Tracy Morgan's Wife
Her Height, Weight, and Other Body Measurements
Looking at DeShawn Crawford standing next to the father of her children, we know she is a few inches shorter than he is as Lavell Maurice stands at a height of 5 feet 10 inches (1.55m). On the other hand, DeShawn's body weight, bust, waist, and hips measurements are all yet to be made public. Nonetheless, we all agree that she is a good looking woman.
Social Media Presence
DeShawn Crawford is totally closed off social networking platforms such as Facebook, Twitter, and Instagram at least for now. She keeps a low profile and does not seem to own or operate any social media account for now despite her celebrity status.
For those who wish to catch up with what she may be up and about, then her husband's Instagram (lavellsthacomic), Twitter (@Lavellthacomic) and Facebook handles are the perfect place to check her out. Her husband constantly uploads not just pictures of work-related materials but that of his family members on his social media handles.